Kitchens come in a wide range of sizes and shapes. Layouts are a product of trends as well as making the most of space. For kitchen renovations, the arrangement can sometimes be changed, but not always.
Here are the most common types of kitchen layouts:
1. One-wall
Also known as the Pullman kitchen, efficient one-wall kitchens are frequently found in studios or lofts. As the name indicates, cabinets and appliances are fixed along a single wall. The sink usually sits between the range and fridge to minimize steps for washing and cleaning up as well as visual balance.While this design does not create the workflow optimizing kitchen triangle, it takes uses very little space while creating an open floor plan.
The downside of single wall kitchens in small spaces is a lack of work and storage space. Modern updates frequently add an island for added counter space and a modified galley layout. If there is not  room for a full island, consider adding a moveable one.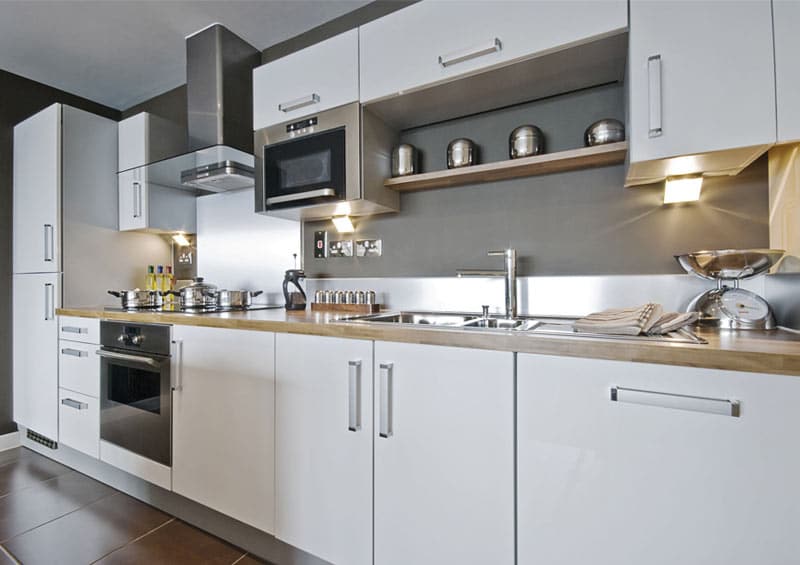 2. Galley
Another space-saving kitchen plan, galley kitchens are common in smaller homes and apartments because they use every square inch of space. Characterized by two opposite walls, or sometimes two parallel countertops, the design is also called a walk-through kitchen. Without hard to reach corner cabinets, this design also reduces the cabinetry budget.
The stove and sink are frequently placed on opposite sides but putting them together is better for the flow of cooking and keeps spills and mess together.
Galley kitchens are so efficient that they are the typical layout for restaurants.  The downside at home is not much space to hang out, unless one side is an island with seating. A galley kitchen with an island also works to create an open floor plan.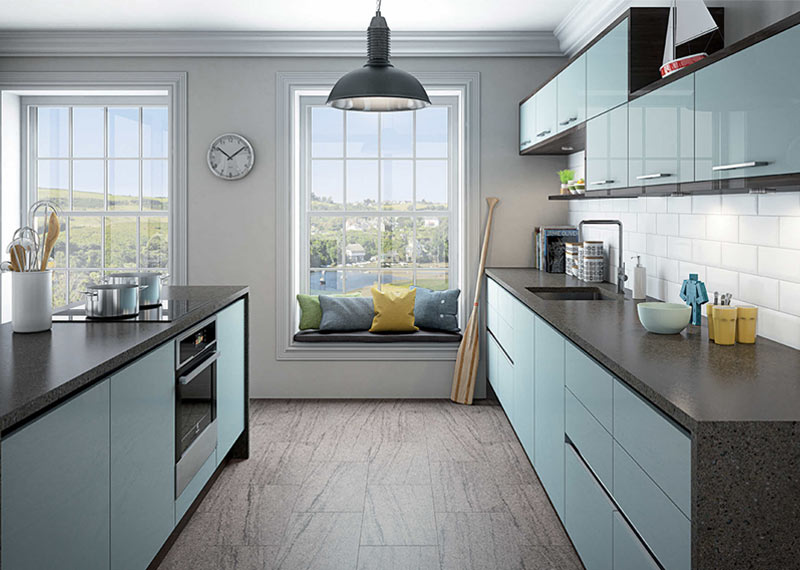 3. L-Shape
For small or medium sized kitchens, an L-shape layout is versatile and maximizes space. Like the name says, two perpendicular walls connect to form an L. Instead of the traditional work triangle, plan the kitchen with a zone approach. An island or dining area can easily be added to this flexible design.
An L-kitchen has plenty of open space so it can easily be connected to a dining room or living area. There is plenty of space to add a table or island.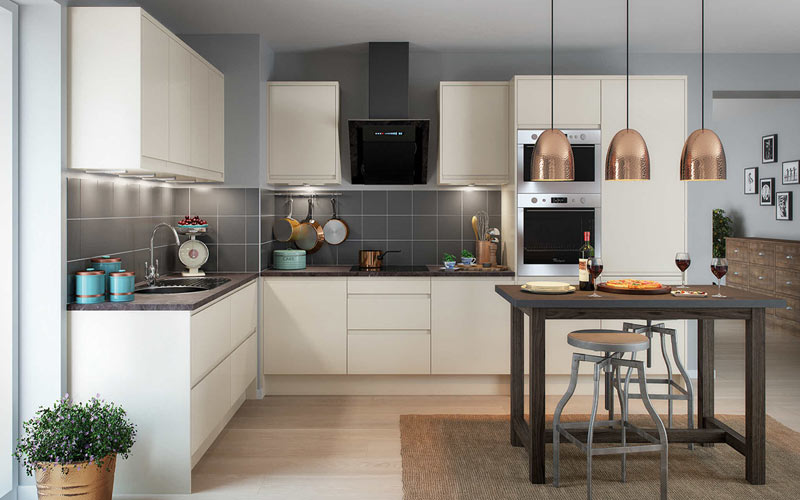 4. U-Shaped Kitchen
The U-kitchen has three walls connected in a horseshoe. A popular version of the layout consists of an L-shaped kitchen plus an island instead of the third wall.
This design is popular because it features plenty of counter and cabinet space. However, it is not as open as other kitchen layouts. An open island can remedy that for a semi-open kitchen.
Large kitchens can be U-shaped with an island at the center. This design works well for both traffic and work flow.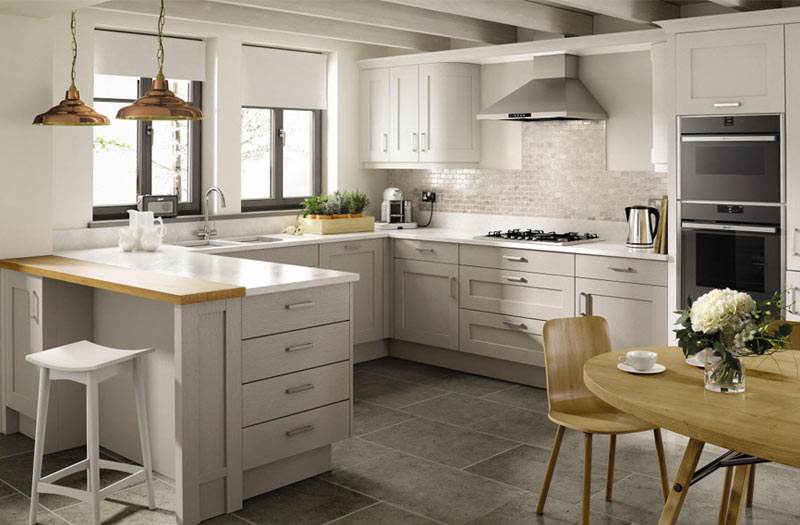 5. Peninsula
A peninsula kitchen has a connected island that converts an L-shaped layout into a U, or a U-shape into a G. Peninsulas provide the functionality of an island in kitchens without the space for a detached work area.
The peninsula is frequently used as a room divider, separating the kitchen from a dining area or living room for a semi-open plan. A peninsula layout is ideal when you want the functionality of an island but just don't have the space for a separate unit.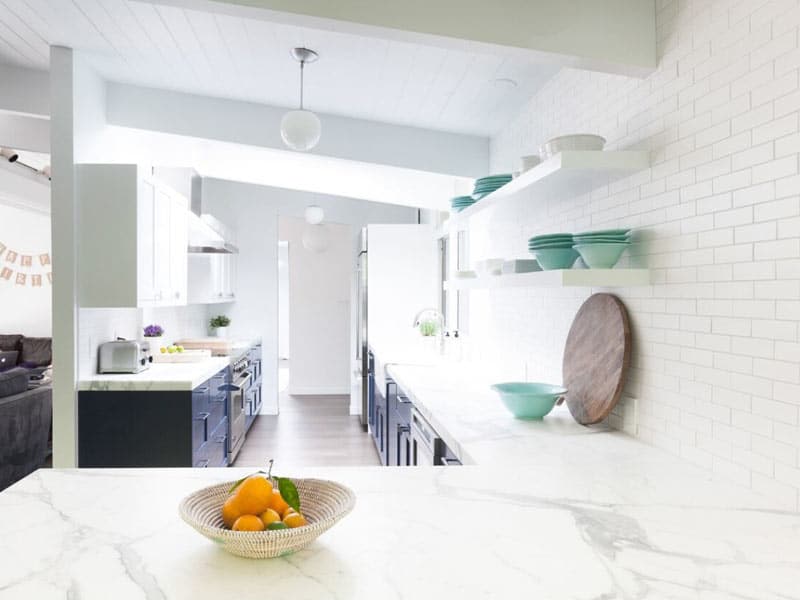 6. Island
While not a layout, the kitchen island is a very desirable addition. Like the geographic feature, an island is separate from the rest of the kitchen. They can serve many purposes such a work surface, storage or dining area with seating. Islands can be one level to serve as a workspace or two levels to add a seating area.
While kitchen islands are functional and very popular right now, they are not the solution for every home. Many rooms do not have enough square footage to accommodate an island while others would lose precious storage in the form of cabinet space. Be sure to con