The choice of bathroom floor materials impacts not only the look but the durability and maintenance of the room.
Some bathroom flooring options are more moisture resistant than others, ensuring a longer life span and easier upkeep.
Another thing to consider is the feeling. Tile and stone are cool underfoot while wood, vinyl and cork have some warmth. And then of course, budget is a consideration, especially if you need a professional to install the material of choice.
Here's the low down on the most common bathroom flooring materials:
Tile
Tile is the most popular flooring material because it is waterproof, durable, easy to clean and attractive. Tile comes in an incredibly wide range of design, options from large modern slabs to small vintage octagons. The latest trend is tiles that look like wood, brick or marble for that gorgeous texture without the cost or maintenance.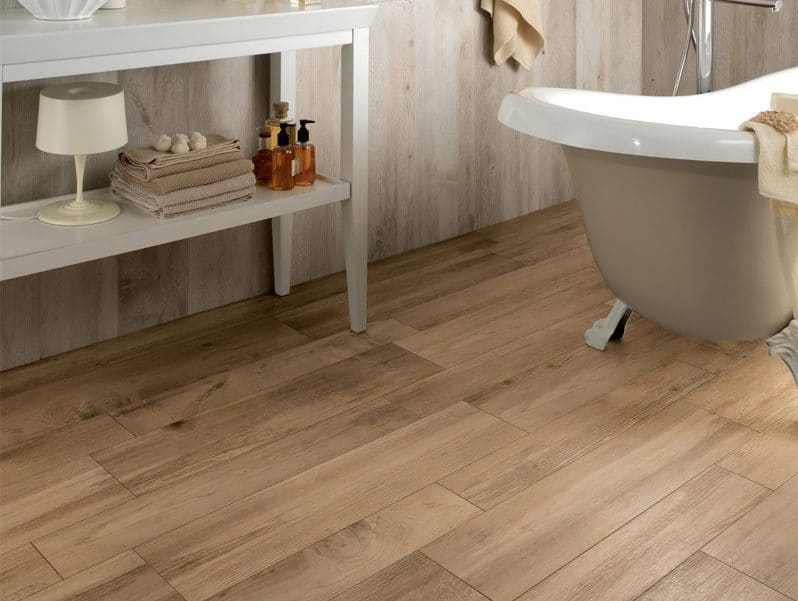 Wood grain tile by Ariana Ceramica Italiana
Tile can be made out of ceramic or porcelain. Ceramic tile is made from clay and other natural materials. It is porous and then coated with a protective glaze. It is more not as hard or sturdy as porcelain.
Porcelain tiles are made of fine porcelain clay and tiles are formed from with pressure and a much higher temperatures than ceramic. Porcelain tile is denser, harder and less porous than ceramic as well as less prone to moisture absorption. Porcelain color is through-body, all the way from the top to the bottom so nicks and scratches will not show.
Porcelain is the best choice for bathrooms but if you are on a budget or doing the renovation yourself, ceramic tends to be cheaper and is easier to work.
Both types of tile can be slippery and cool underfoot. Use bath mats to fix the former and in-floor or radiant heat for the latter.
Tile also has other applications so be sure the tile you choose is rated for floors. Wall tiles will crack if installed as flooring.
Stone
By far the most expensive bathroom flooring option, natural stone is beautiful but cold. While there are no moisture issues, stone can be slippery.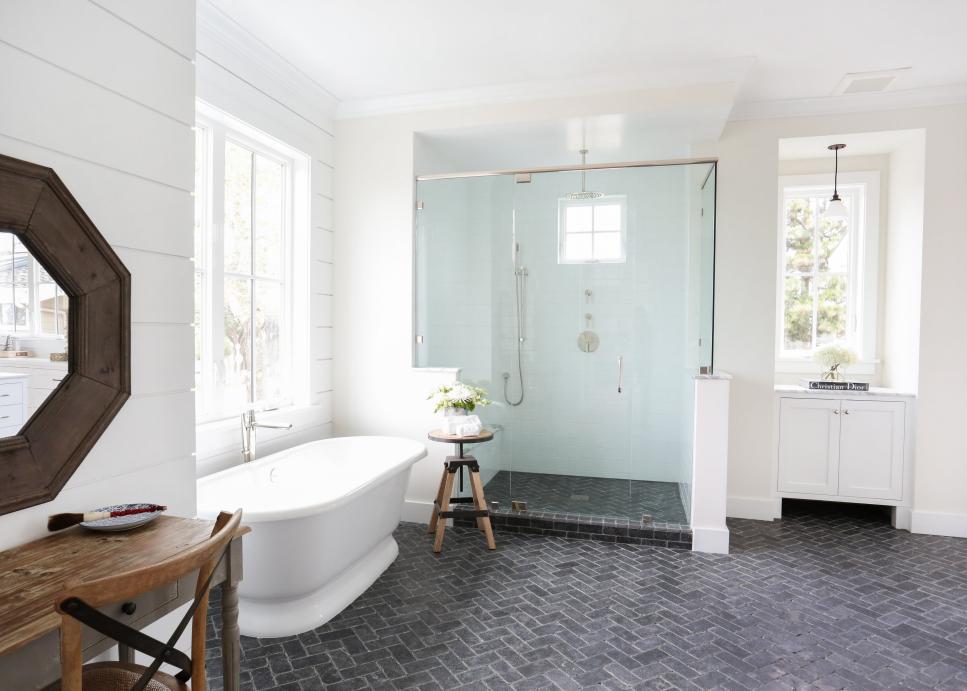 Herringbone slate tiles –  Tessa Neustadt
If you love the look of marble, granite, limestone, slate or travertine in the bathroom, a countertop, backsplash or vessel sink are other ways to work real stone into your bathroom design.
Hardwood
While not the ideal choice for bathrooms, hardwood flooring can be desirable for the look as well as warmth underfoot. Wood is sensitive to moisture and humidity but can be protected with a quality finish designed for water heavy environments. Hardwoods are also a better choice than softwoods like pine and fir that will absorb moisture.
With a hardwood bathroom floor, be sure to mop up any spills as soon as possible and use ample bath mats for additional protection. If this bathroom will be used with children, wood is not recommended.
Laminate
For the look of hardwood without the drawbacks, laminate is a more durable and affordable choice that can better handle moisture, traffic and stains.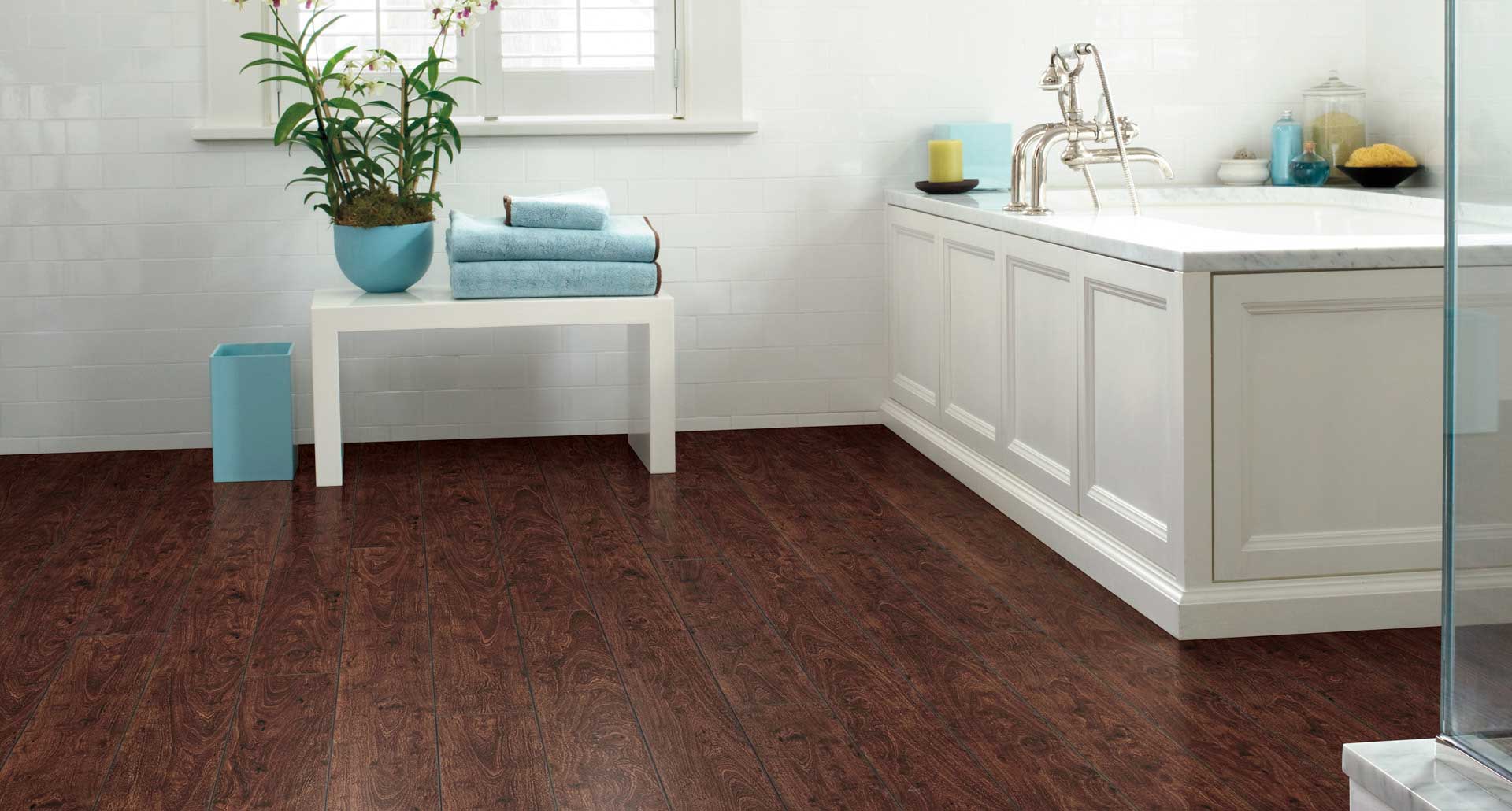 Mesquite laminate by Pergo
Not all laminates are made for bathrooms so double check the specific manufacturer installation instructions and warranty information before choosing laminate and be sure to follow the directions for installation and sealing.
Engineered Wood
With a real wood layer on top of a plywood base, engineered wood stands up better to moisture than solid wood. It can also be installed with radiant heat for a luxuriously warm floor. While it is better than the real thing, all of wood, engineered wood and laminate all need to extra care when installed in a bathroom.
Bamboo
Bamboo floors look similar to wood but are harder and more durable. It is also naturally resistant to water, mold, mildew and bacteria. Bamboo will still warp if water soaks in so it should be coated with a polyurethane finish for bathroom usage.
Cork
Cork is springy, with a soft, warm feel on bare feet. Cork is also resistant to mold and mildew. Cork is water resistant, not waterproof so protect floors with a polyurethane topcoat and rug next to the sink and bathtub where spills are most likely.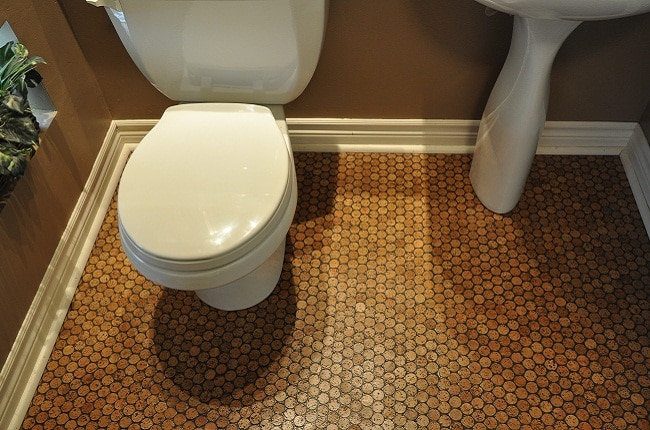 Penny tile cork by Jelinek Cork Group
Vinyl
Vinyl is cheap, durable and available in a huge range of colors and patterns. Vinyl is softer underfoot than most bathroom flooring but the manmade material off-gasses volatile organic compounds.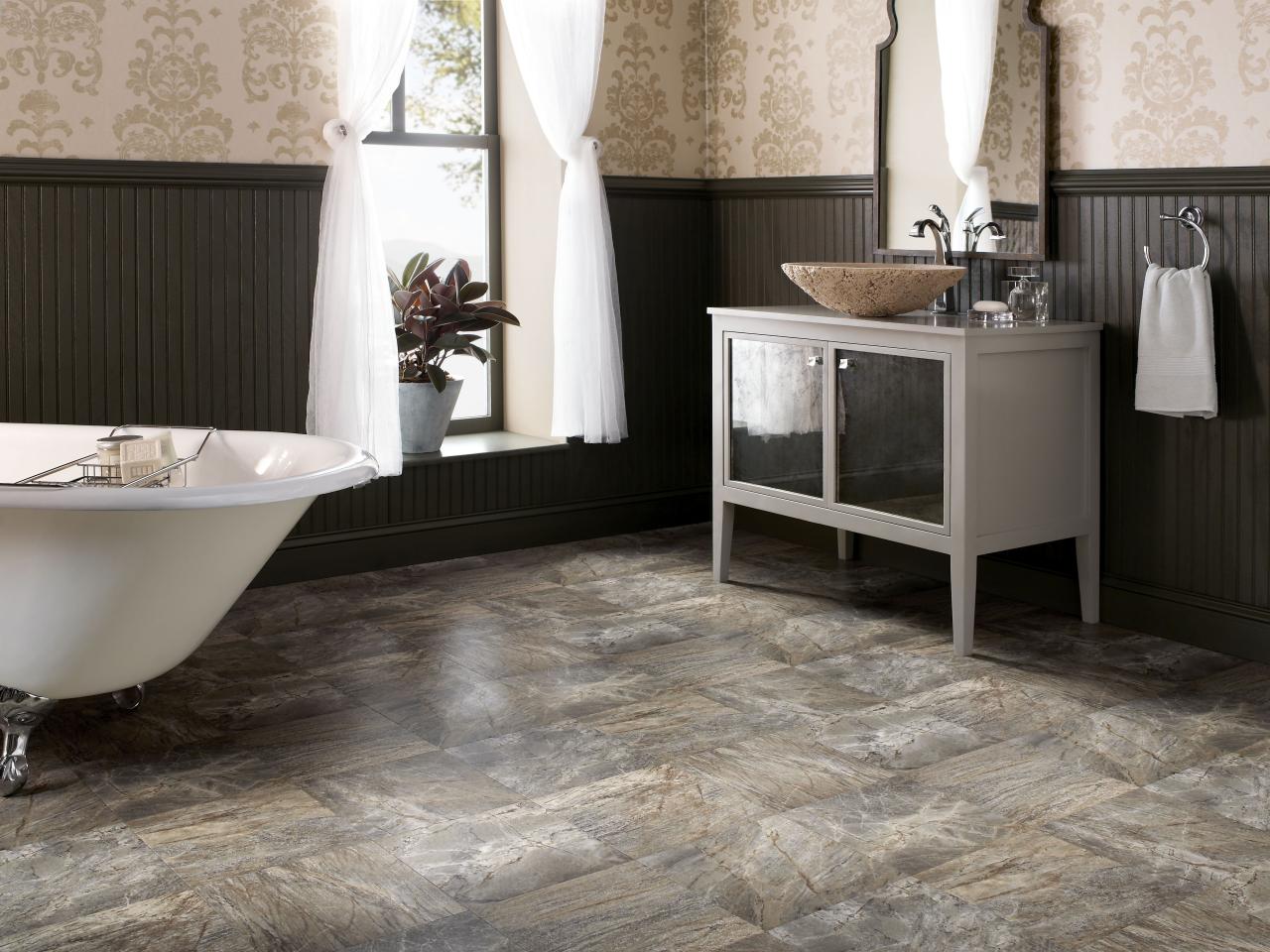 Marble pattern vinyl tiles by Mannington Mills
It is available in sheets, planks and tiles. Sheets are the best option for bathrooms because there are less or no seams to let moisture in. On the downside, vinyl sheets are harder to work with and may require professional help. Any damage requires replacing the entire sheet.
Planks, like the name suggests, resemble hardwood in both size and pattern. This is a cheap and easy way to get the look of wood without having to worry about moisture.
Peel-and-stick vinyl tiles are an easy DIY project. They come in a range of sizes and usually look like stone or ceramic tile. They can curl up at the edges but damaged tiles can easily be replaced.
Carpet
Don't do it!