A vanity is about looks and functionality. The color and design needs to work with the overall style but also provides storage, counter space and a sink or two.
For master bathrooms, dual sink vanities are popular because each person has their own space. This is also popular in main bathrooms with multiple kids. Some vanities have two sinks or two single vanity units can be installed, separated by additional storage or even a bathtub.
One thing to consider with your bathroom vanity is where you want the faucets. Faucets can be mounted on the wall to maximize counter space and make cleaning easier or right behind the sink.
Similar to kitchen cabinets, vanities can be custom built to fit in any space, make the most of a small bathroom or create a unique look. There are also a wide range of ready-made bathroom vanities in many sizes and designs.
Check out these pictures of 21 bathroom vanities to see how to make the most of bathroom storage with style.
1. Dual Sink Vanity With Marble Countertop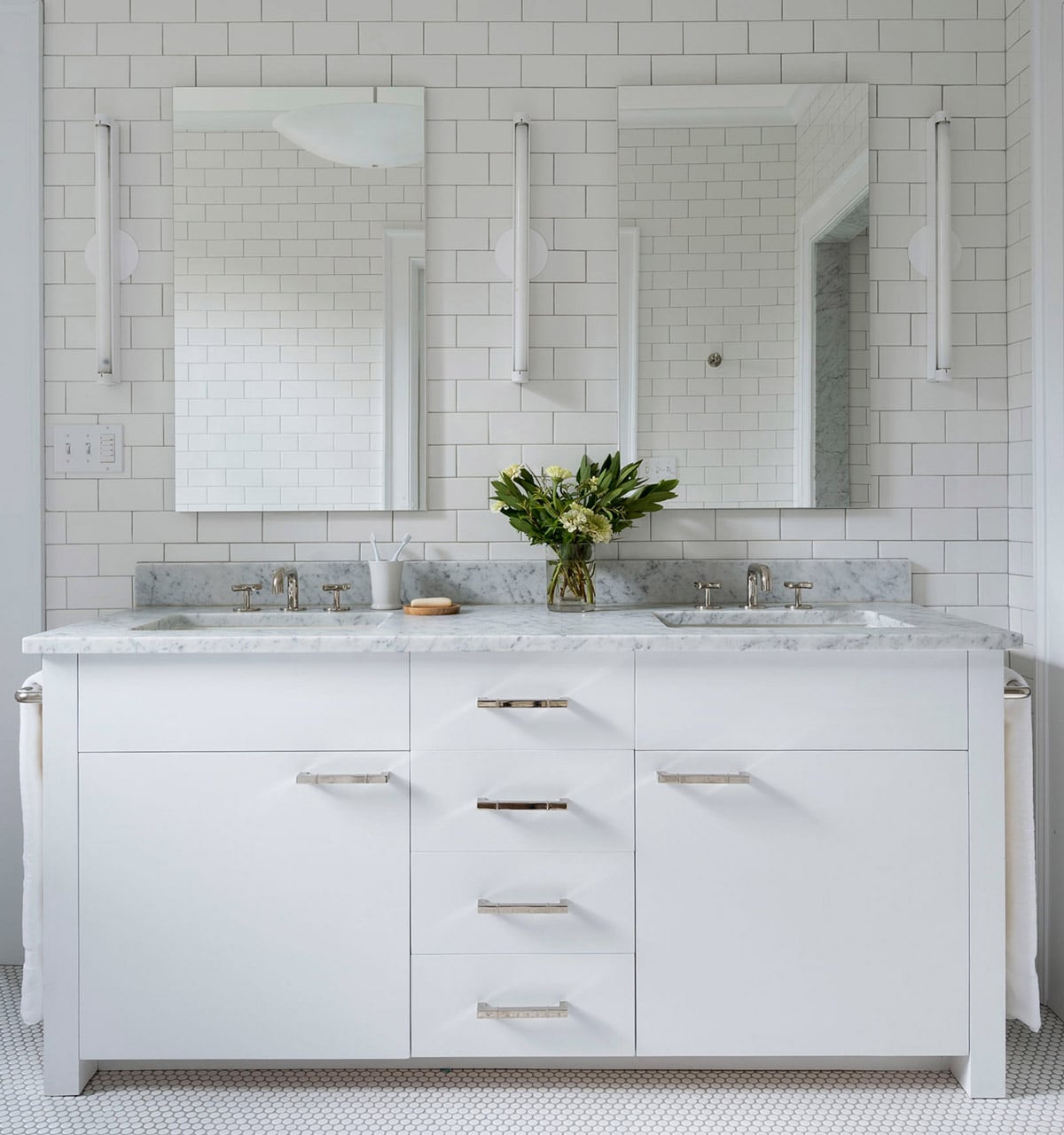 This vintage bathroom contrasts a modern white vanity with textured tiles and s granite counter top.
2.   Modern Bathroom Vanity With Two Sinks

An ultra sleek modern bathroom vanity keeps the focus on this delightful blue patterned floor tile.
3. Bathroom Vanity With Seating and Waterfall Leg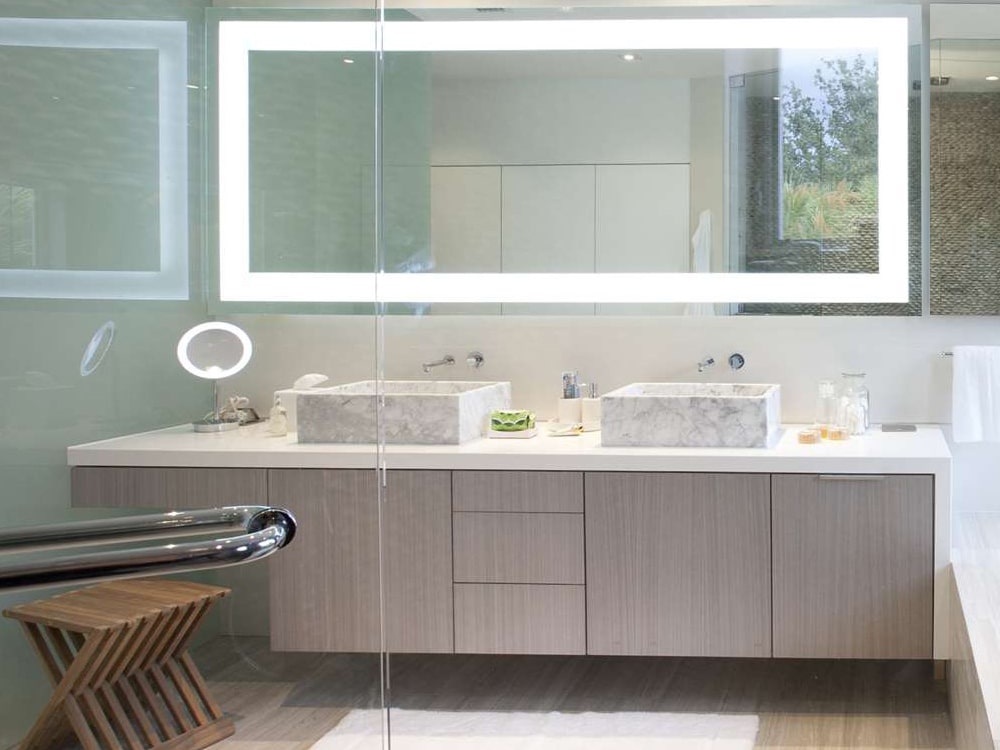 With seating for a makeup counter in one corner and countertop that continues over the other side in a waterfall leg, this dual vanity packs makes the most of a small space.
4. Long Bathroom Vanity

This grey-toned vanity works with the subtle veining of a marble counter and backsplash as well as the darker floor tile.
5. Custom Floating Bathroom Vanity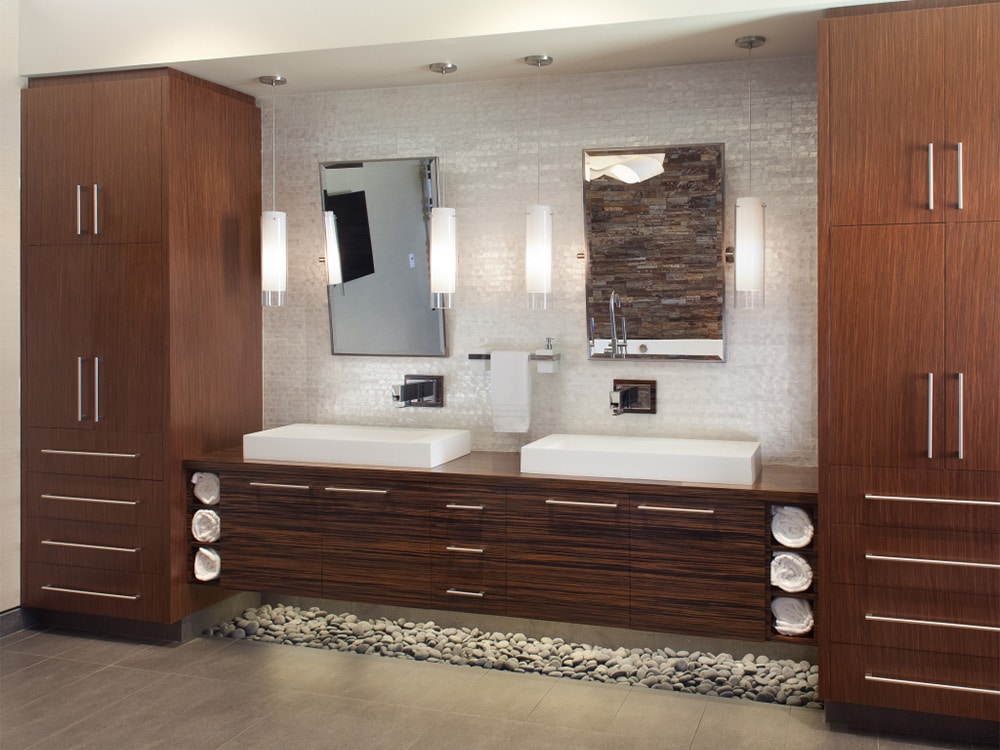 This custom vanity floats above a bed of rocks for an unexpected master bathroom feature.
6. Small Dual Sink Vanity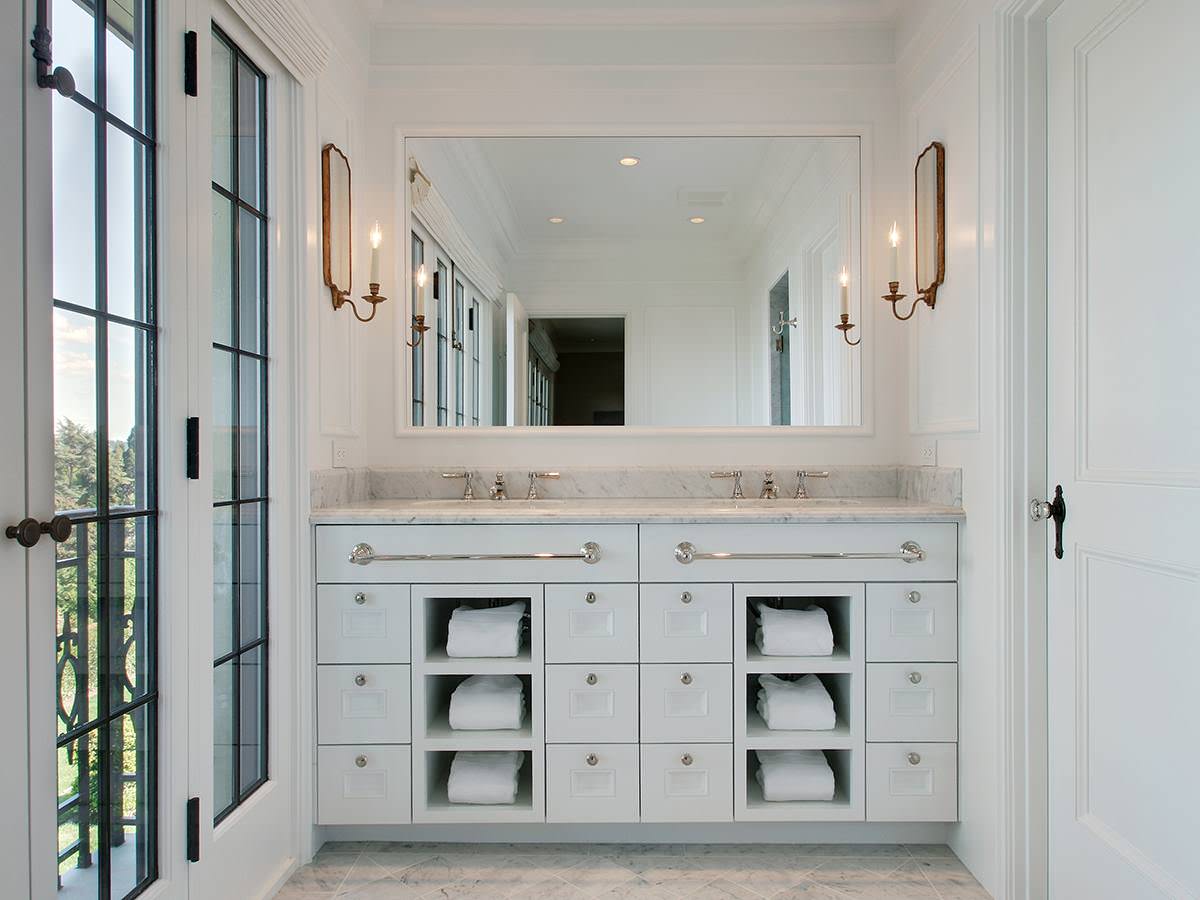 When two sinks are a must have item, they can be fit into any bathroom with a custom vanity.
7. Two Vanities, Two Sinks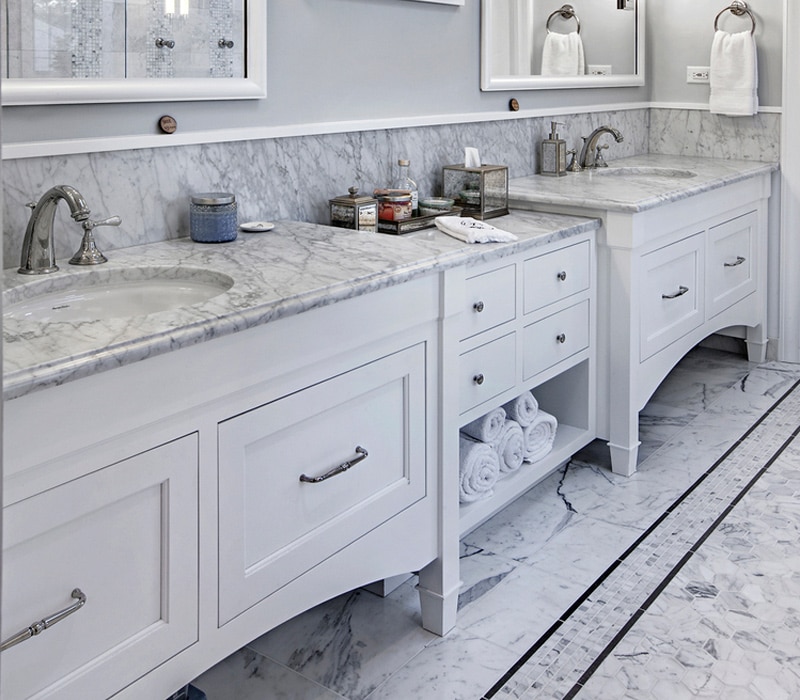 Another way to get two sinks into the master bath is by installing two identical vanities, separated by additional storage or even a bathtub (see below).
8. Master Bath With Two Vanity Units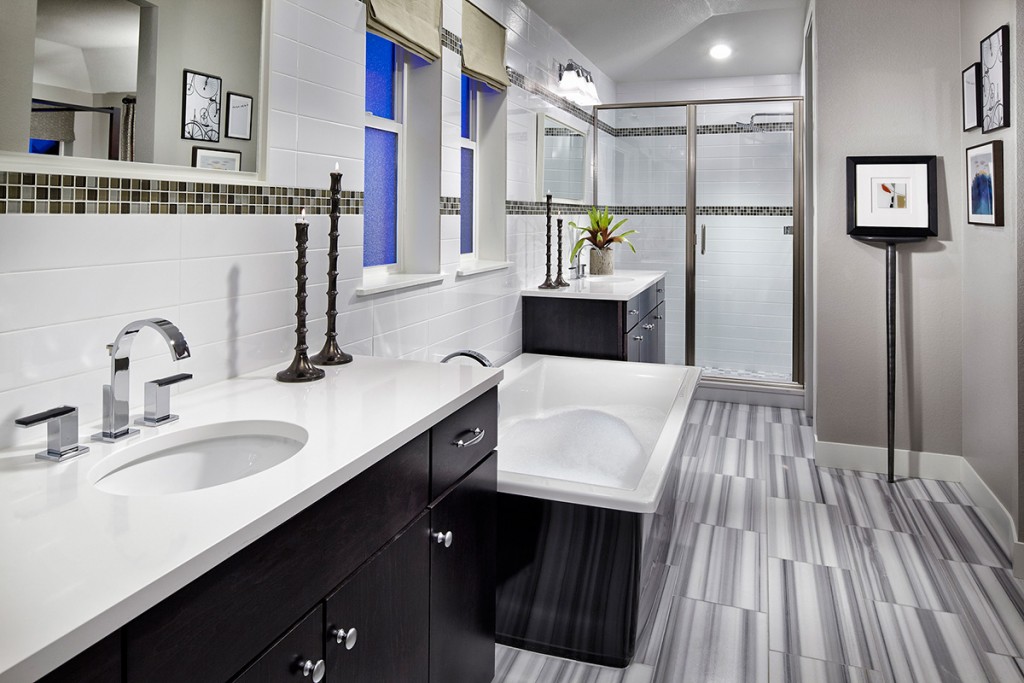 Sometimes making the most of your bathroom requires getting creative, like installing two vanities on either side of the tub.
9. Luxury Bathroom Vanities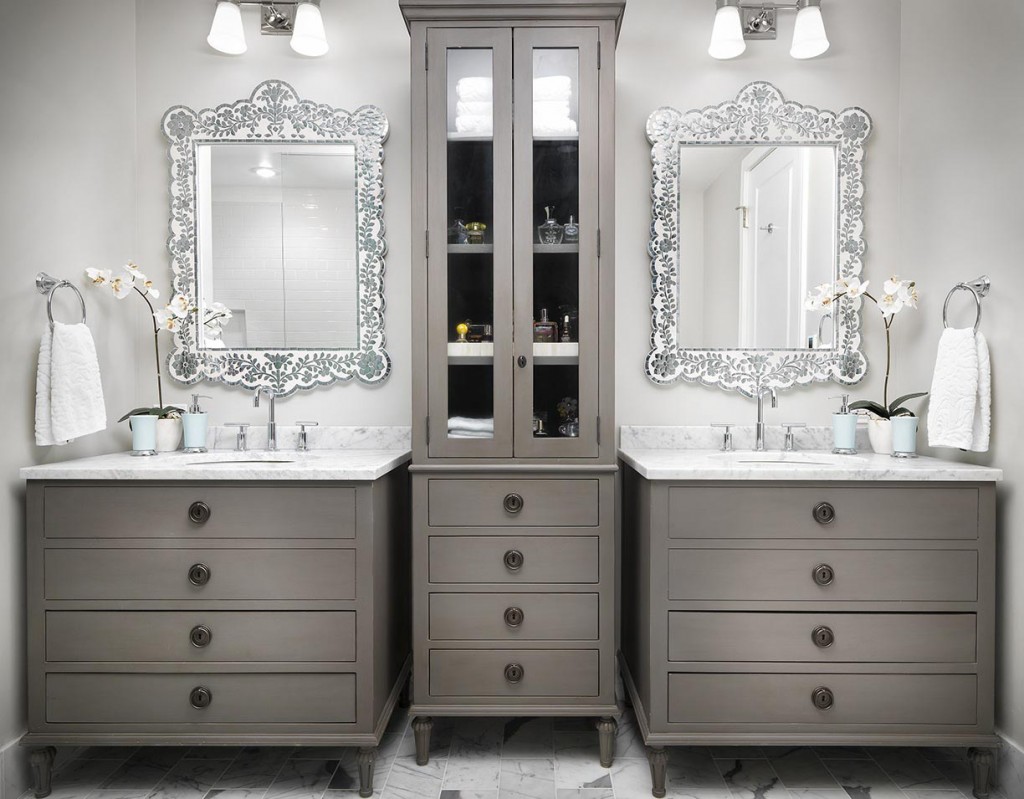 Separating dual sinks with a small armoire provides additional storage and plenty of room for grooming.
10. Two Vanities, One Sink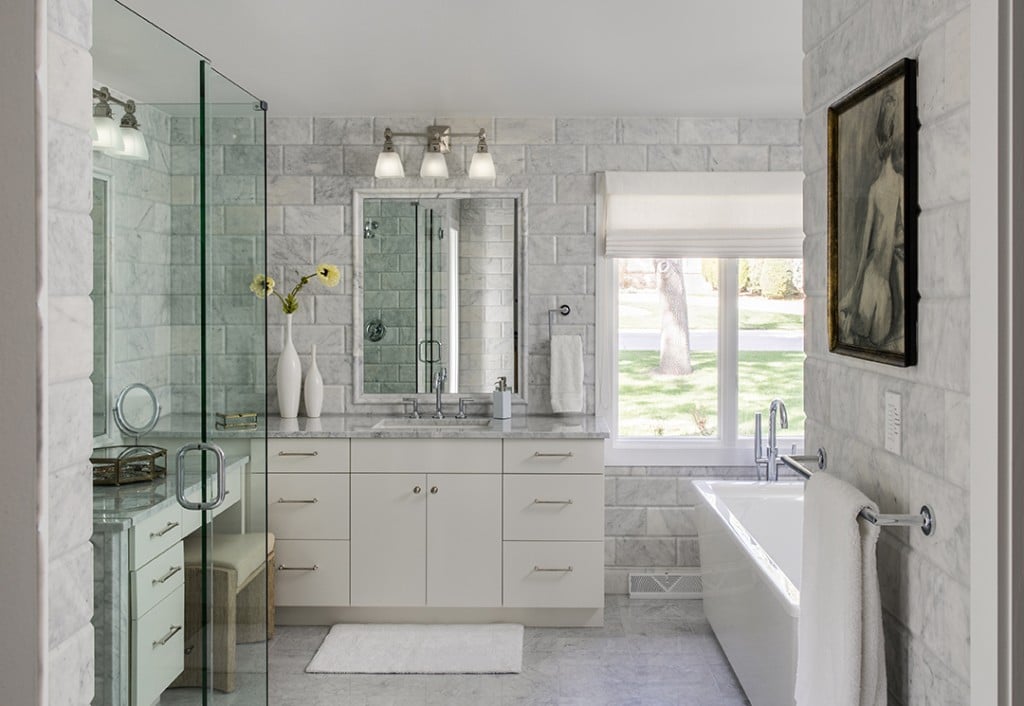 Having two sinks isn't always essential. This master features two bathroom vanity units set at a right angle, one with a sink and a lower one with a seat.
11. Built-In Makeup Vanity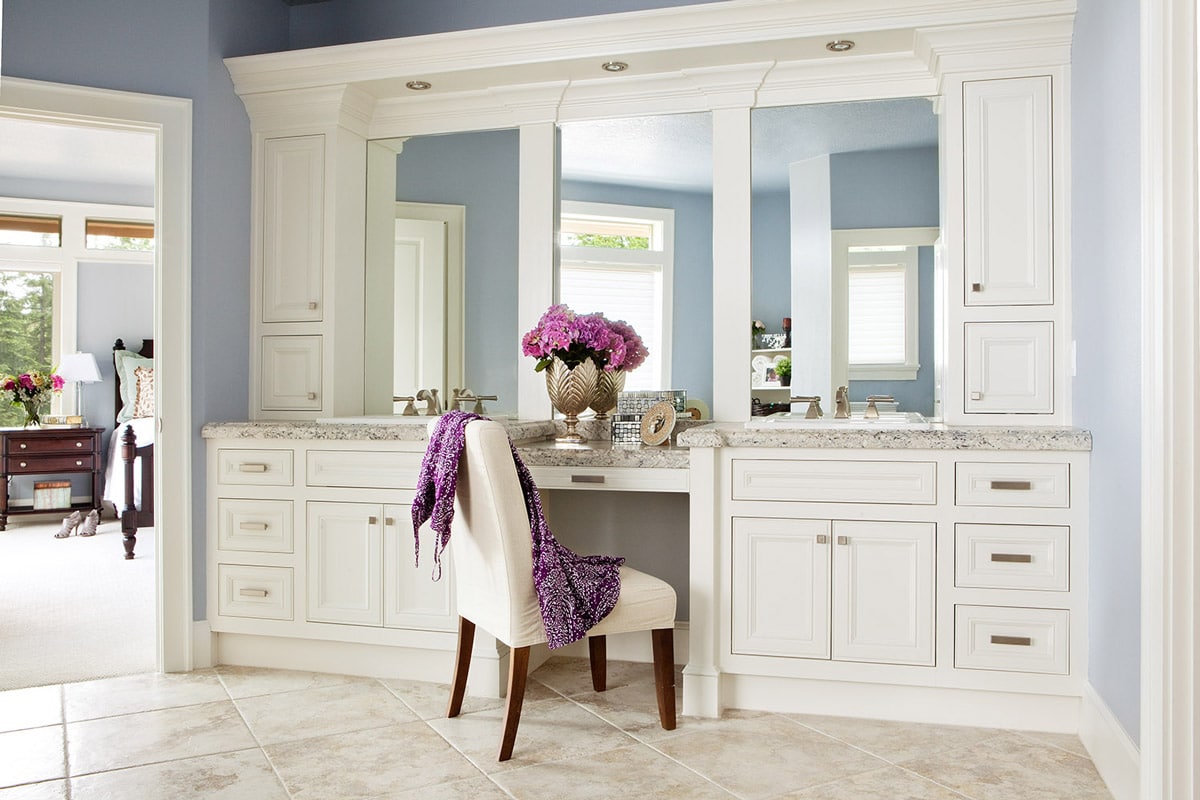 Sometimes the bathroom vanity isn't the ideal place for applying makeup. If you have the room, a built-in makeup vanity can provide the best seating, lighting and fog-free mirrors.
12. Custom Bathroom Vanity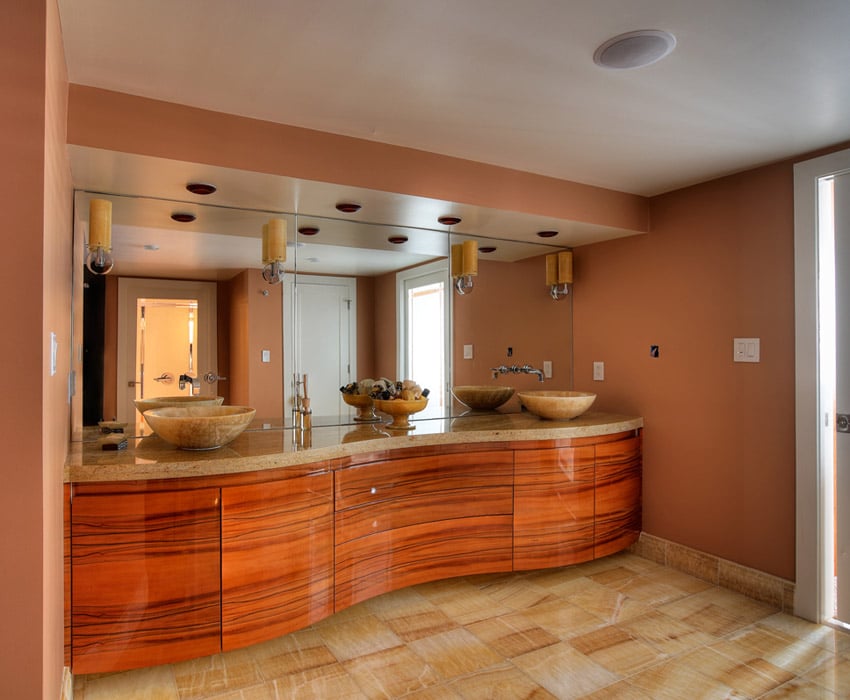 This undulating vanity is a beautiful custom piece in a luxury master bath.
13. Bathroom Vanity With Drawers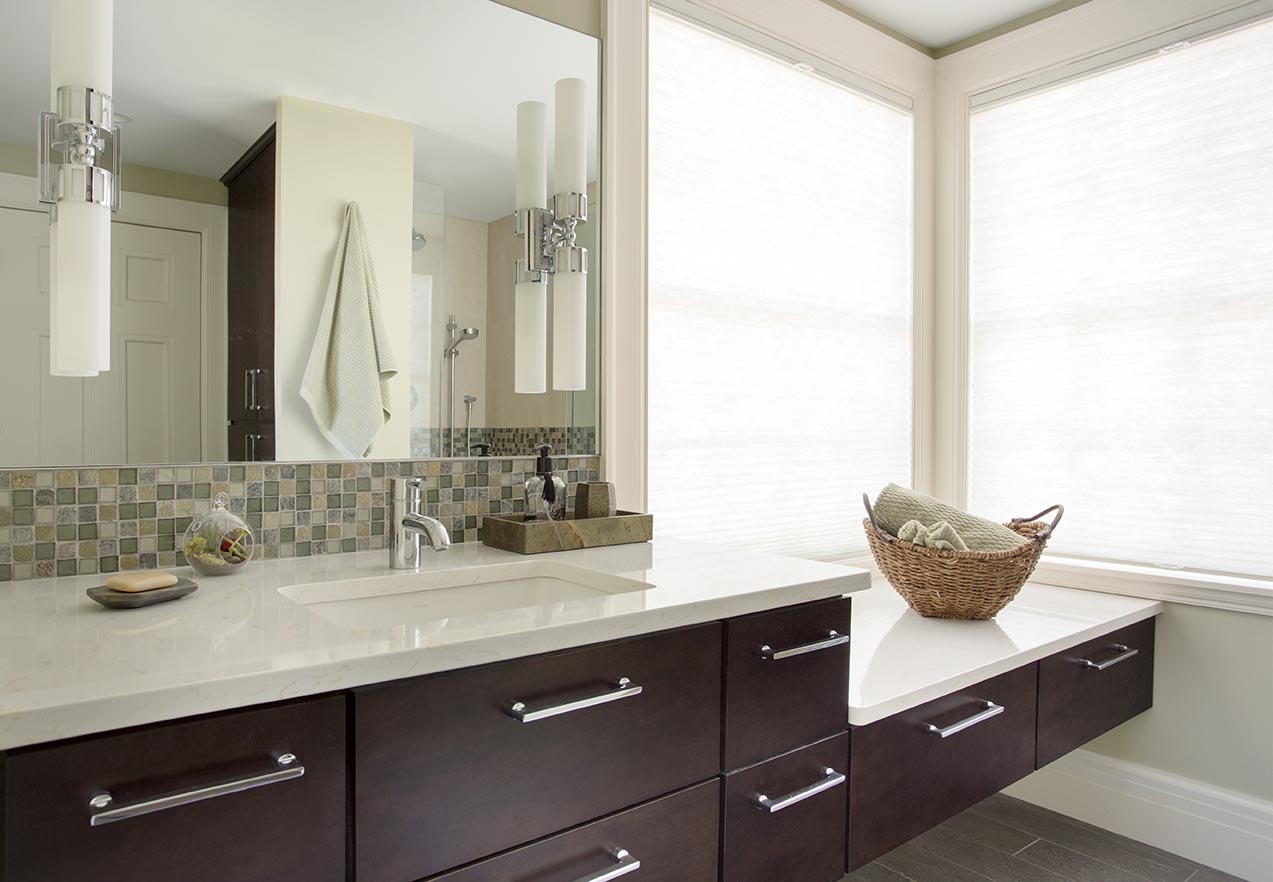 This custom bathroom vanity continues at a lower level below the bathroom window for additional storage.
14. Bathroom Vanity With Flat Panel Doors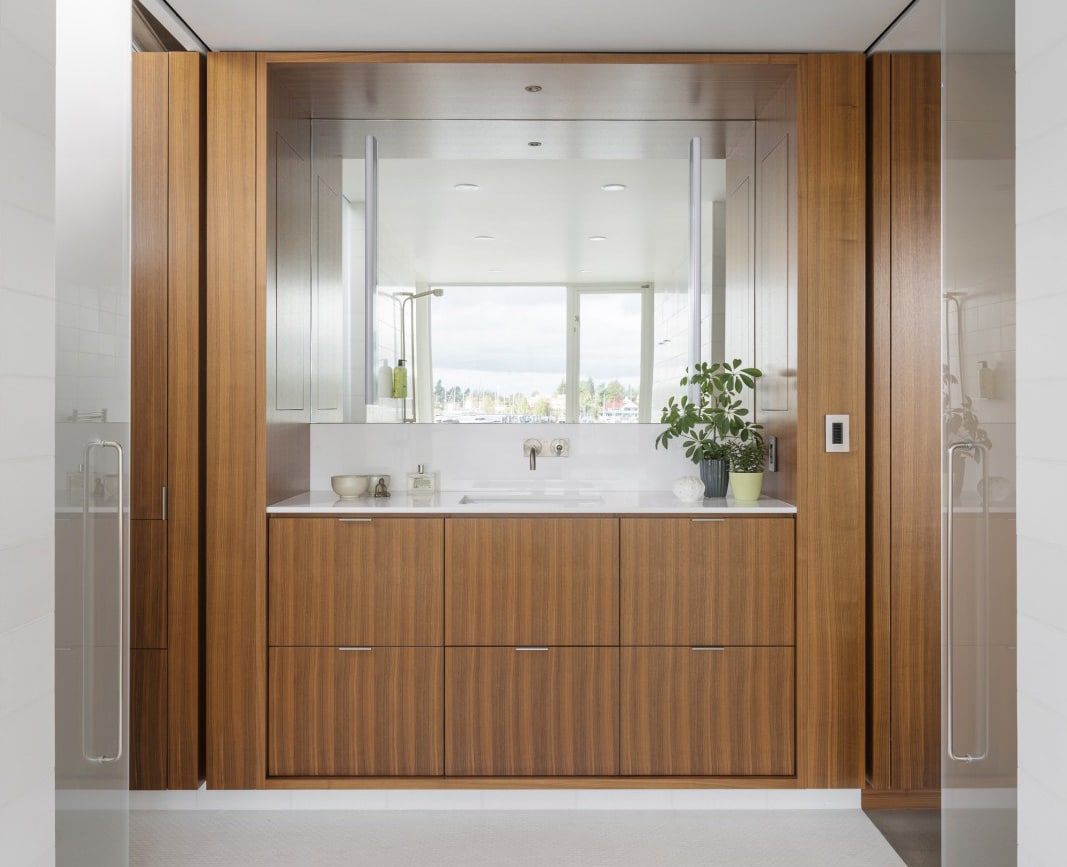 A custom vanity not only fits perfectly in place but makes a statement. This modern design is enhanced by wood grain in rich tones.
15. Bathroom Storage Ideas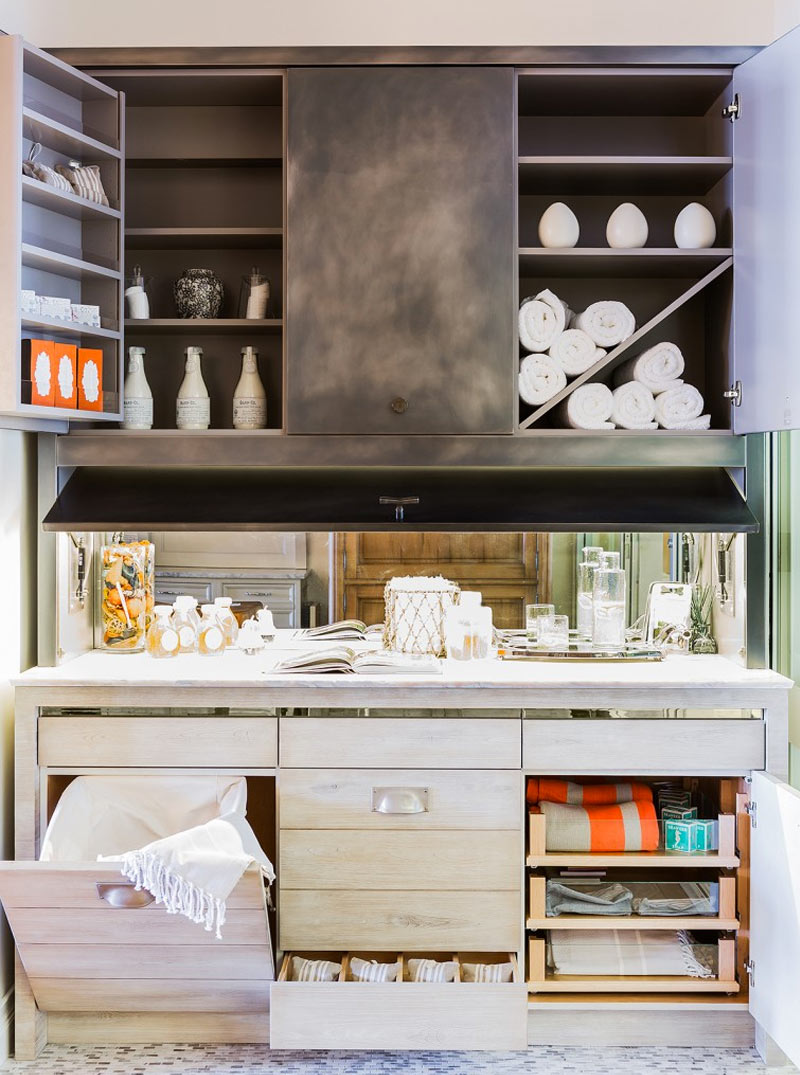 All those brilliant kitchen storage solutions can work in bathrooms two. A pantry style door makes products and medicines easy to find while an angled shelf keeps towels organized. At the table, a hutch conceals grooming products while down low a pull out laundry basket makes it easy to keep clothes off the floor.
16. Built-In Bathroom Cupboards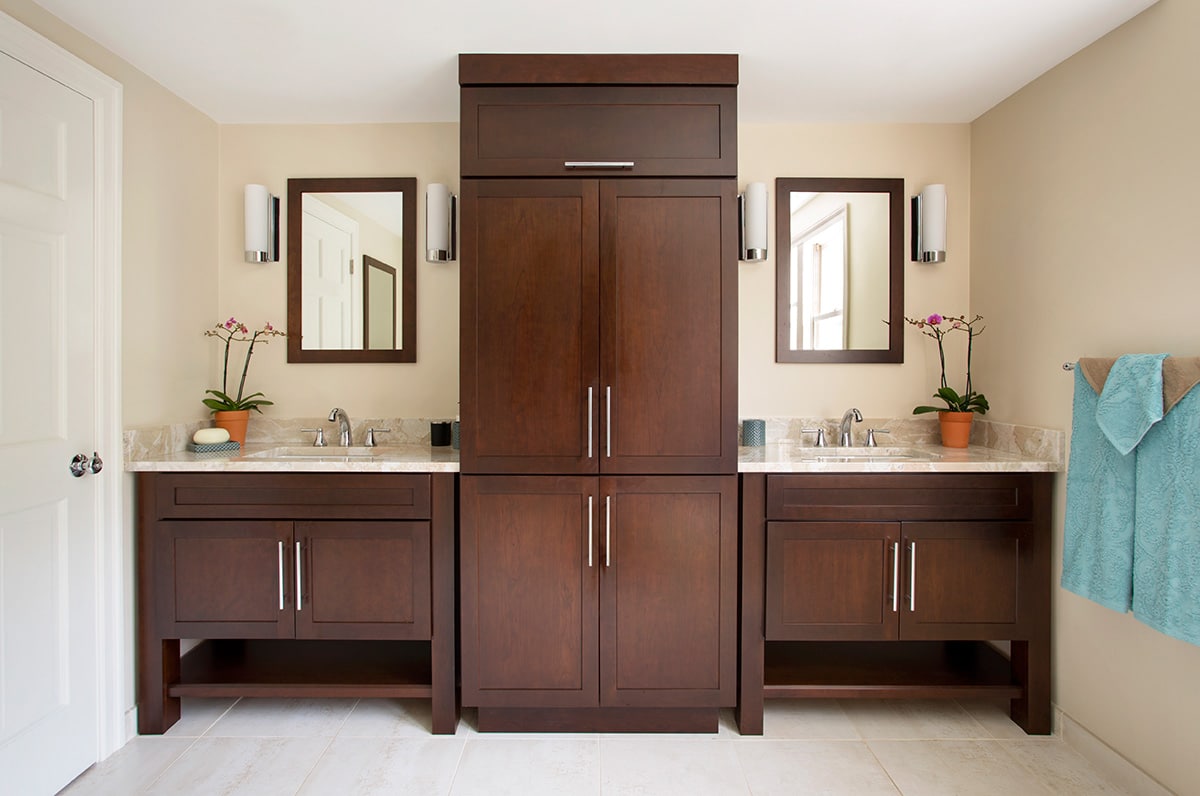 Instead of one long dual sink vanity,a floor-to-ceiling cabinet between two small vanities provides ample cupboard space.
17. Bathroom Storage Furniture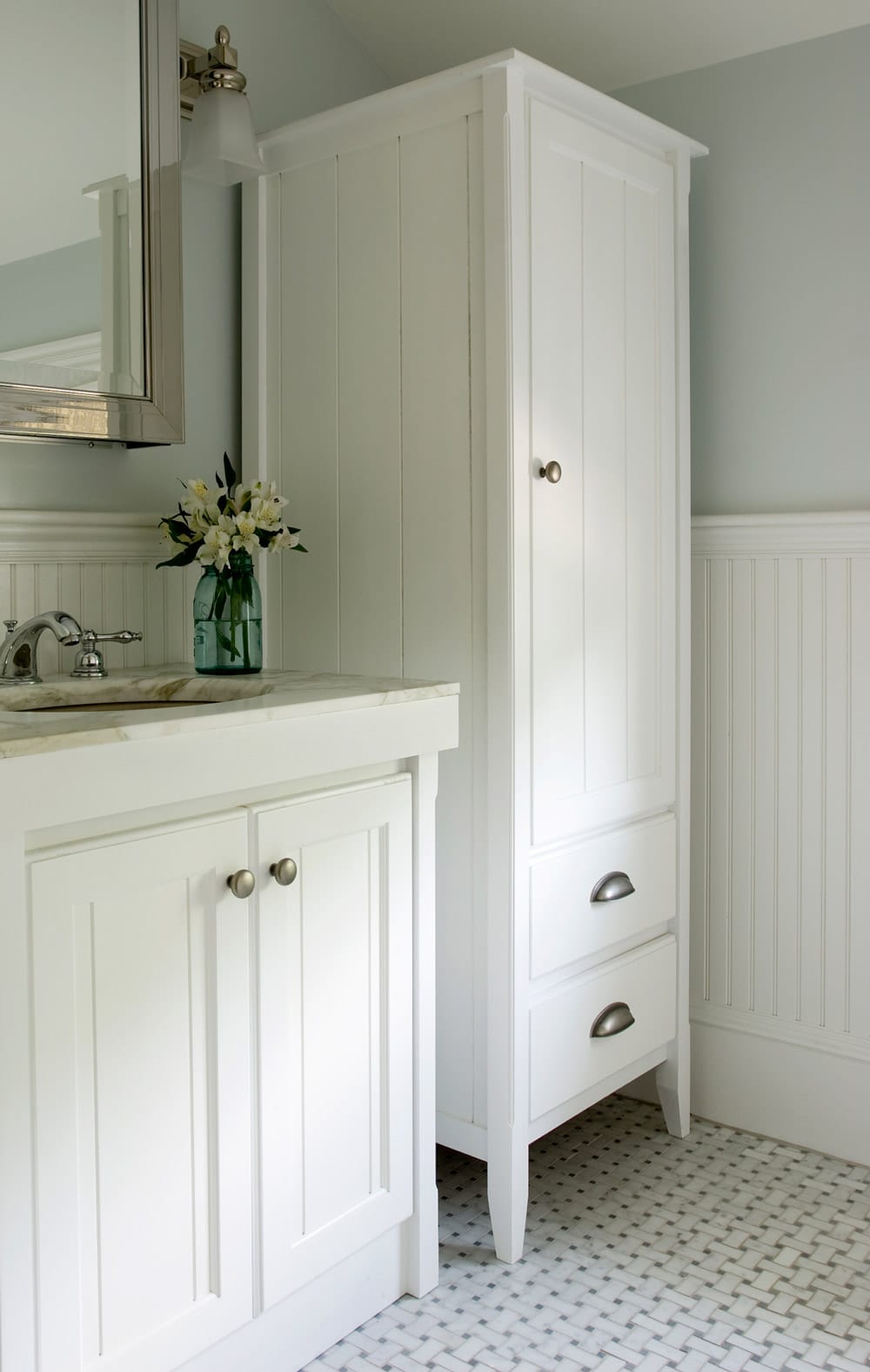 This country-style bathroom features a matching linen cupboard inside the bathroom.
18. Bathroom Cupboard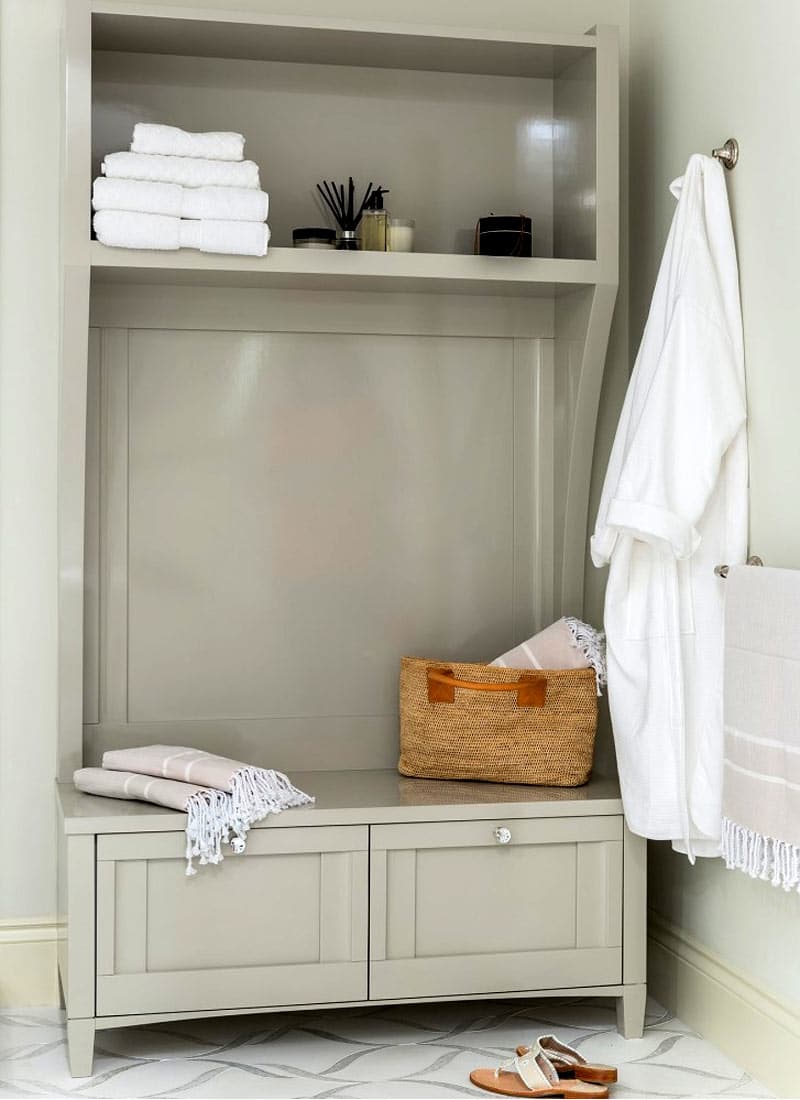 An open cupboard provides additional shelving with minimal bulk.
19. Rustic Bathroom Vanity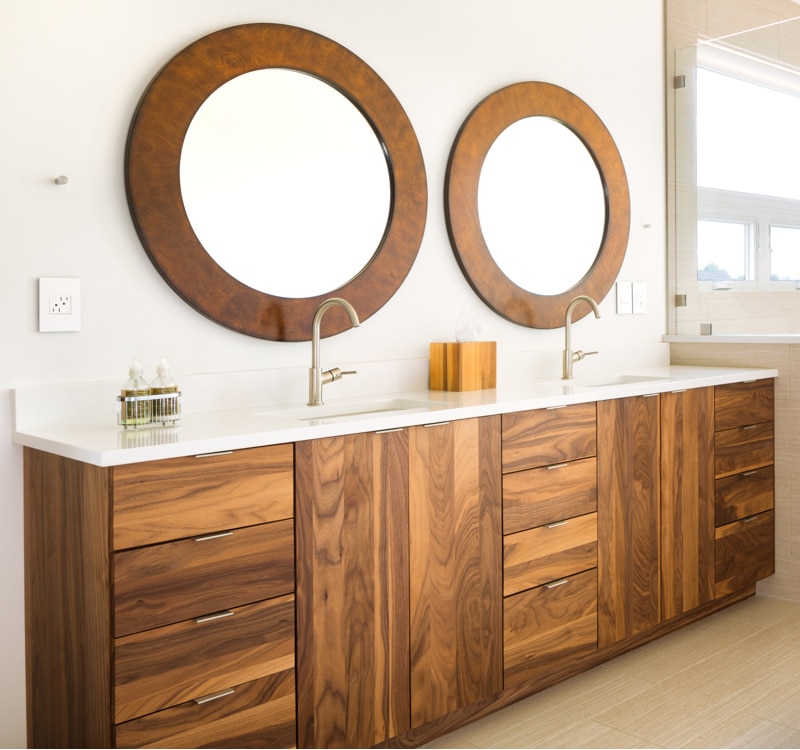 The bold and beautiful wood grain gives this bathroom a rustic feel.
20. Traditional Bathroom Vanity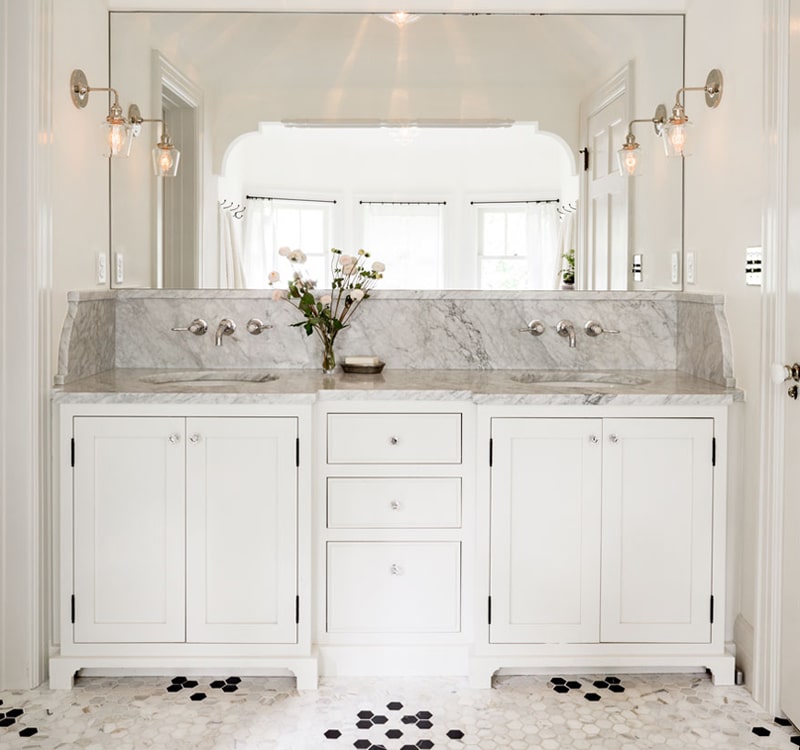 Jessica Helgerson Interior Design
Simple white doors and glass handles are perfect with a vintage tile pattern and granite counters.
21. Powder Room Vanity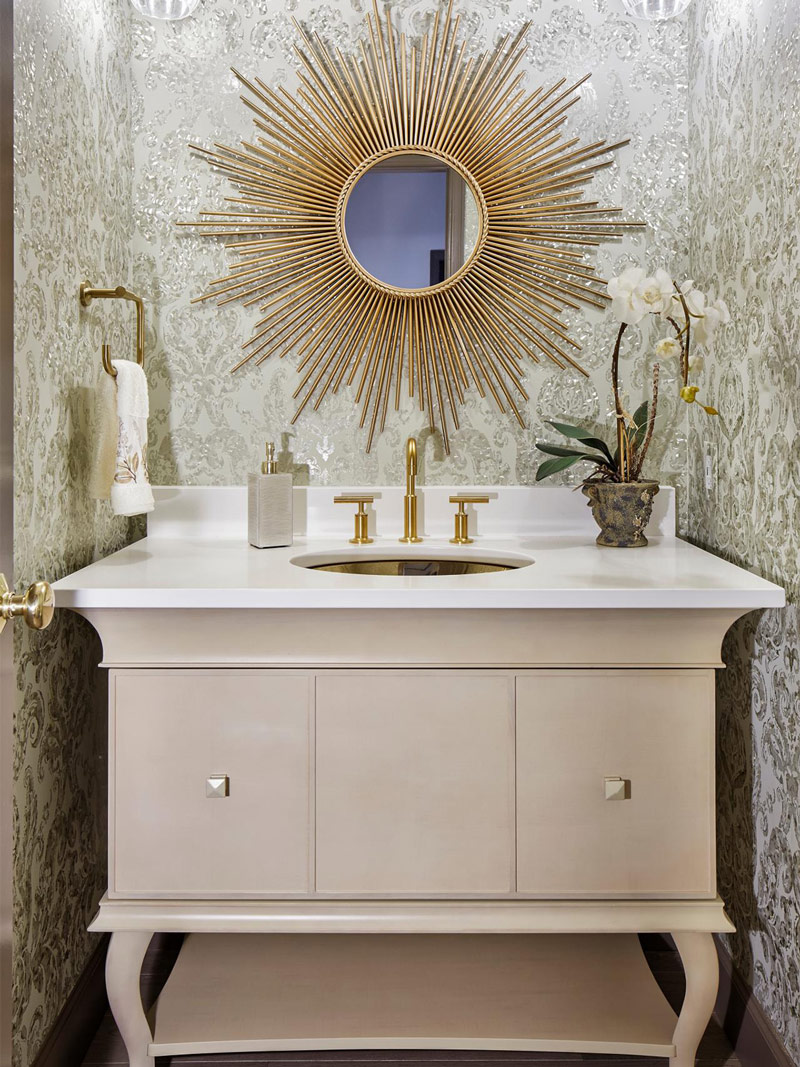 A sparkling powder room design with silver wallpaper and a gold sun mirror needs a bold vanity to match.