Islands are one of the most desired kitchen layouts because they add more of everything you want: counter space,  storage as well as a sink or range for a better kitchen work triangle. Islands are also used for a breakfast bar or seating area, perfect for informal meals as well as entertaining. No wonder everyone want to have this versatile design feature.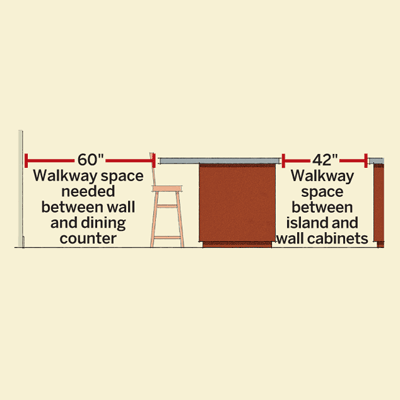 However, kitchen islands require a fair amount of space. The minimum size for an island is 4′ x 2′, in addition to space to move around it. The recommended space around an island is 4′, or 48″. This is enough for two cooks as well as universal design guidelines, which provide adequate space for a wheelchair to maneuver. Even more walkway space is recommended between a dining counter and wall. Ideally, a kitchen will be at least 8′ deep and 12′ long for an island.
For smaller kitchens, 42″ can be adequate and some designers make do with only a 36″, or 3′ width, around the island. The right space also depends on how many cooks usually use the kitchen, where refrigerator and oven doors open and how far out they swing as well as sink and stove placement. If you really want an island but don't quite have the room, consider a moveable island on casters or narrow table instead.
Check out these pictures for kitchen islands in 25 different sizes, shapes and finishes for kitchens large and small, modern and traditional. One of these kitchen island ideas is sure to work in your home.
1. Modern Granite Kitchen Island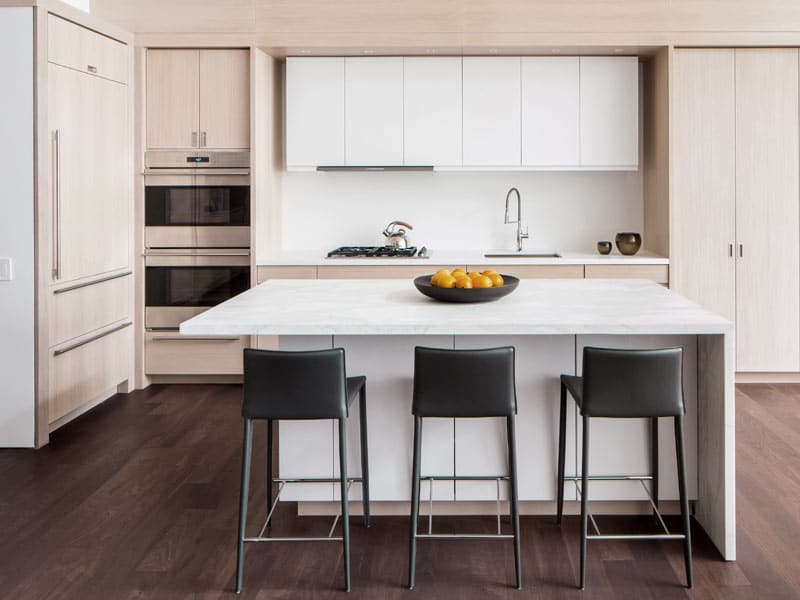 2. Modern Kitchen Island
An island with a range and hood completes the kitchen triangle.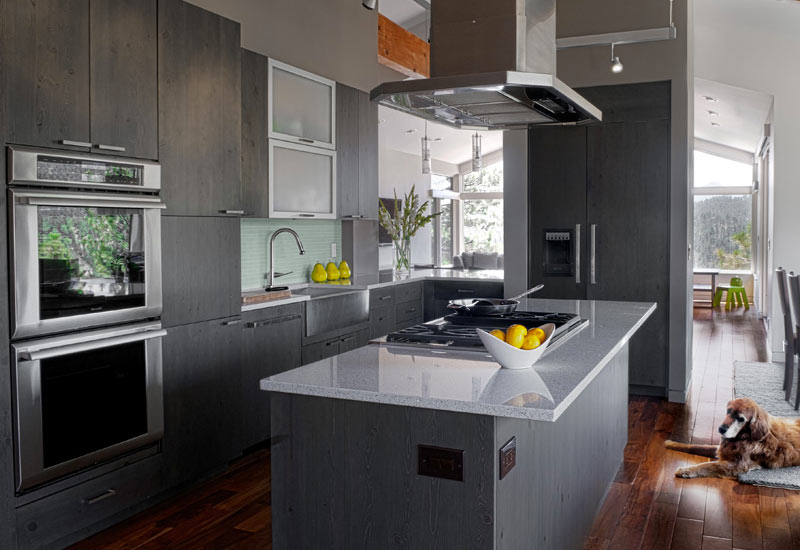 HMH Architecture and Interiors
3. Rustic Kitchen Island
Pendant lighting illuminates the island that serves as the focal point and heart of this rustic kitchen.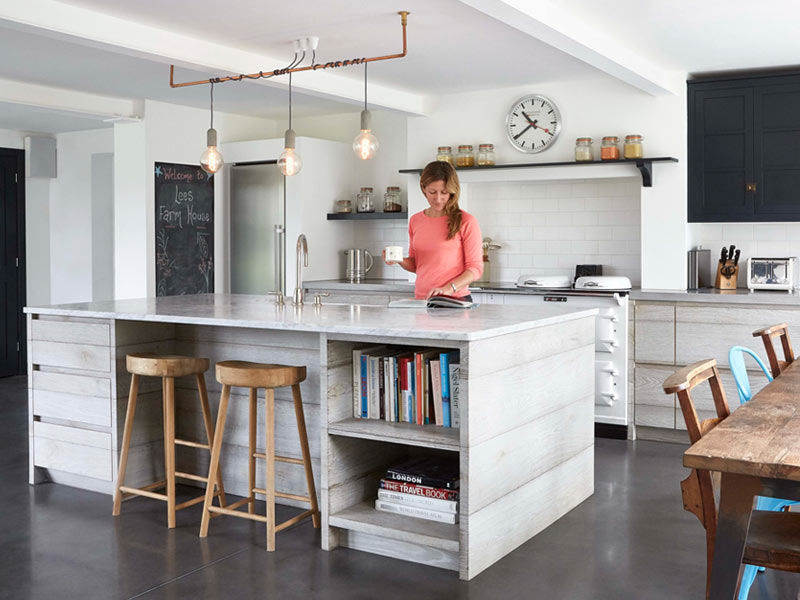 4. Contemporary Kitchen Island with Granite Countertops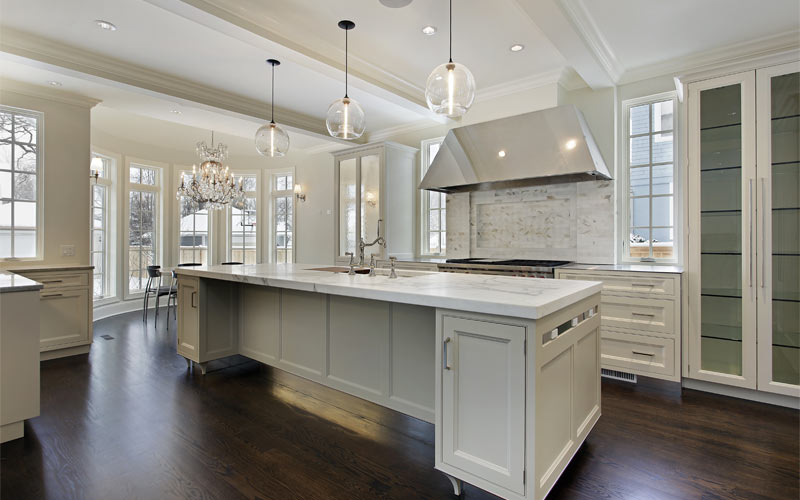 5. Kitchen Island with Cantilevered Countertop
A foot of countertop overhang provides extra counter space and room to pull up a stool.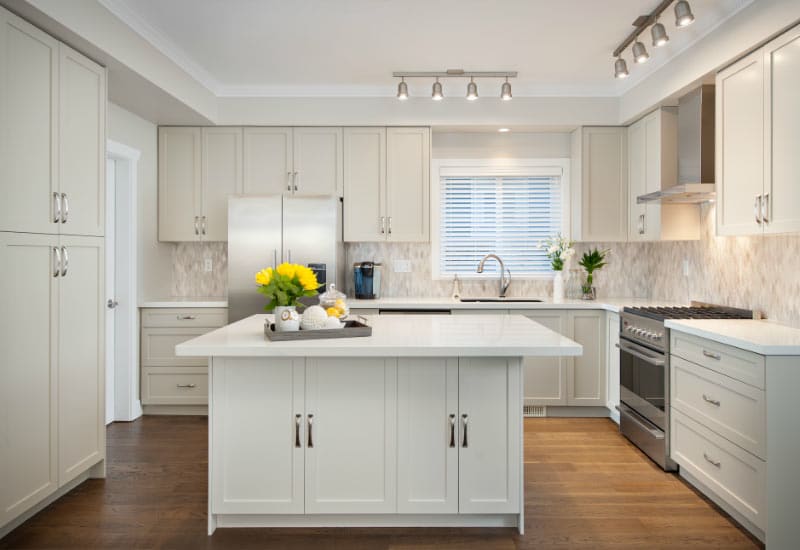 6. Large Kitchen Island with Range and Hood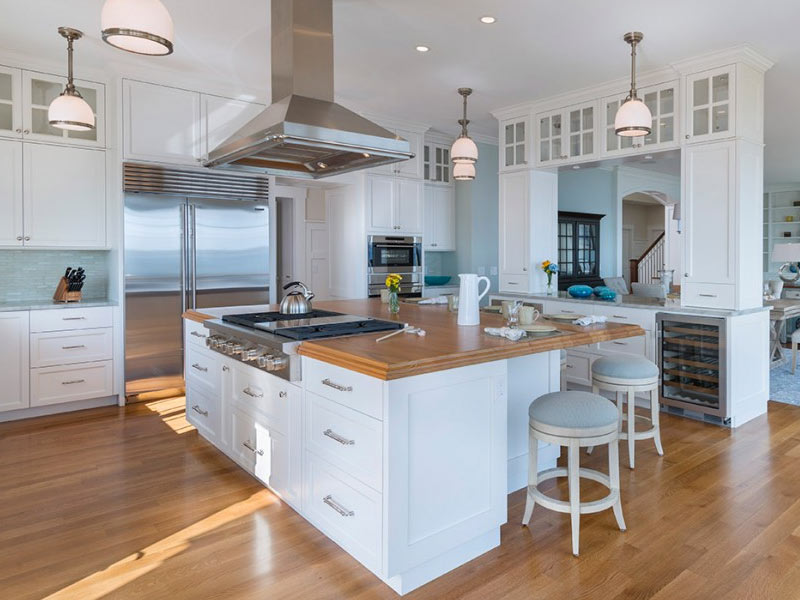 7. L-Island with Range and Seating
The L-shaped island combines work area and breakfast bar seating.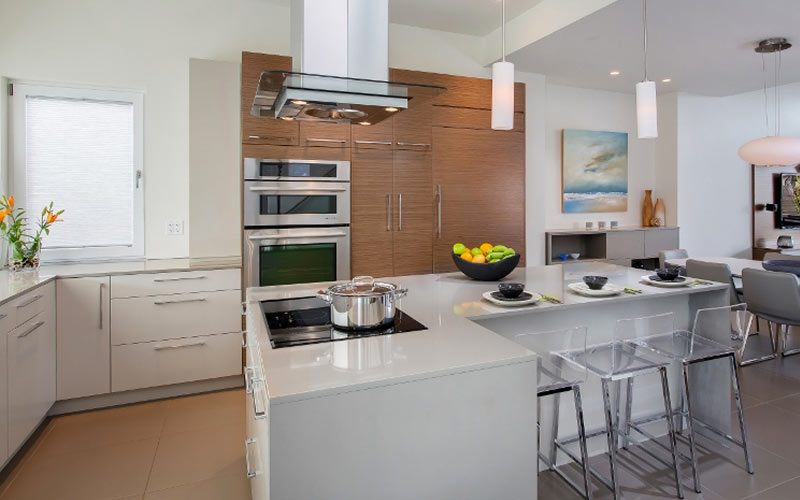 8. New Traditional Kitchen Island with Farmhouse Sink
An apron sink provides work space for a second cook and an attractive detail for this traditional kitchen.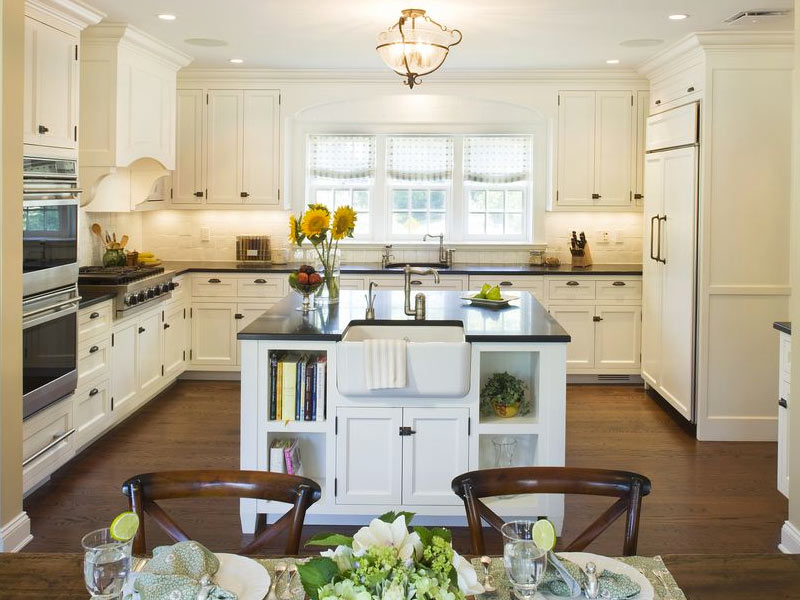 9. Granite With Apron Sink
This gorgeous kitchen reno with an island topped with thick Calacatta Gold marble by Drury Designs won the American Society of Interior Design 204 Design Excellence Award and first place, medium kitchen category, in NKBA Midwest's 2013 Design Visions Competition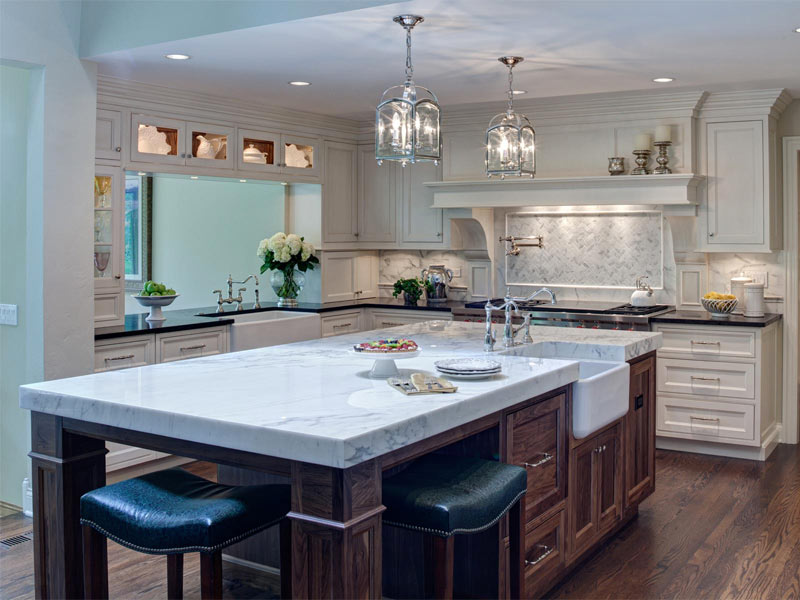 10. L-Island
The expansive L –shaped island with plenty of counter space, storage as well as seating for three.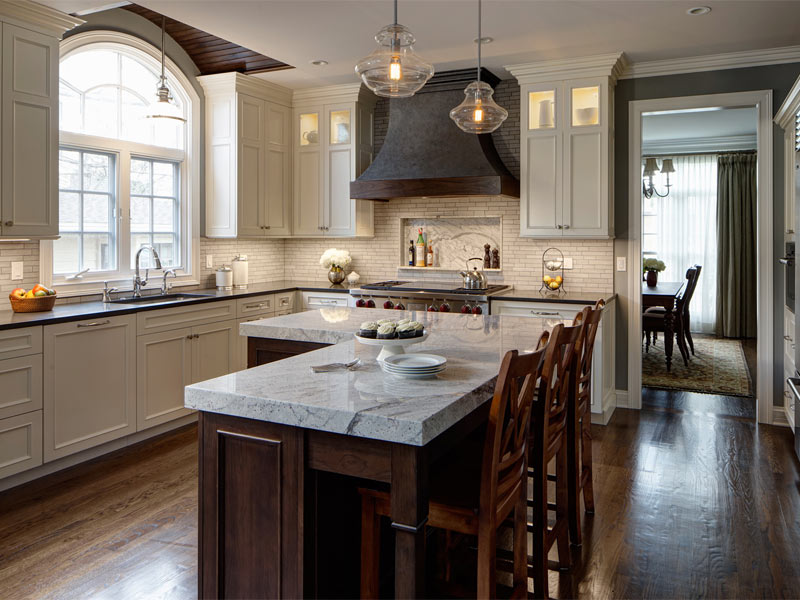 11. Island with Separate Table
For an eat-in kitchen instead of a breakfast bar, this two-level island features ample work space and a dining table.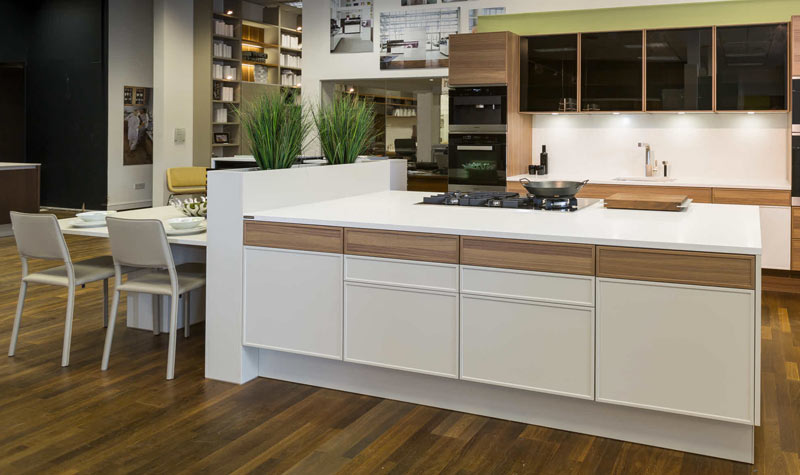 12. T-Shaped Kitchen Island
To seat four people, a T-shaped island provides plenty of counter space and room to sit.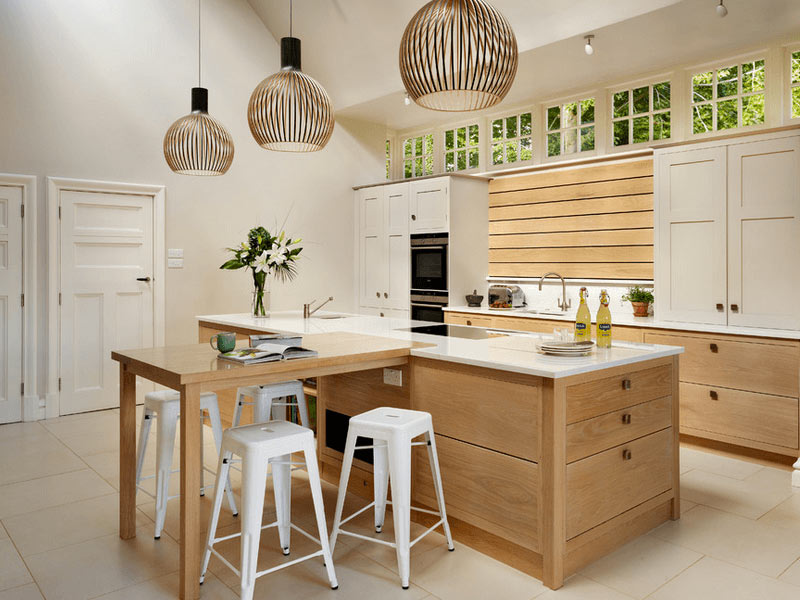 13. Kitchen Island with Built-In Table
Leaving out under island storage creates a built-in table.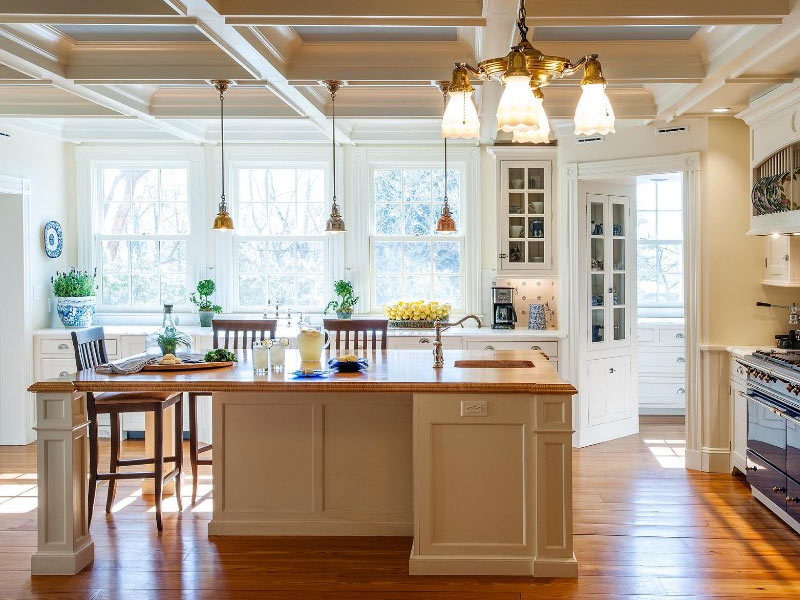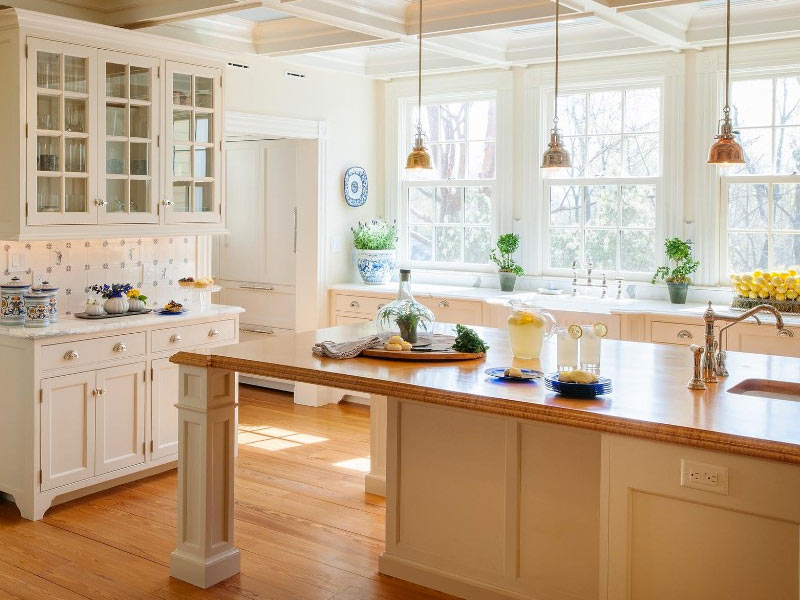 14. Wide V-Shaped Kitchen Island
For a kitchen with plenty of space, this V-shaped island serves up weekday suppers and acts as a makeshift bar when entertaining.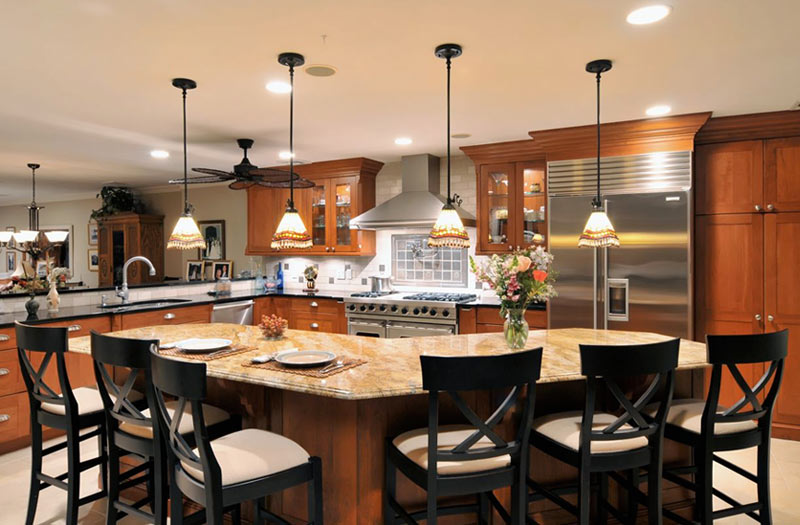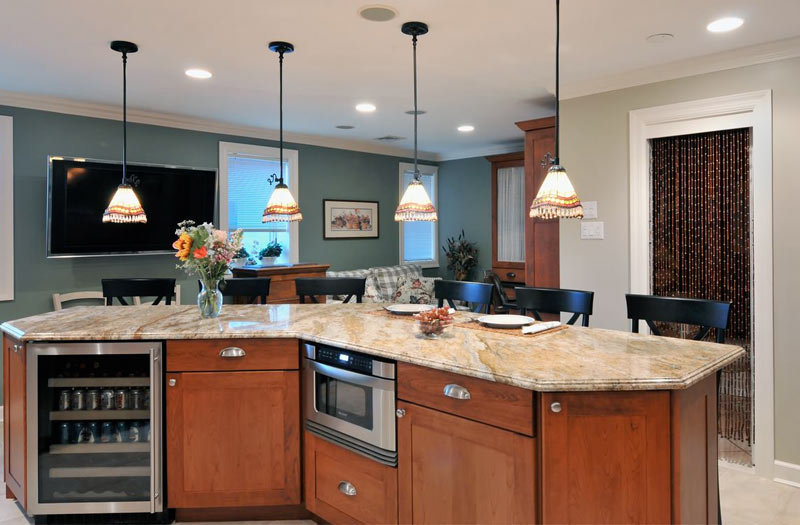 15. Kitchen with Two Islands
Two islands means plenty of room for multiple cooks to work and the ultimate kitchen party.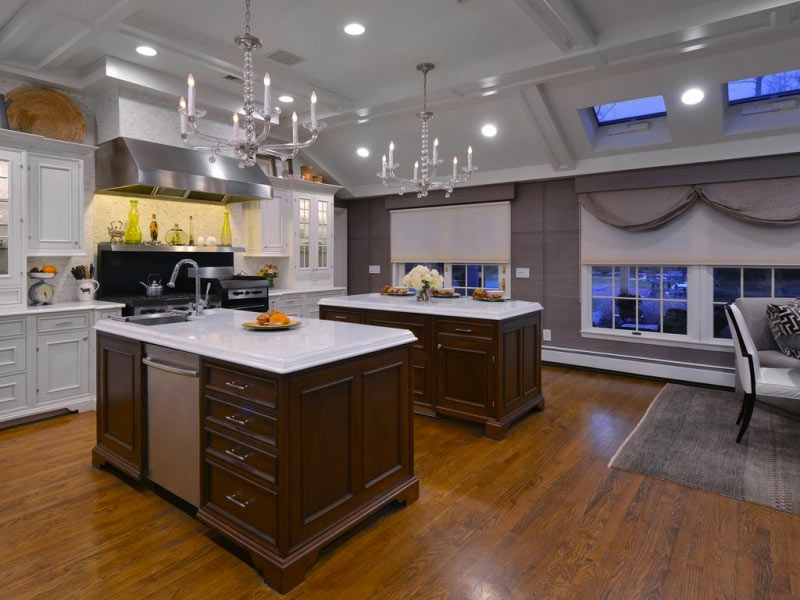 16. Kitchen Island with Overhang
A countertop with an overhang serves dual purposes as more countertop area and providing seating.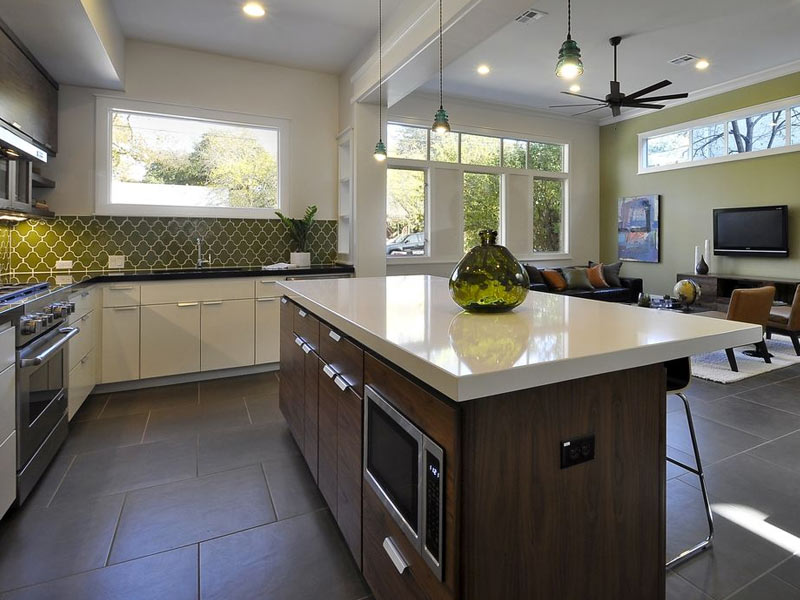 17. Eclectic Kitchen Style
An island works with every kitchen design style. This unexpected eclectic kitchen combines old and new like vintage light fixtures, patterned curtains and lime painted floor with stainless steel appliances and clean modern lines.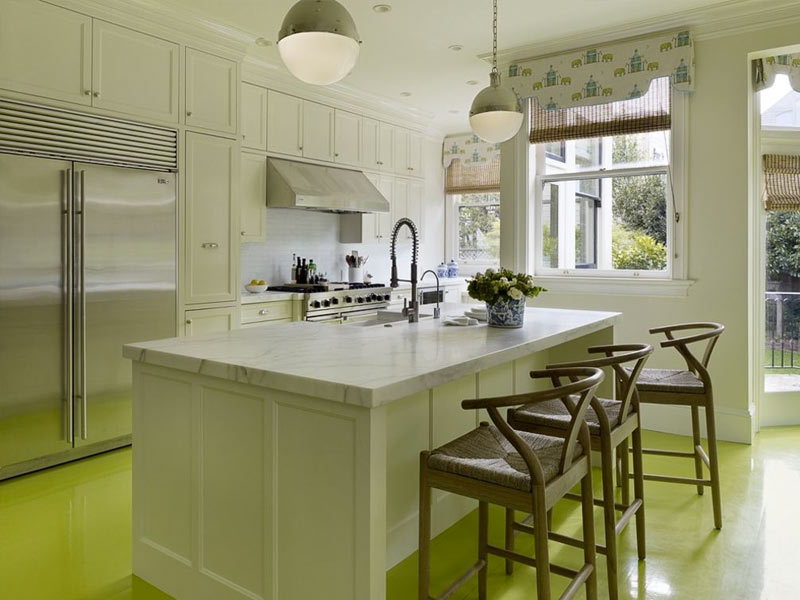 18. Square Kitchen Island
An island can be any shape that fits your space.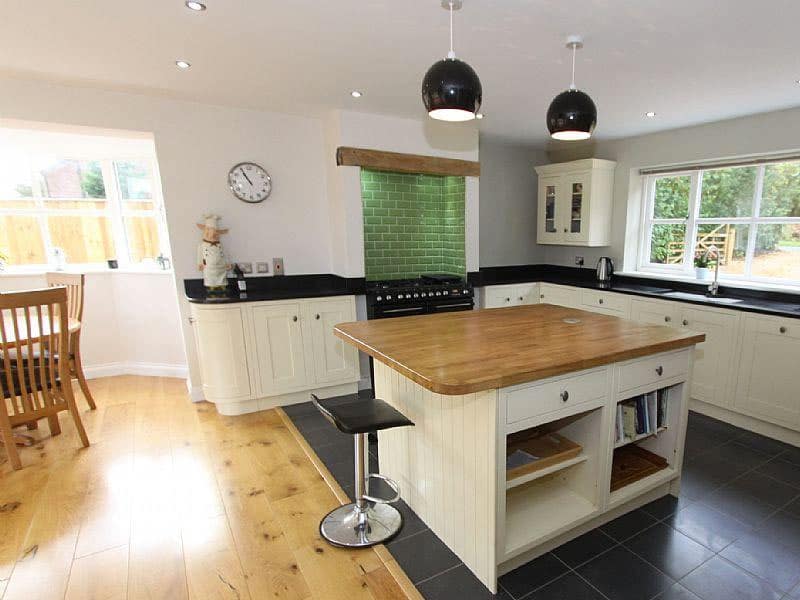 19. Kitchen Island with Contrasting Materials
Different cabinets and countertops set the island apart from the rest of the kitchen.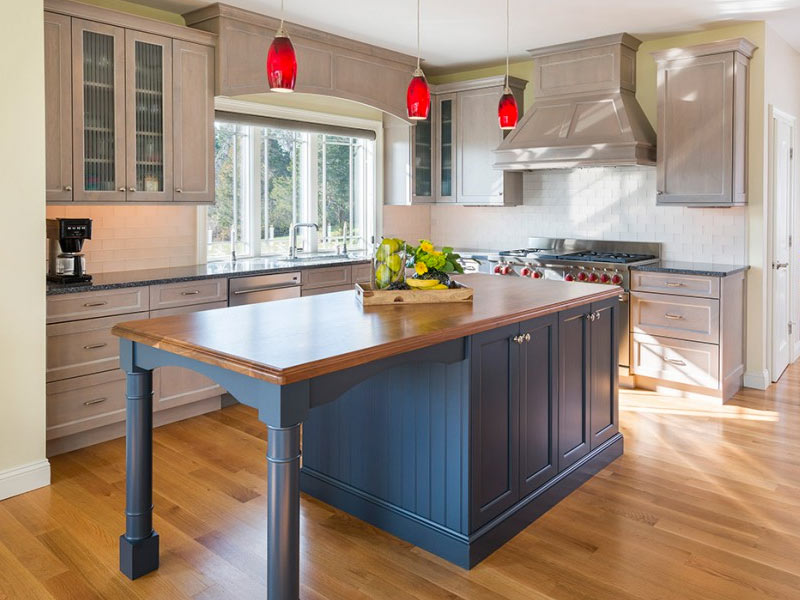 20. Long Kitchen Island for Galley Layout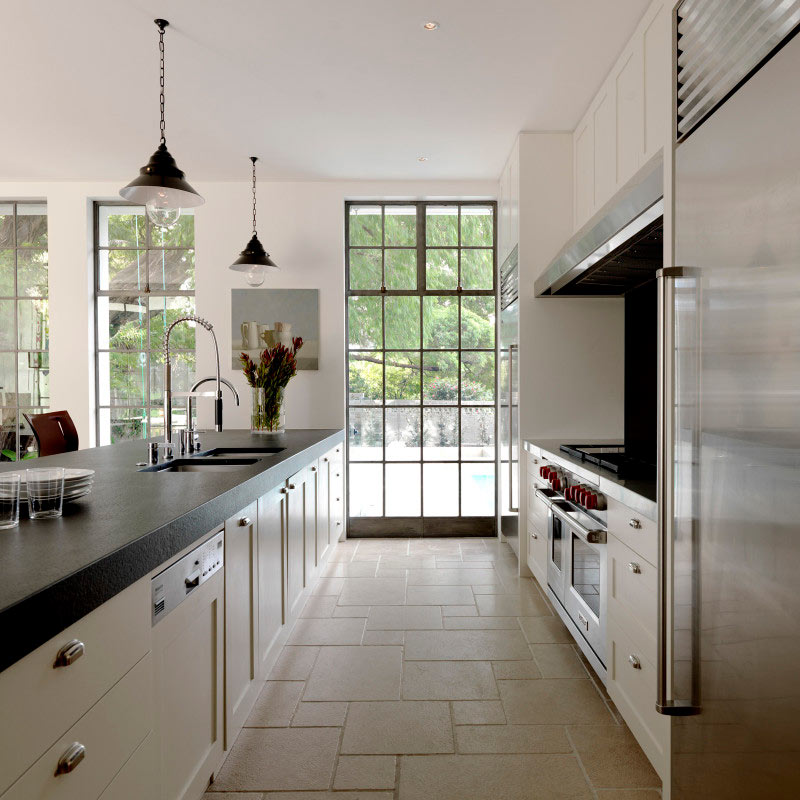 21. Kitchen Island with Table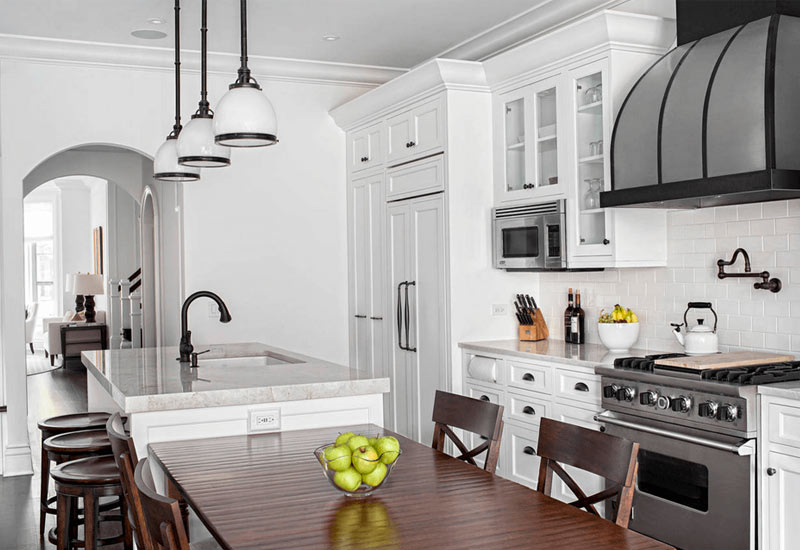 22. Narrow Kitchen Island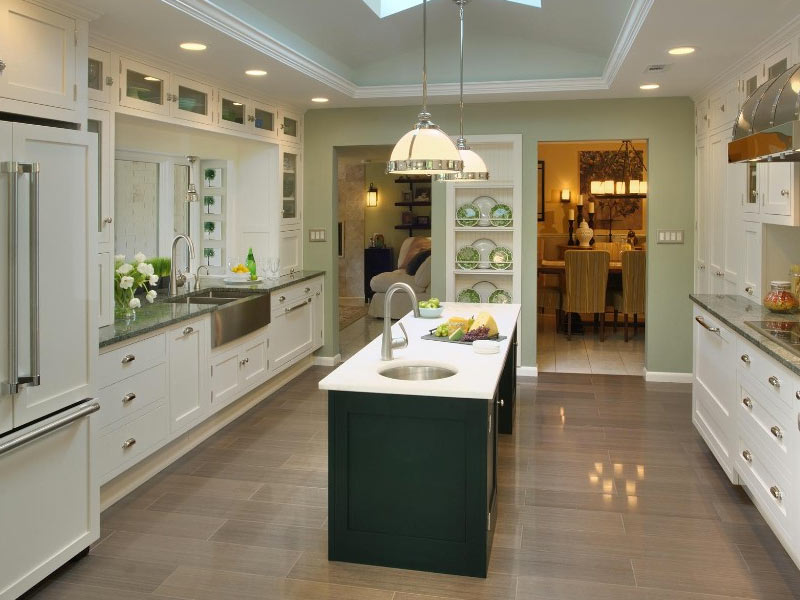 23. Small Kitchen Island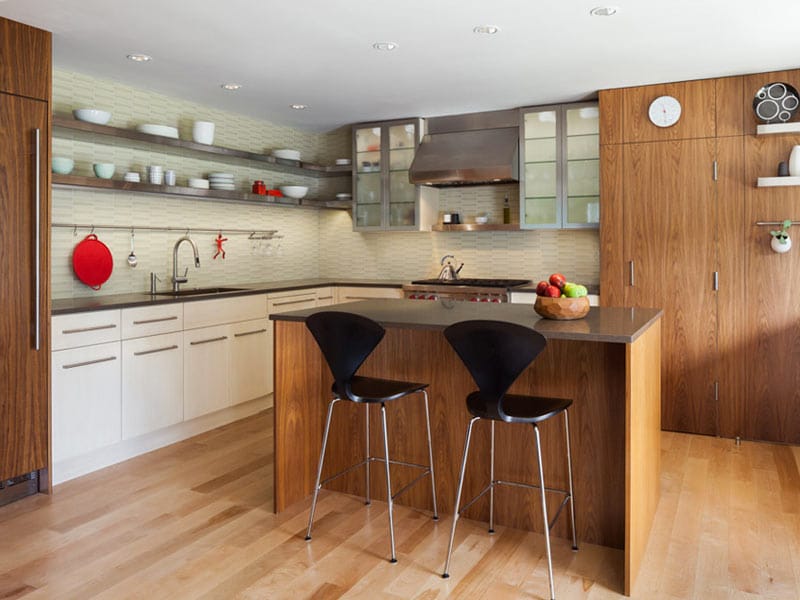 HMH Architecture and Interiors
24. Island Table
A movable island can be the solution when there isn't quite enough space.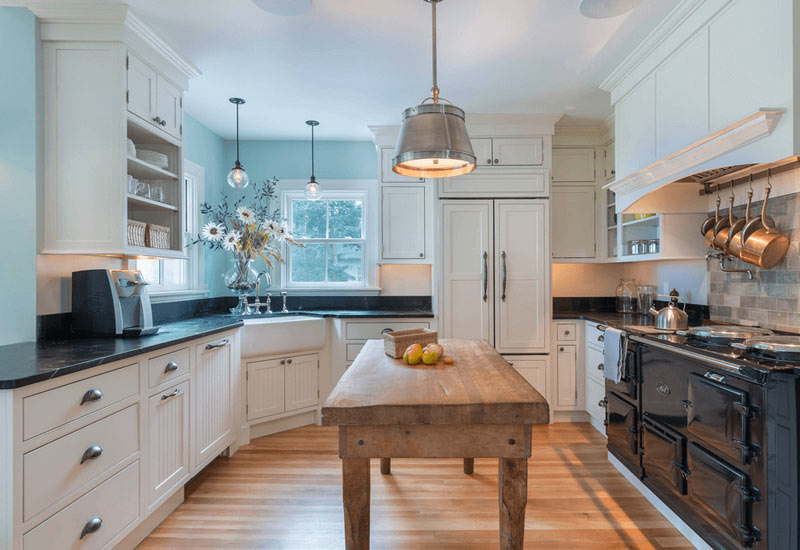 Davitt Design Build
25. Movable Kitchen Island