The master bedroom is one of the most important places in the house because it's the room you spend the most time in. Even while sleeping, the decor matters.
It should be a calm space with a nightstand to hold the essentials and adequate closet space. For big bedrooms, there can be space for seating, a desk and/or a fireplace.
The details are essential for creating the right ambience to enhance sleep and relaxation. Master bedroom furniture sets the mood but so does the bedding, paint colors and layout.
How you decorate the master bedroom should also be a reflection of your style. That can be modern, masculine, traditional, luxurious and so much more.
Check out these pictures for a wide range of master bedroom design ideas.
1. All White Bedding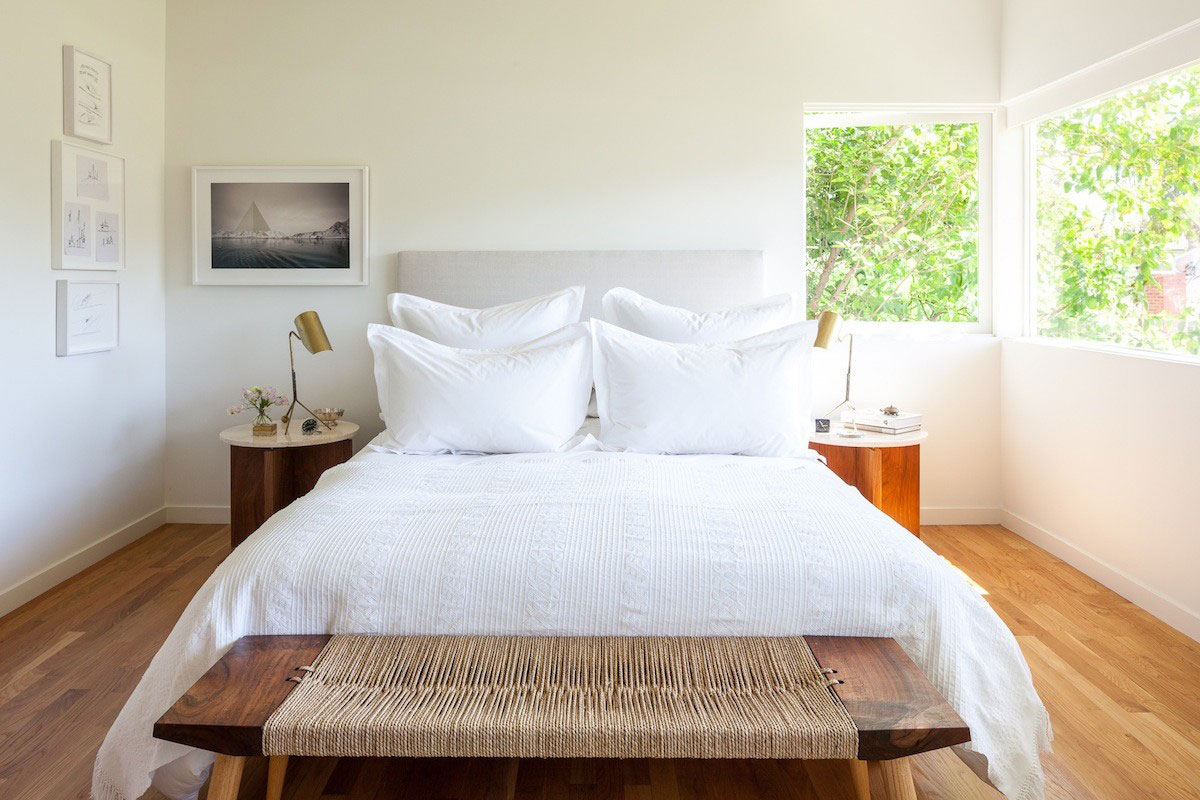 All white bedding adds to the ultra light, ultra white feel of this bright bedroom.
2. Big Bedroom Ideas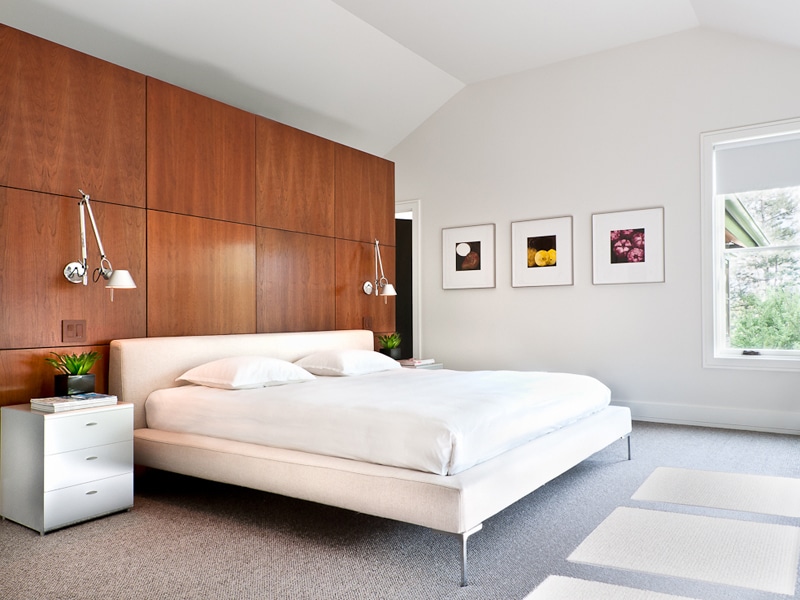 With lots of space and light in this big master bedroom, the wood wall is a rich and vibrant feature that would overwhelm and darken smaller rooms.
3. Modern Four Poster Bed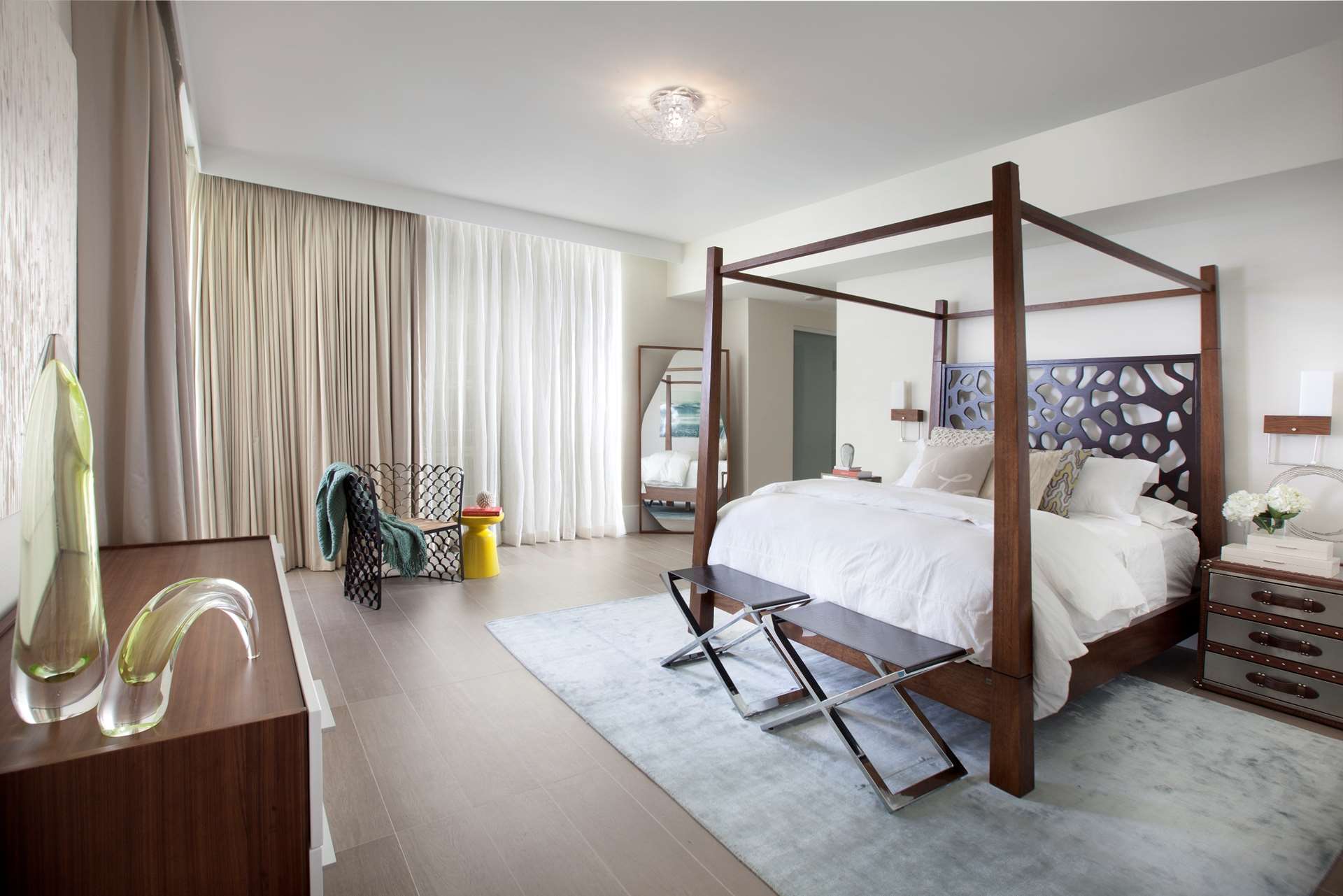 This unusual four-poster bed adds the coziness of a canopy with sleek, modern lines that fit with the rest of the decor.
4. Small Master Bedroom Layout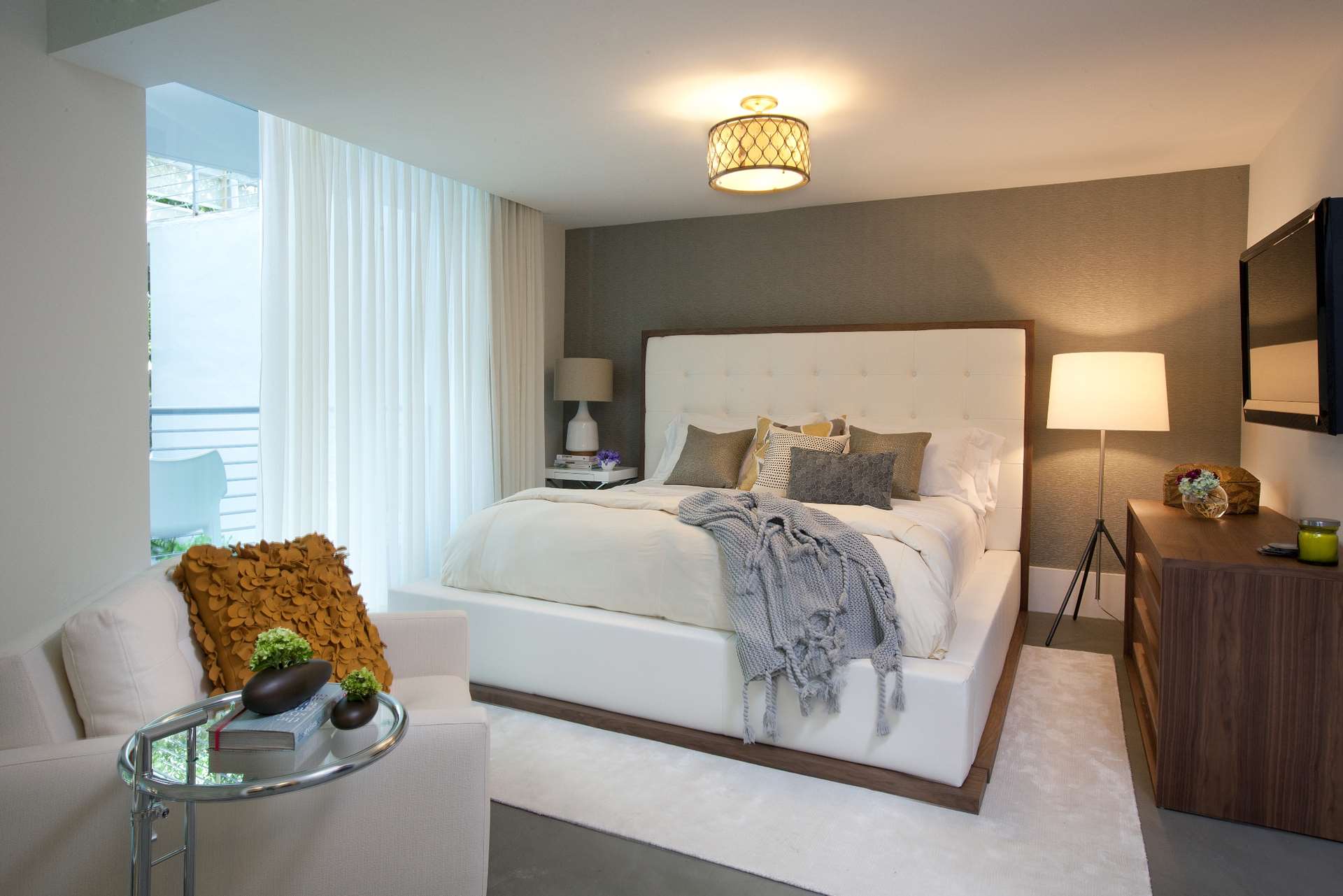 While all you really need in a bedroom is a bed, this smaller master bedroom manages to fit in a night table, dresser, chair and tv without feeling cramped.
5. Masculine Master Bedroom Decor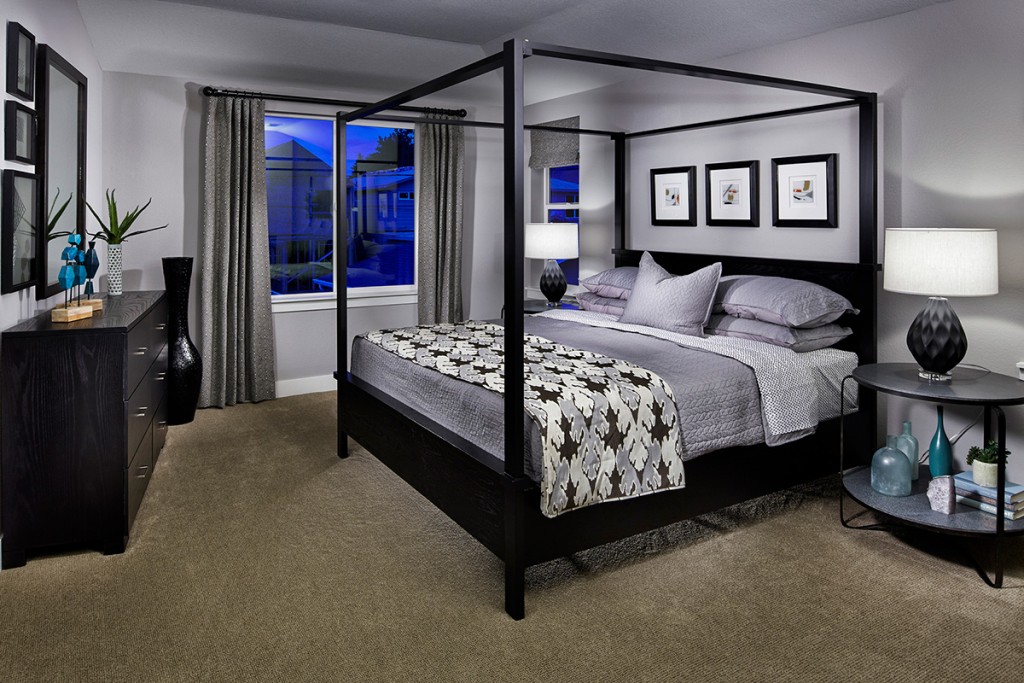 Master bedroom decorating can take on a feminine touch. Thankfully, the Laura Ashley floral pattern era is over and this dark palette and modern lines is something everyone can agree on.
6. Black + White Master Bedroom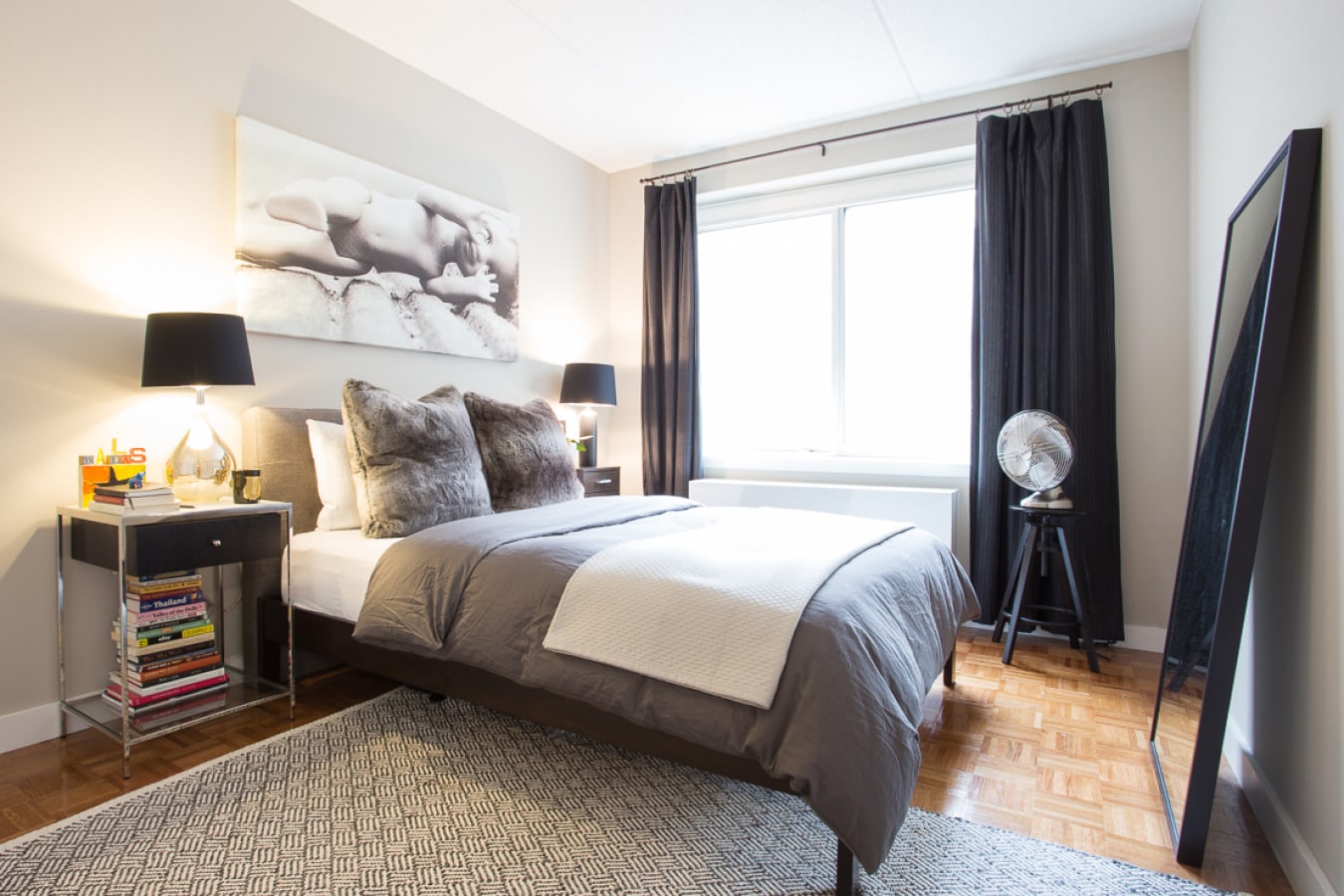 A black, white and gray color palette is luxurious as well as soothing.
7.  Textured Bedroom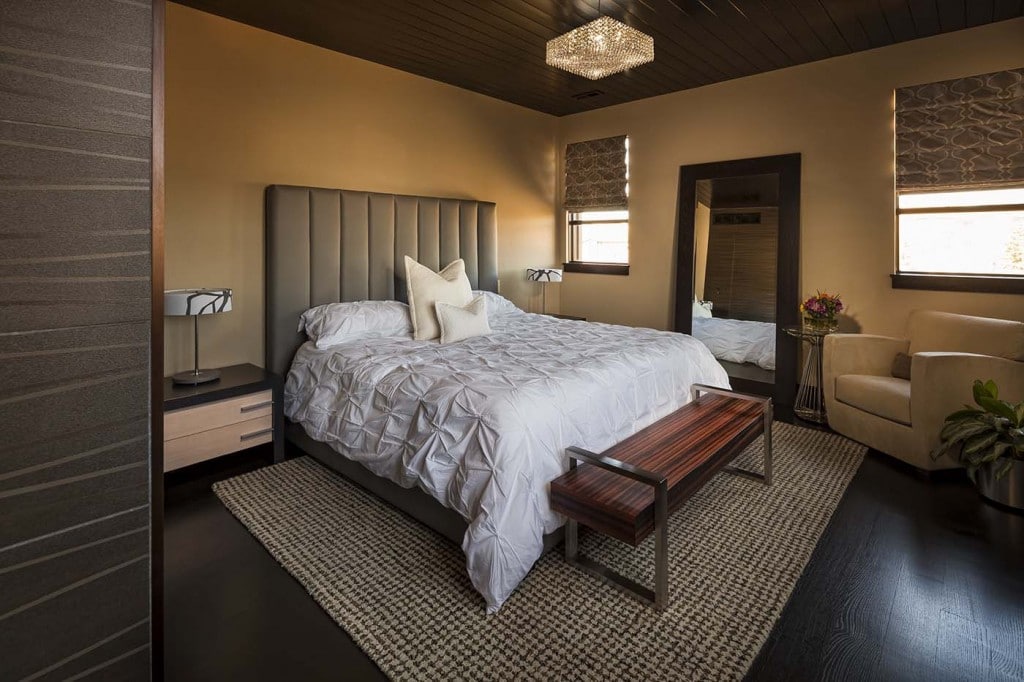 With a neutral color palette, this master bedroom is all about texture in the headboard, rug, bedding and curtains.
8. Rustic Design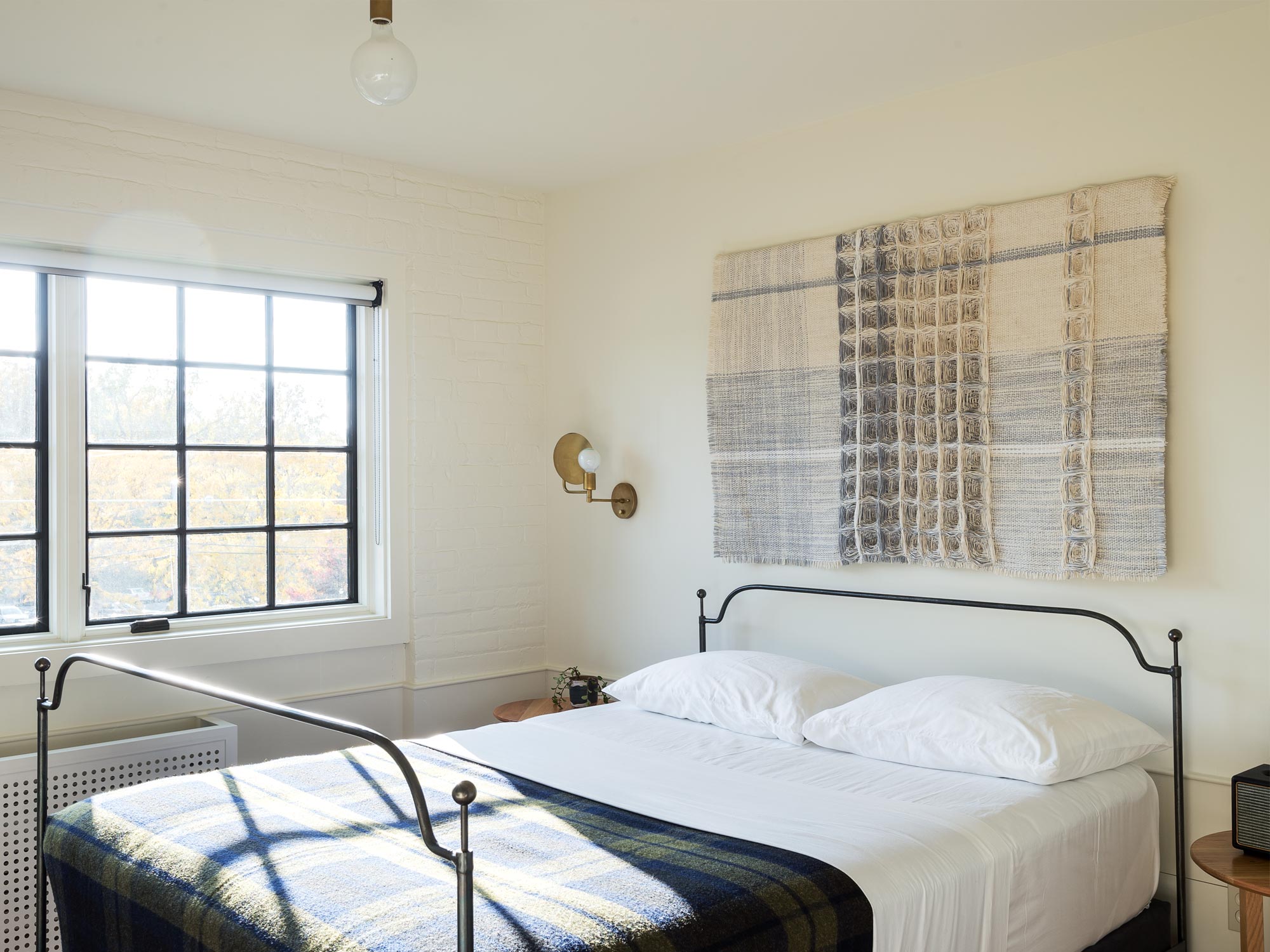 With a spare rustic design, every detail pops in this gorgeous master, especially the sculptural brass Orbit Sconce by Workstead.
9. Farmhouse Style Master Bedroom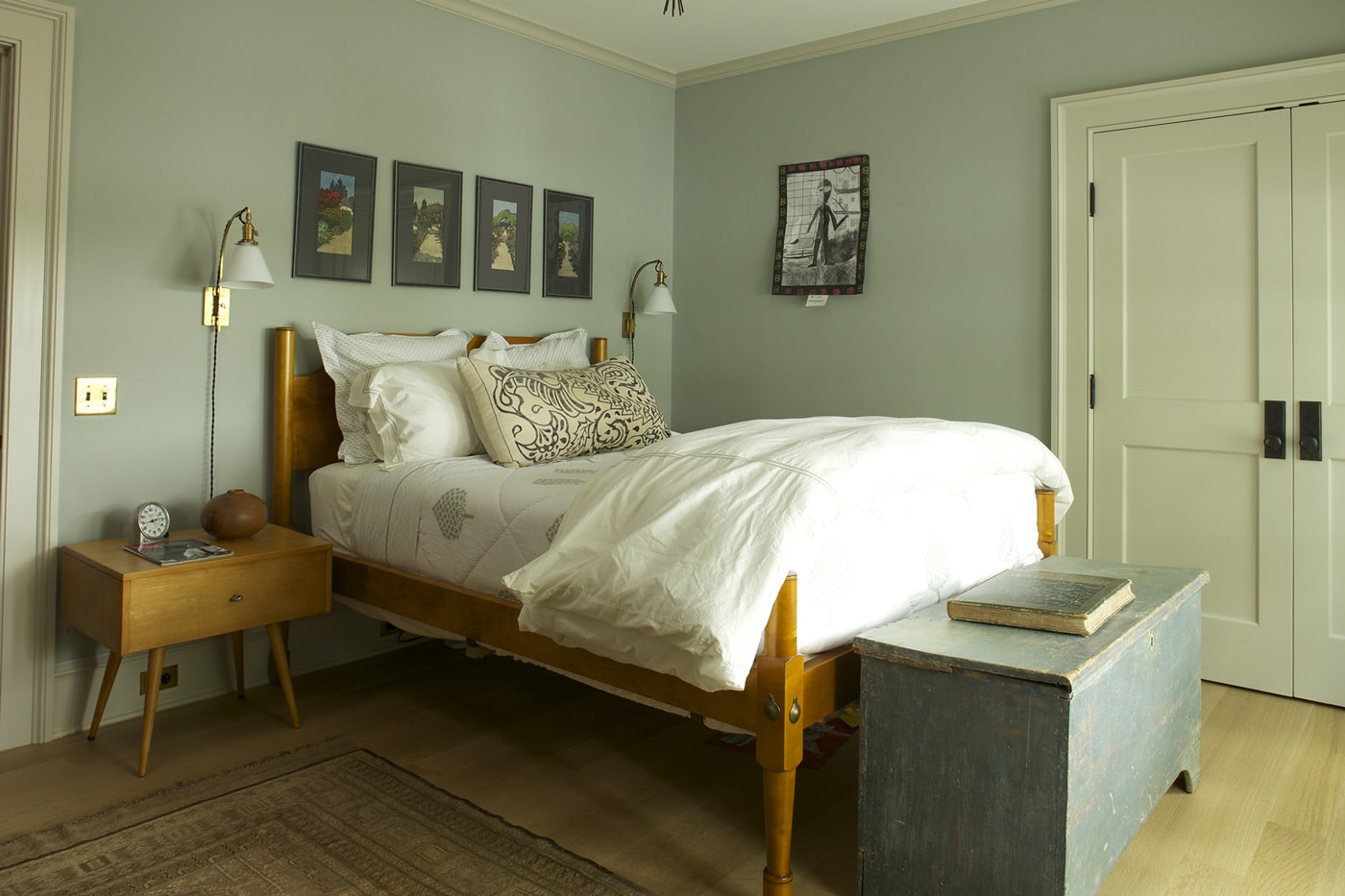 An aged-to-perfection blue trunk is the perfect bedroom furniture for this county style bedroom.
10. Modern Bedroom Decorating Ideas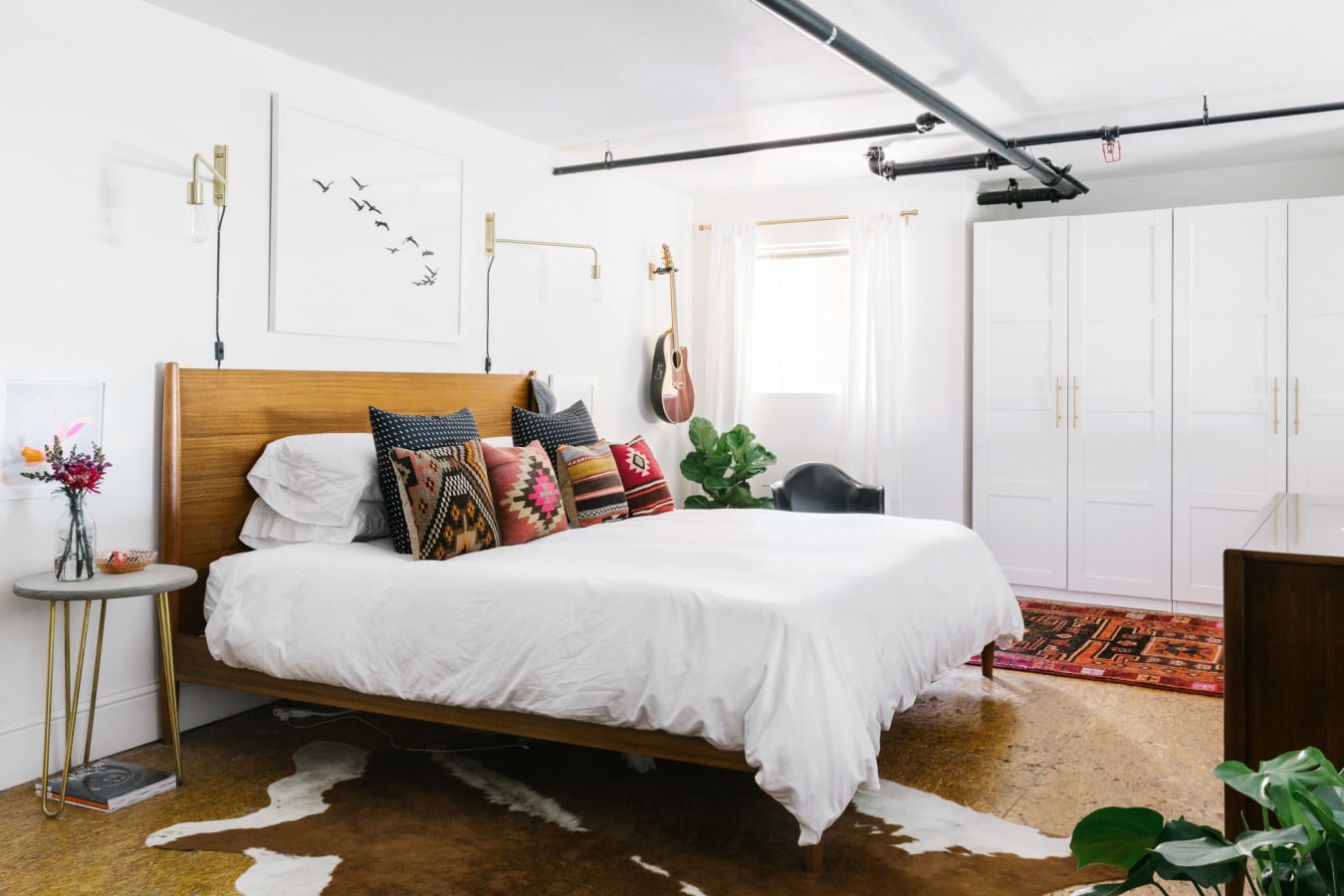 This beautiful master bedroom contrasts airy white and clean lines with bright patterns and a textured cowhide rug.
11. Colorful Bedding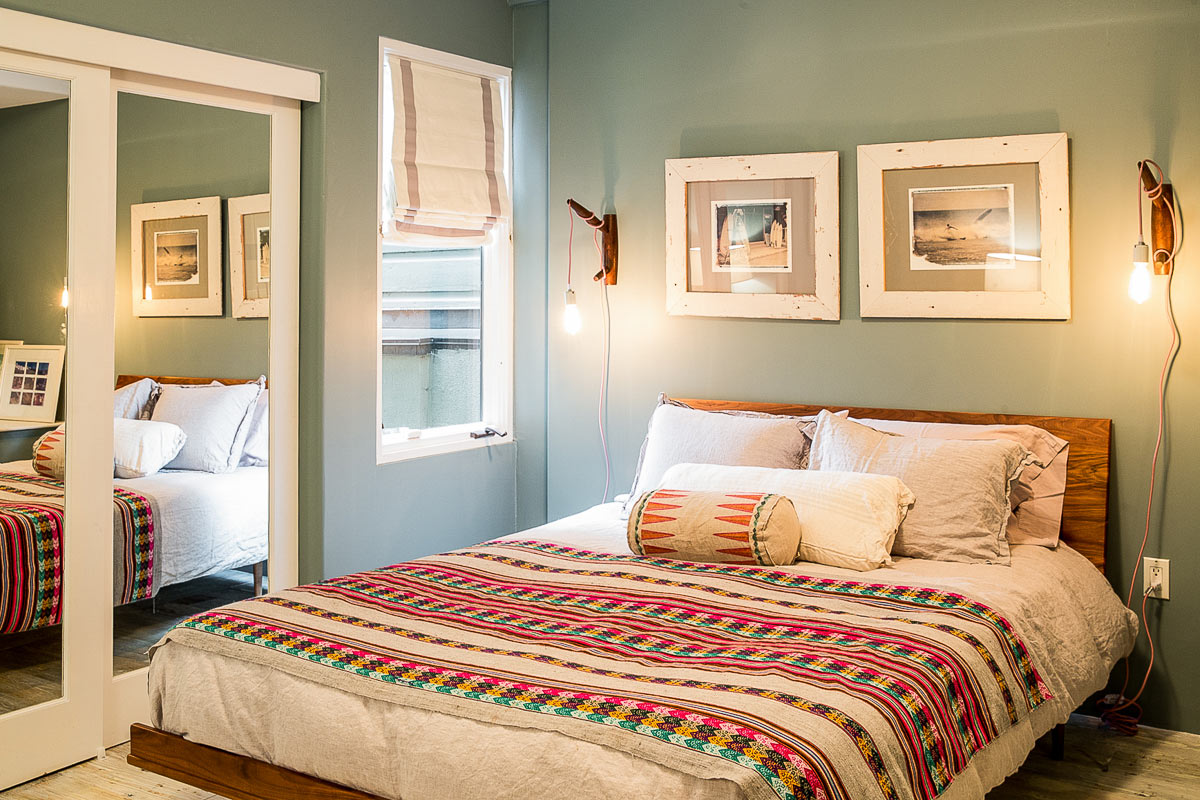 Homepolish by Benedetta Amadi
An easy way to update any bedroom is with a new bedding. The brightly patterned cover and complementary pillow add a bold feature in an
12. Bedroom Wallpaper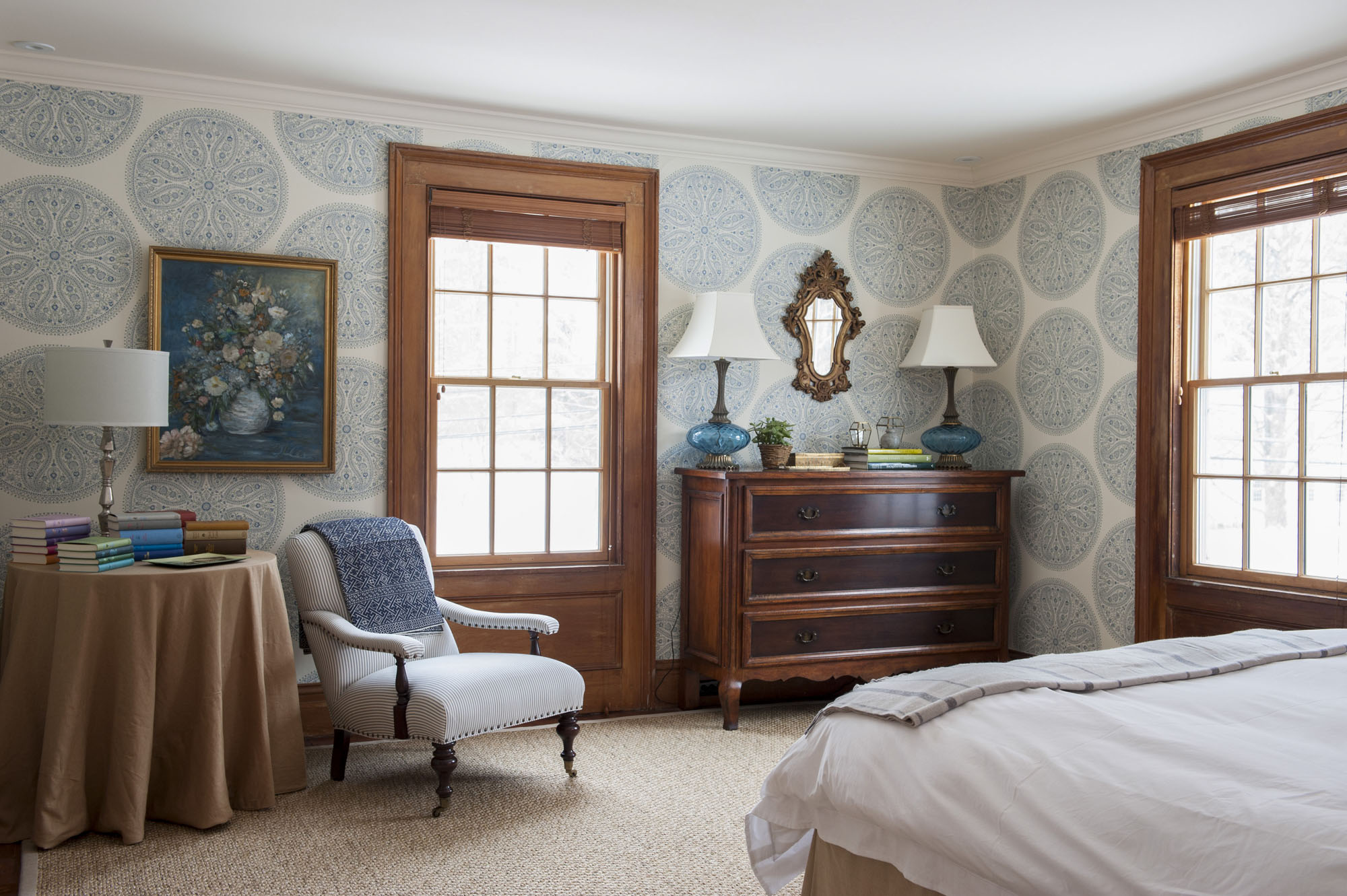 A delicate blue wallpaper pattern adds a lush finish to this luxurious traditional master bedroom. The walls accent color is highlighted in furniture and accessories around the room.
13. Traditional Master Bedroom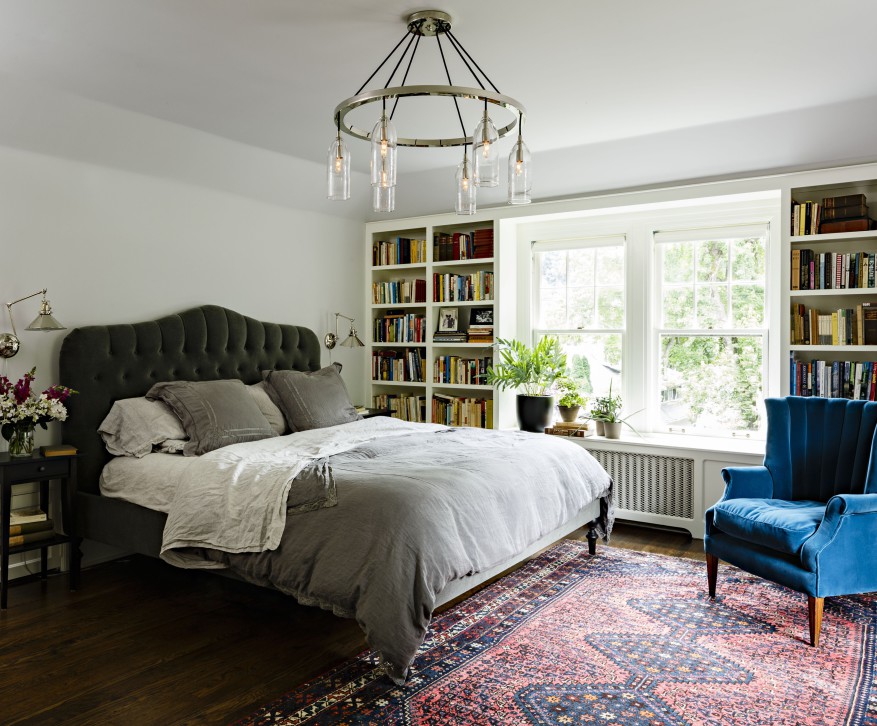 Jessica Helgerson Interior Design
With luxurious velvet, a Persian rug and wall of books, this is not only a bedroom but a cosy escape.
14. Colorful Master Bedroom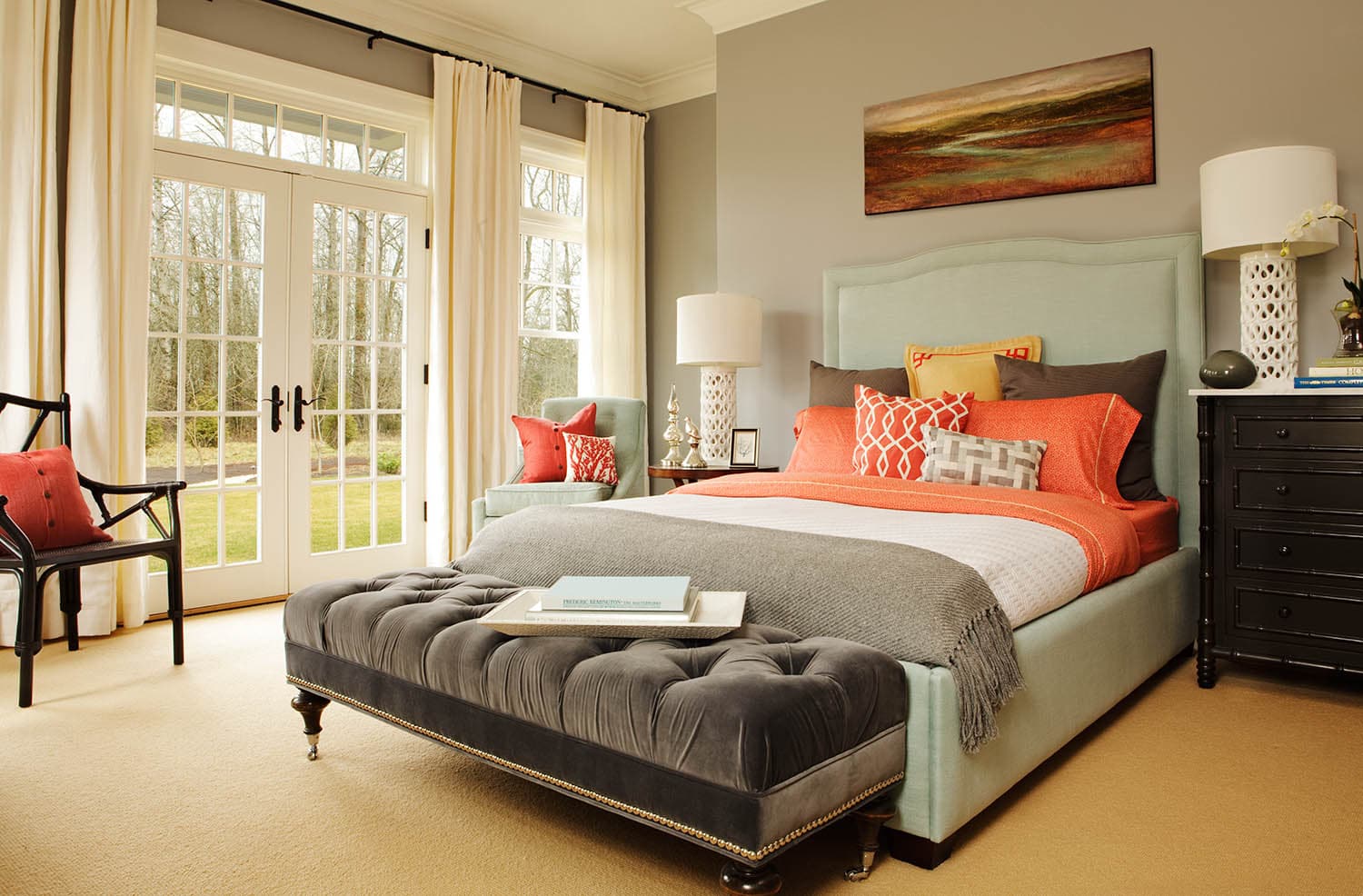 The combination of coral and mint add a lively pop of color to this luxurious bedroom. Note how night tables don't always have to be twins.
15. Mixing + Matching Bedding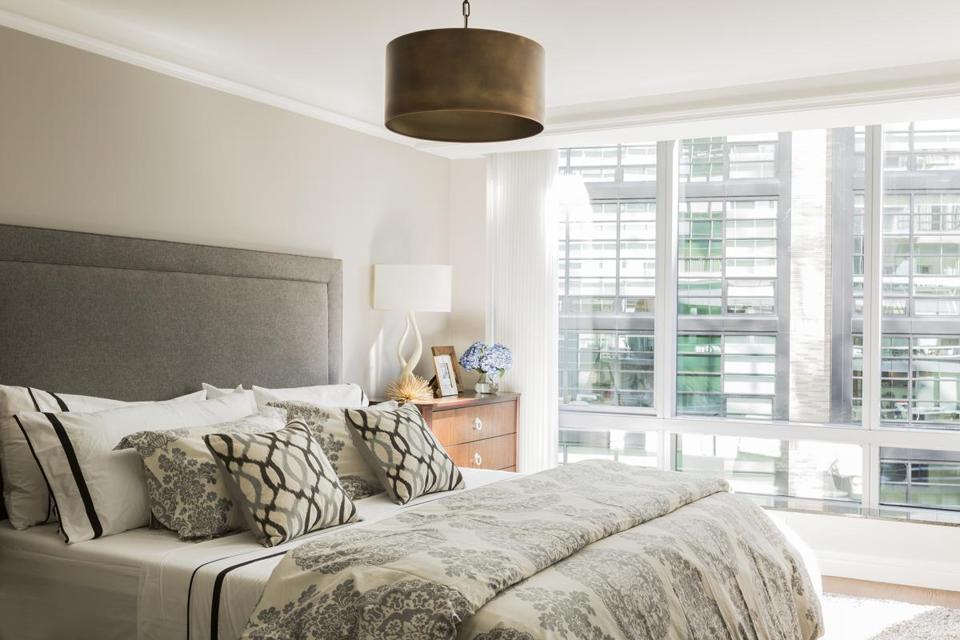 This small bedroom puts most of the focus on pattern-mixed bedding all in black, white and gray.
16. Master Bedroom Chandelier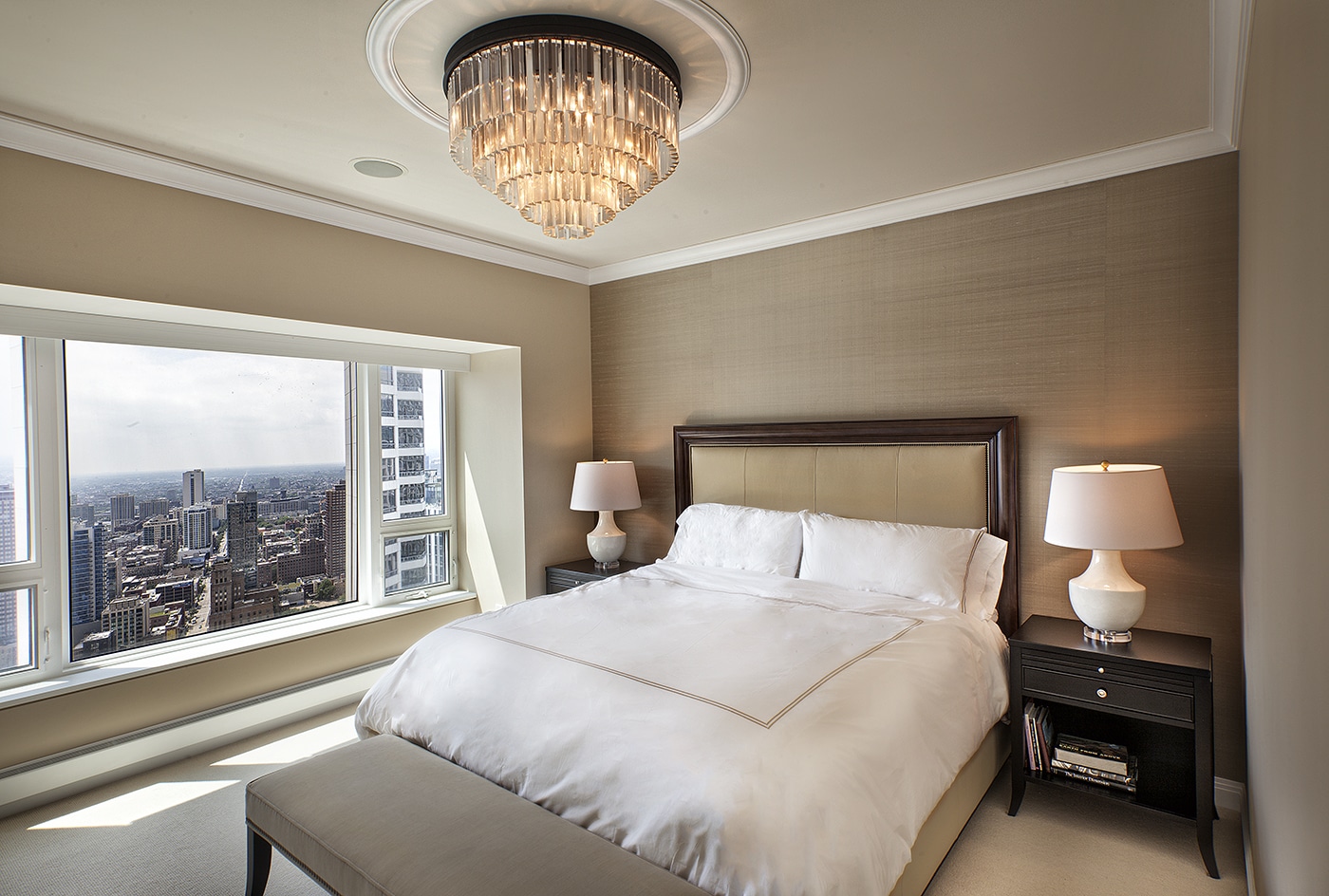 This master bedroom with a view has the feel of a hotel room in the best way possible. It's luxurious, comfortable and exactly where you want to lay your head for the night.
17. Bedding Ideas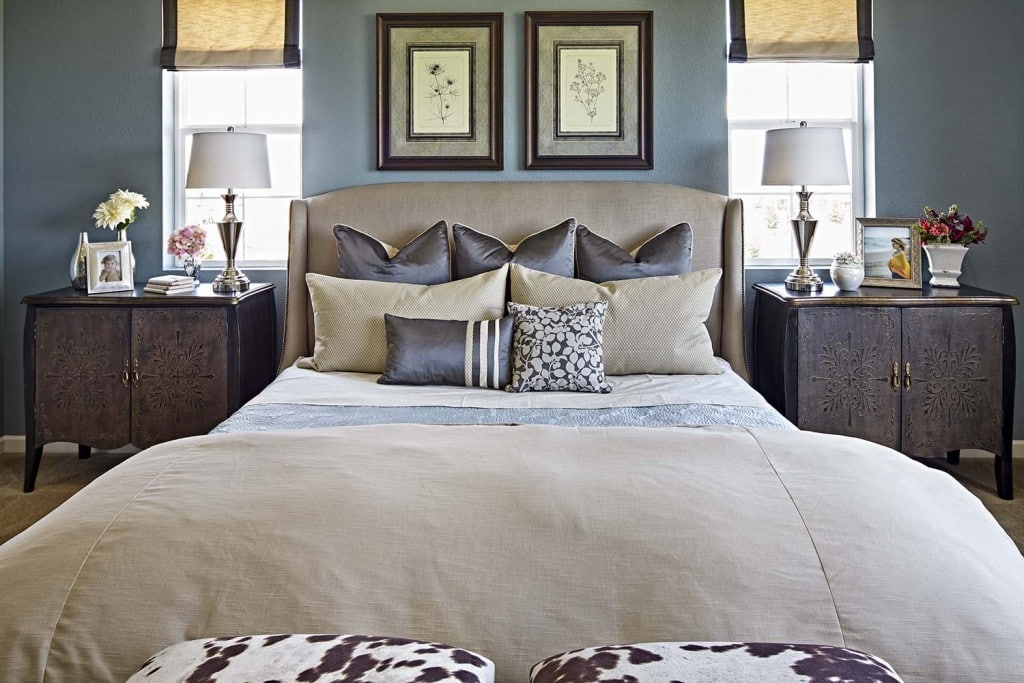 Nothing invites one to bed like a pile of pillows. This bedding combination works by offsetting a neutral headboard and sheets with metallic shades.
18. Layout for Big Bedrooms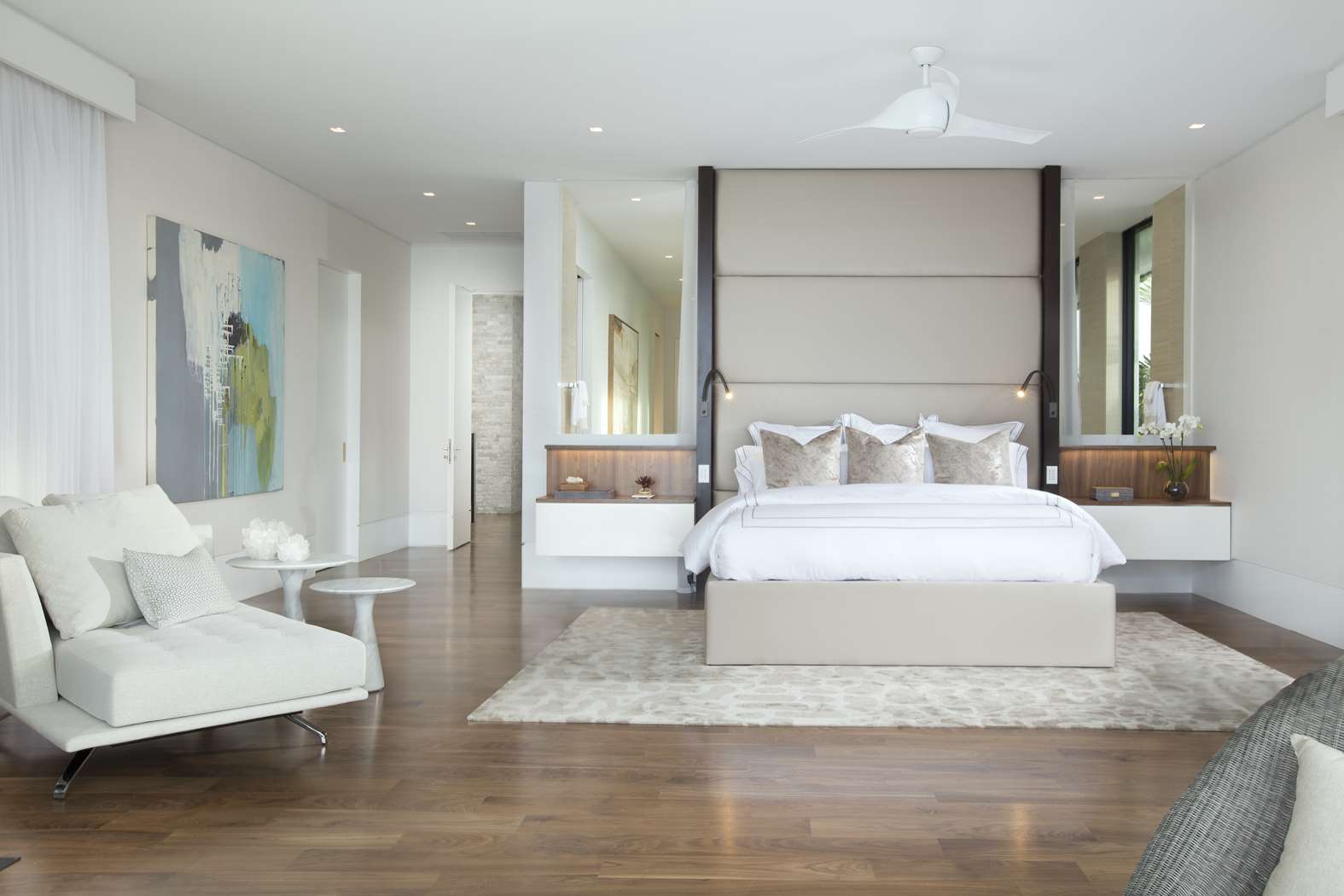 Too much space is a great problem to have. This contemporary master uses a king size bed, large rug and chaise lounge for an inviting room with multiple uses.
19. Master Bedroom + Seating Area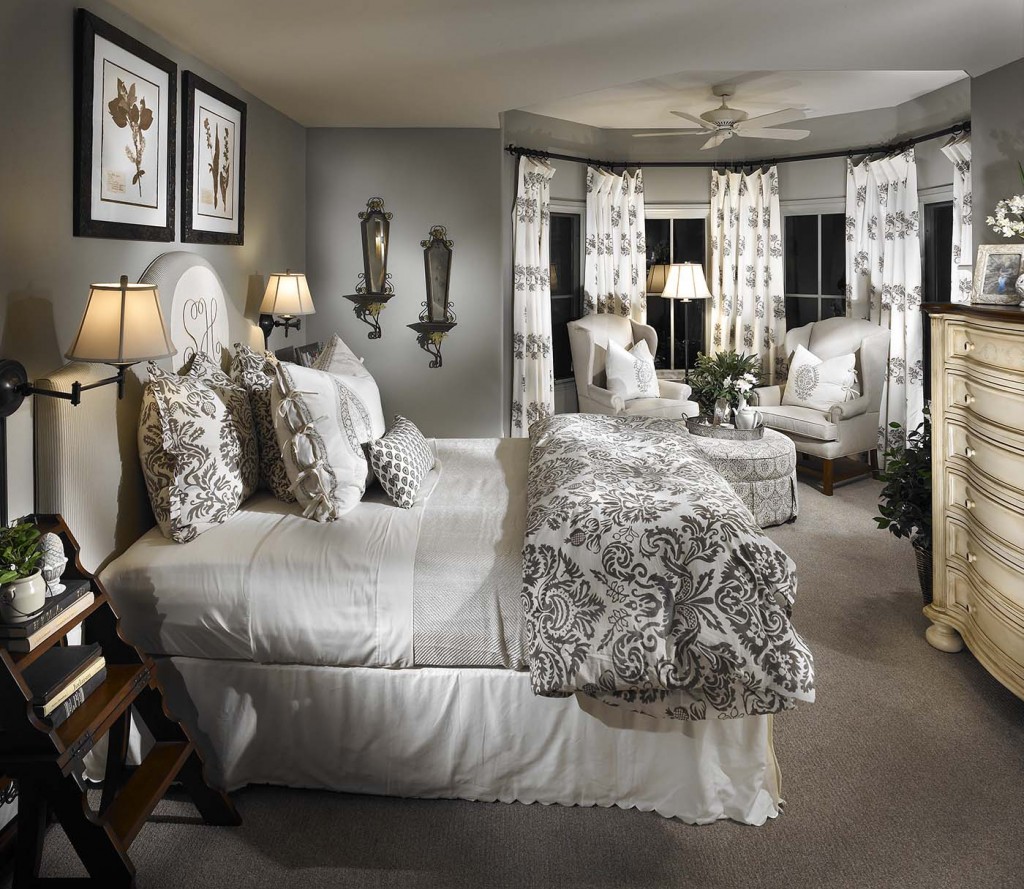 This luxurious master bedroom features an intimate seating area for late night chats or early morning coffee.
20. Master Bedroom Layout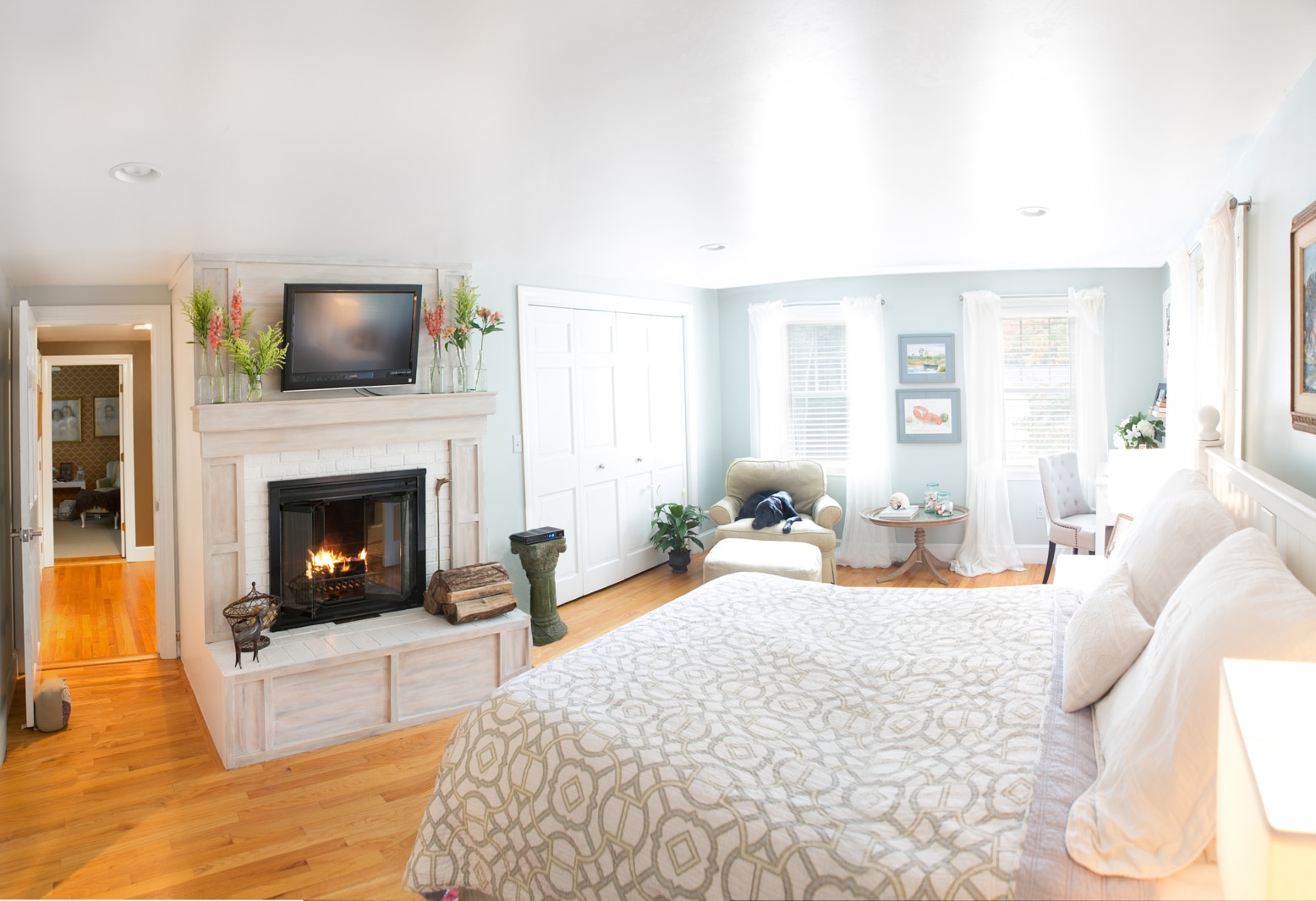 This light and airy master retreat has it all with a tv mounted over the fireplace, corner chair and small desk.
21. Contemporary Master + Ceiling Beams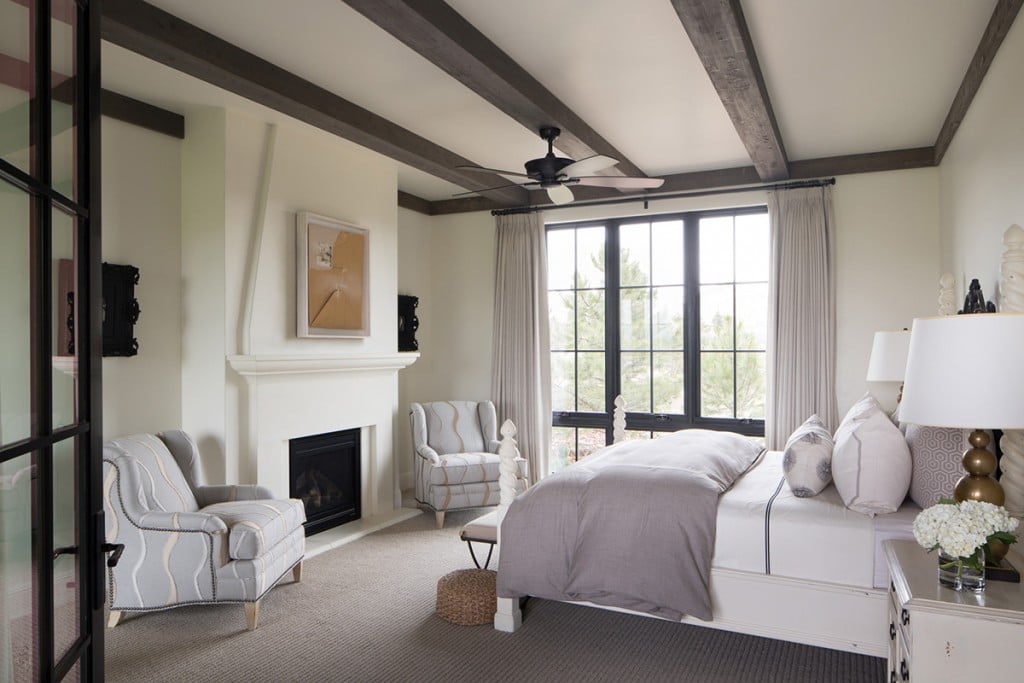 Dark beams and window casings anchor this light and neutral color palette.
22. Linear Bedroom Layout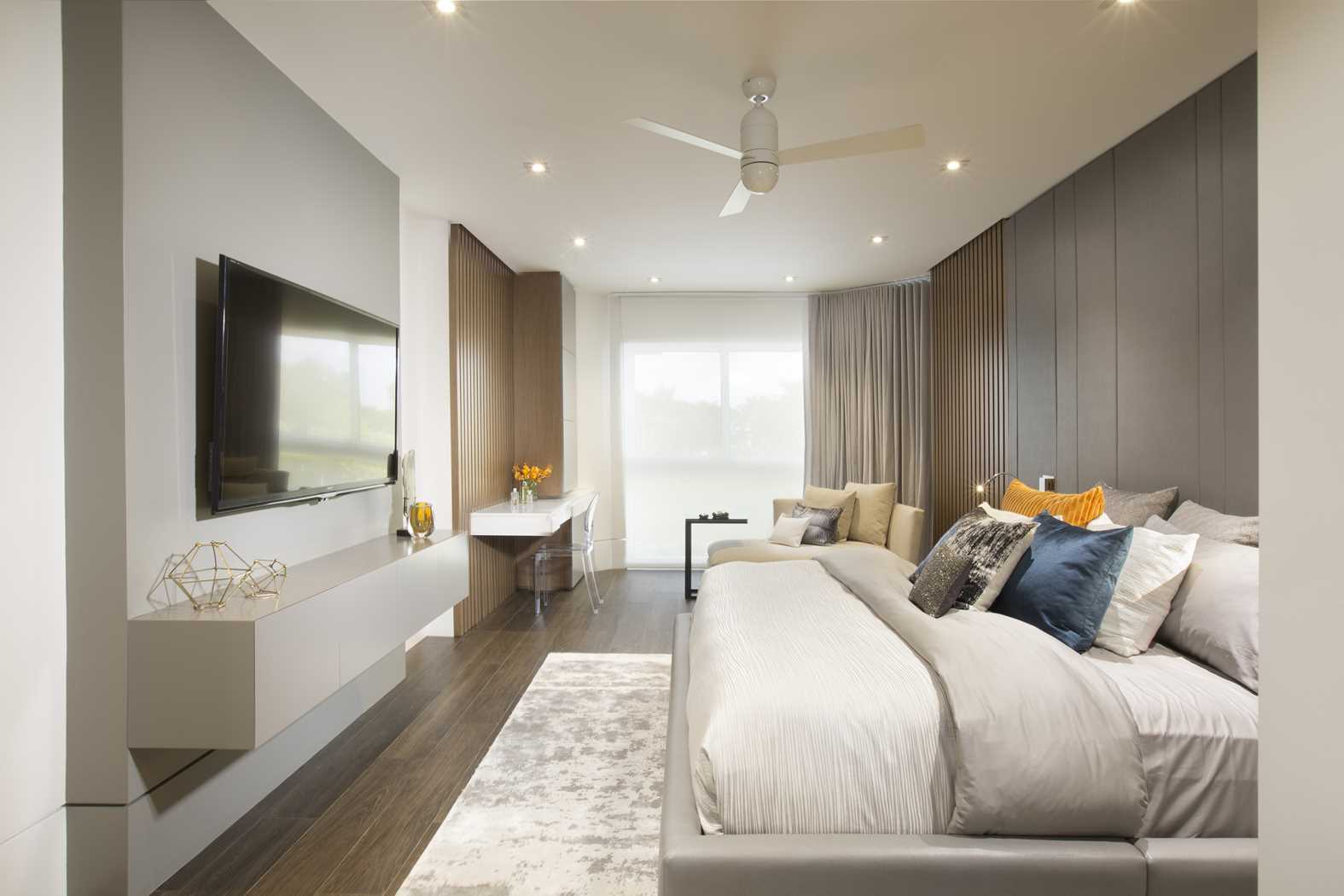 This linear master bedroom is divided into sections for different uses – sleeping, getting ready and relaxing.
23. End of Bed Bench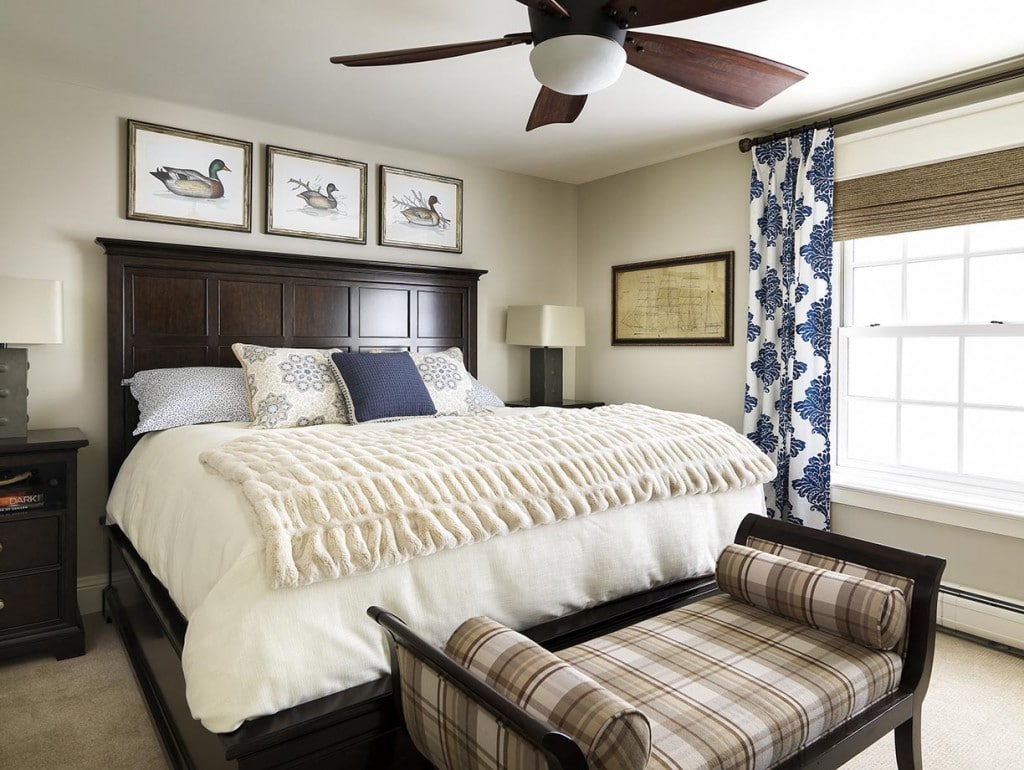 An end of bed bench is a great place to add some storage, seating or throw clothes when your room isn't so picture perfect.
24. Eclectic Master Bedroom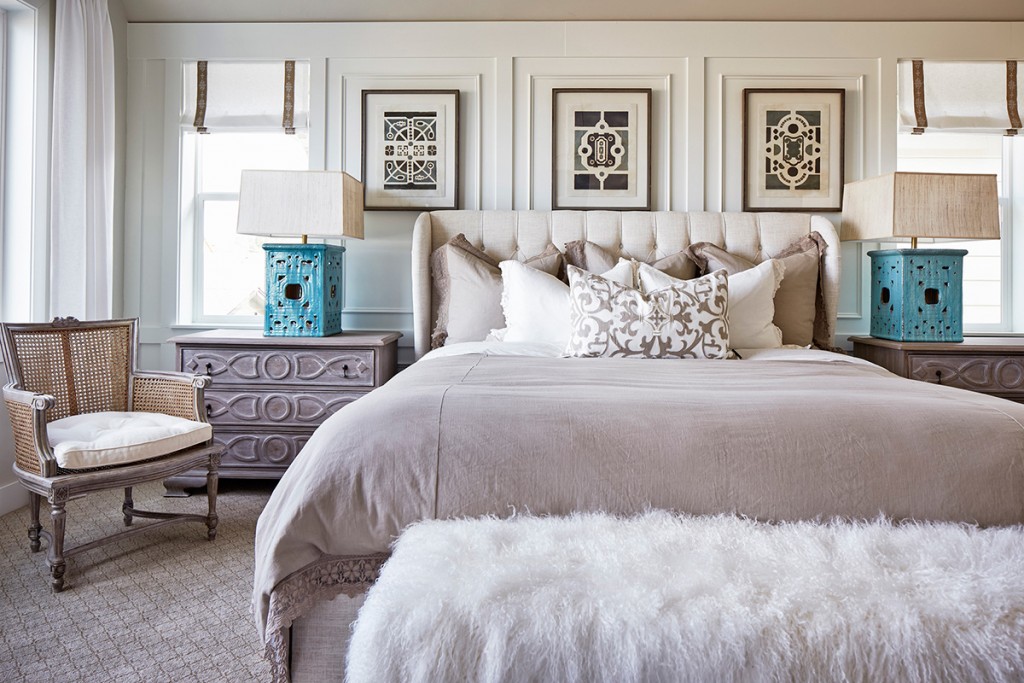 This fun-filled design features brightly colored lamps, patterned furnishings and a textured bench at the end of the bed.
25. End of Bed Storage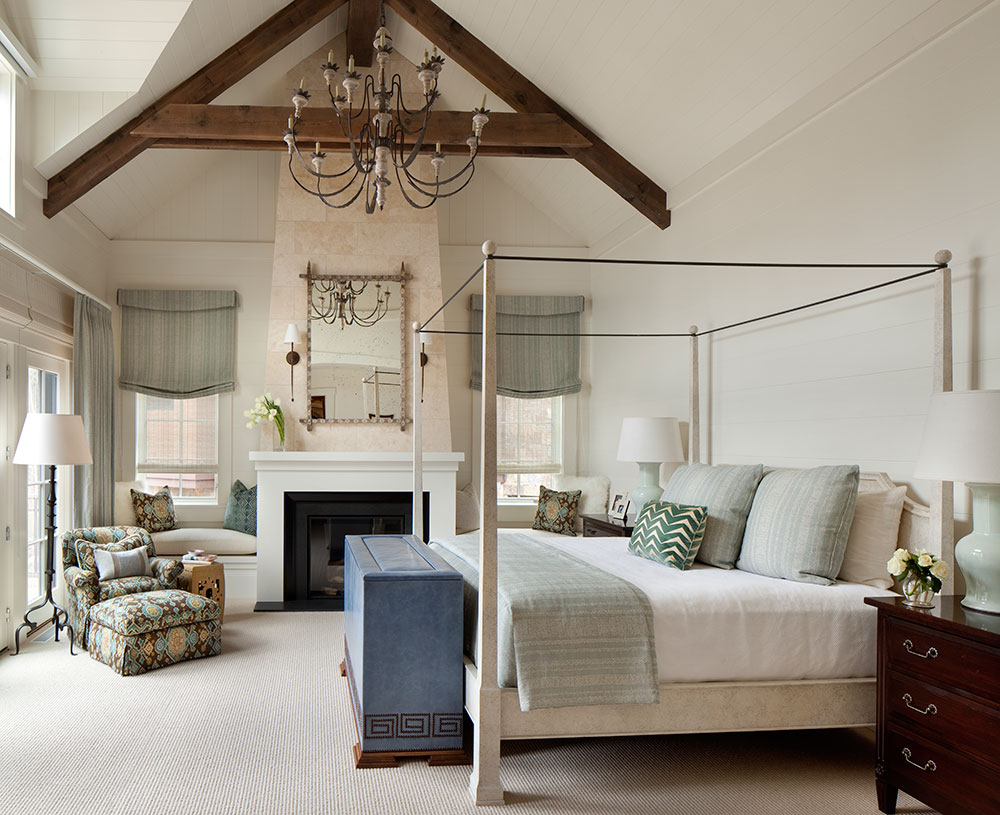 This stunning master features an innovative solution to end of bed storage. Instead of the usual seating or bench, it features a small dresser that serves as a bright accent piece.