A kitchen backsplash is essential for protecting walls from all the messes cooking and cleaning can create. They don't just have to be functional though. A backsplash can be a gorgeous design feature, adding a pop of color, texture or even sheen.
There are a wide range of durable and beautiful backsplash materials to choose from. The most common and cost effective is tile, which comes in a huge range of styles.
The popularity of natural stone is not only limited to countertops. Granite, marble and soapstone are all gorgeous backsplashes that catch the eye. If you're looking for something different, some alternatives include stainless steel, glass, wood and manmade materials.
While some kitchen backsplashes simply extend the counter vertically a few inches, the desired material can also extend higher or the entire length of the wall. You can mix and match colors and materials, add a design over the stove or use a contrasting grout.
Check out these pictures of 27 kitchen backsplash designs for inspiration.
1. Marble Stove Backsplash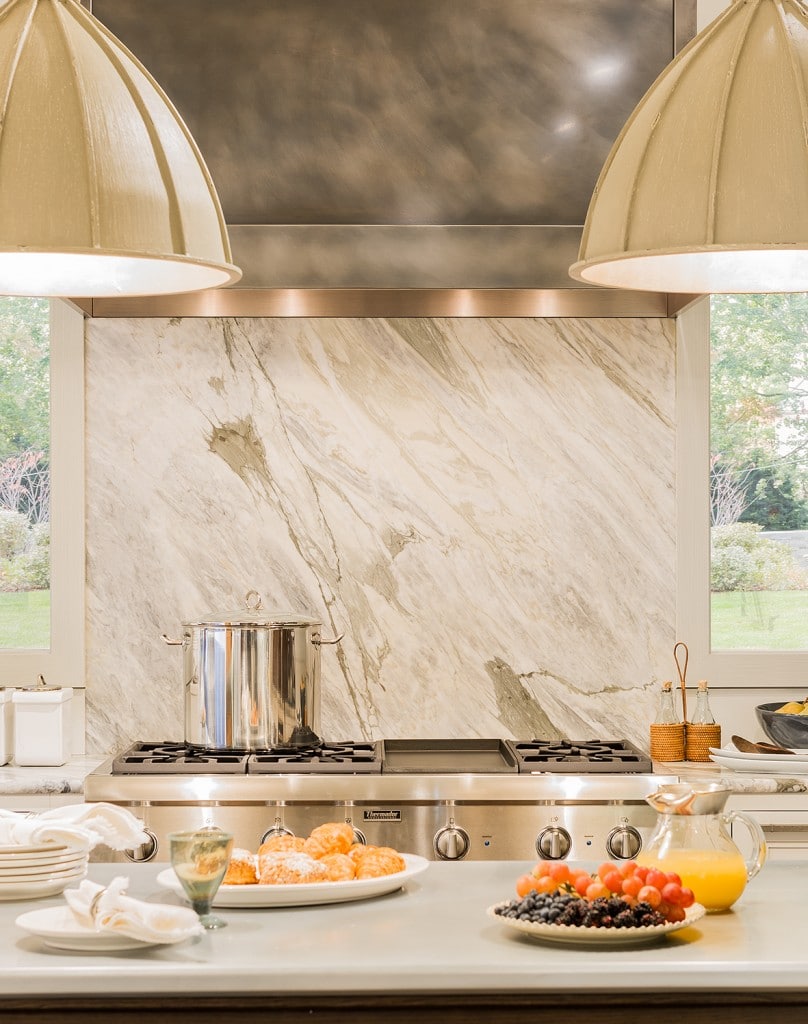 The veining patterns of marble and granite are even more striking when used vertically as a backsplash. And even better, one large solid surface means no more cleaning out stains from grout.
However, because natural stone is porous, wipe down any splatters as soon as possible, especially anything acidic. Also make sure the stone is properly sealed. With those cautions, most people have no issues.
2. Granite Backsplash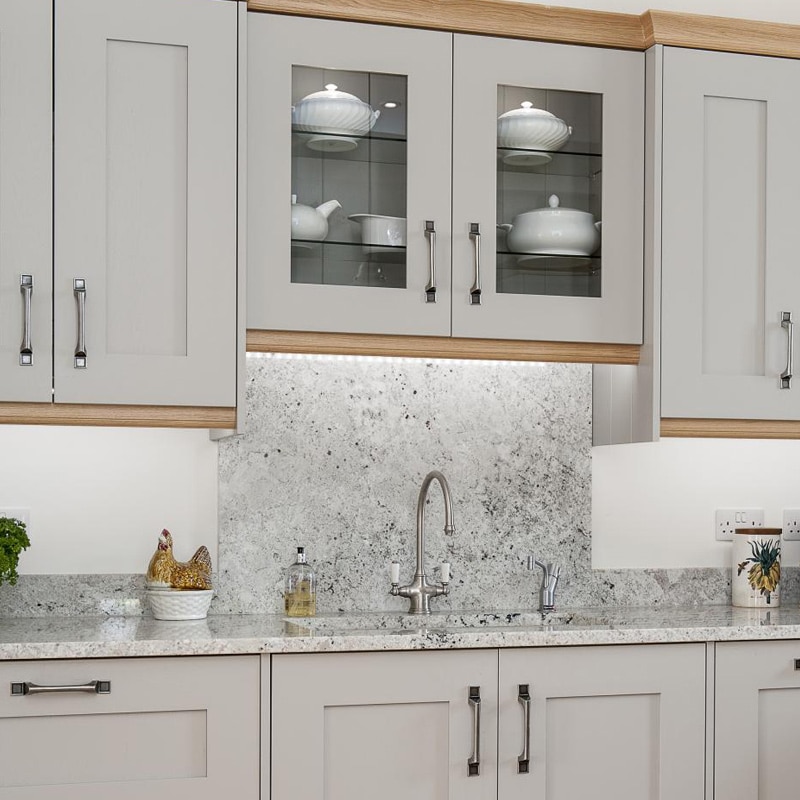 An example of the beauty of a stone backsplash, this pattern could be a piece of abstract art. Of course, using more granite is an additional expense. This kitchen gets the beauty and luxury of a granite backsplash with a minimum of material.
3. Soapstone Kitchen Backsplash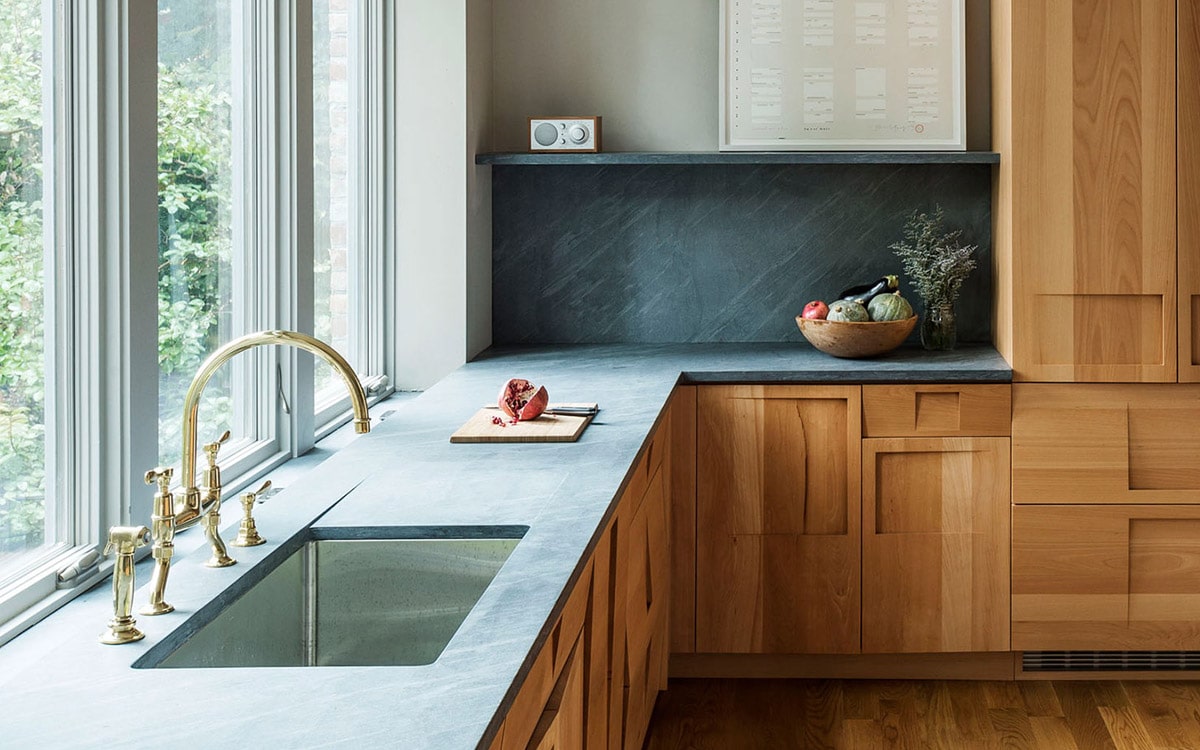 Granite and marble aren't the only natural stones to choose from. Soapstone adds a stunning dark contrast that only requires occasional applications of mineral oil for maintenance. This counter also features integrated drainage for drying dishes.
4. Marble Tile Backsplash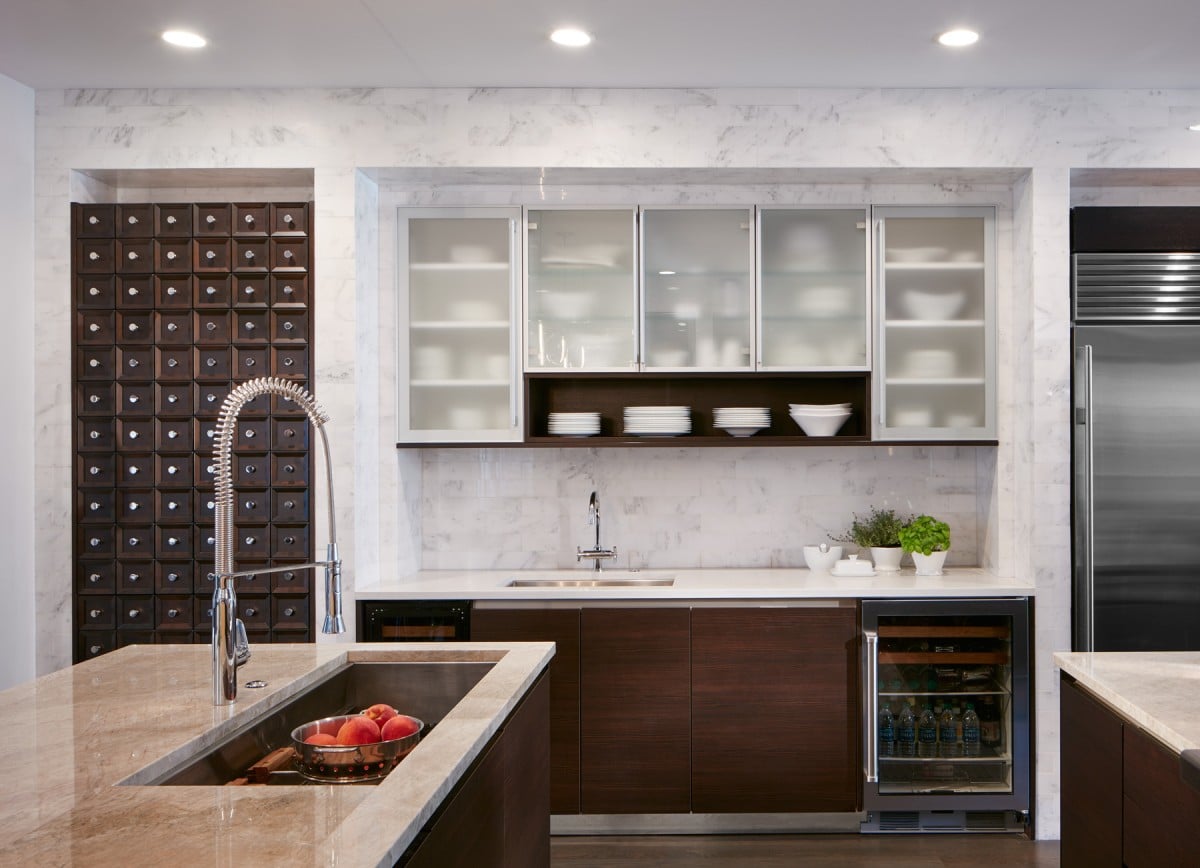 If you love the look of marble walls but not the price, natural stone tiles are a more affordable option. Tiles can be made out of smaller pieces of stone, so they cost less than large slabs. Typically the high range of marble tile prices are the low end of slab prices.
Experienced tile setters can install marble tile with a minimum of grout and also use an epoxy grout for a seamless look. From a distance you get the same beautiful veining at a fraction of the cost.
5. Granite Patterned Tile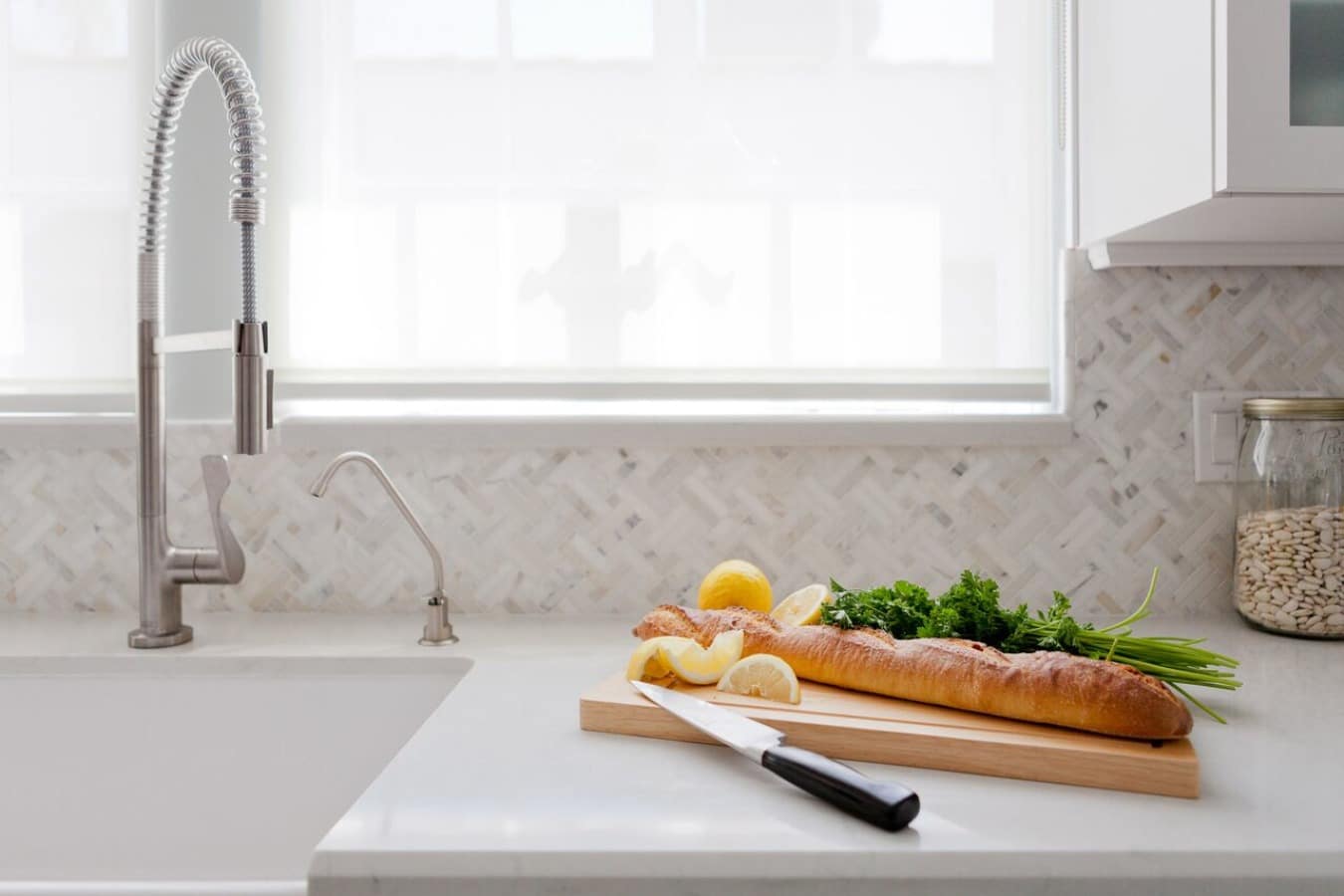 Another reason to use tile as a backsplash instead of stone is the weight. Natural stone weights hundreds of pounds, requiring structural reinforcement while walls are ready for tile.
The criss-cross pattern of this granite tile highlights the range of color and texture in the stone.
6. Stone Tile Stove Backsplash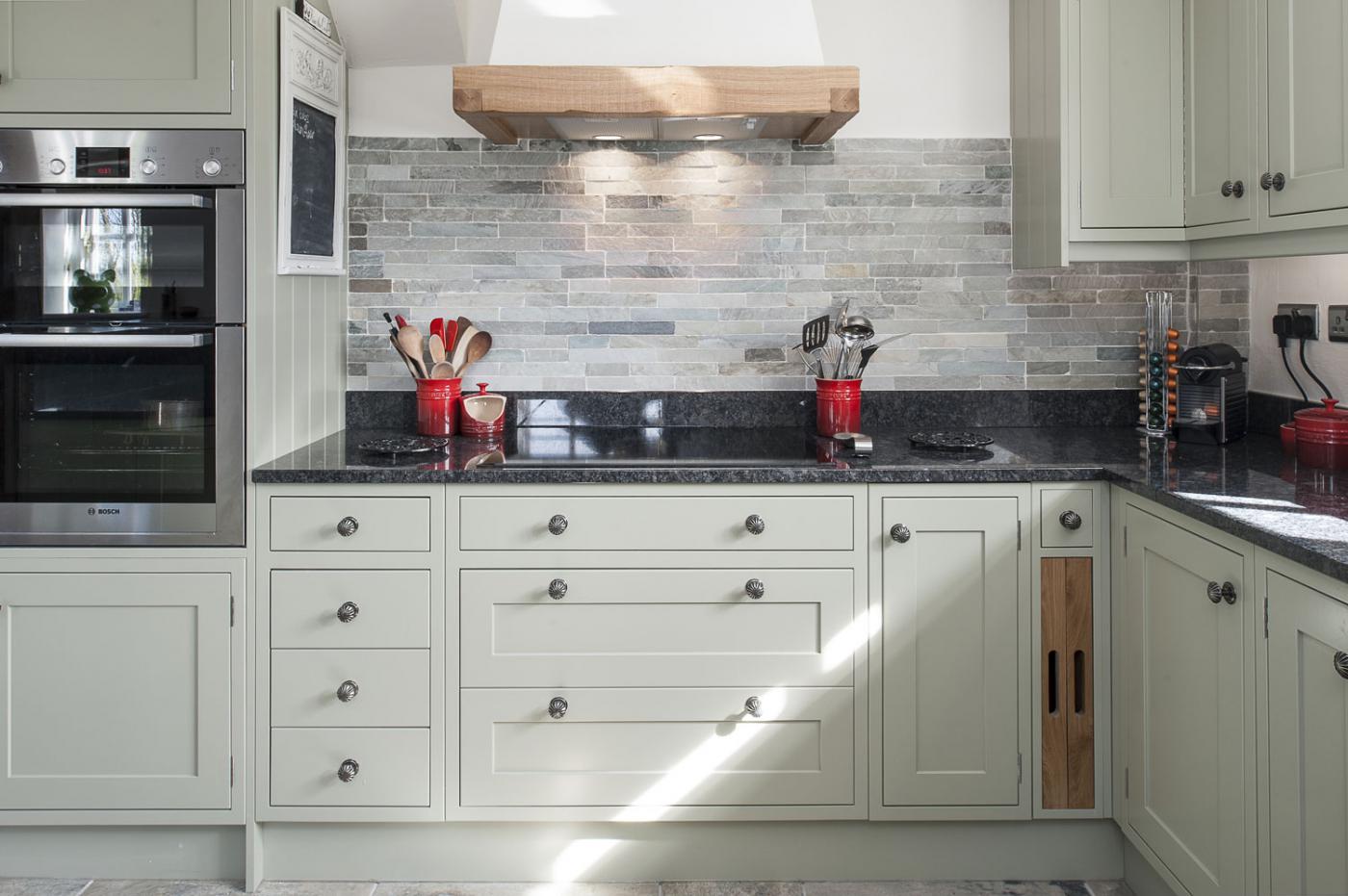 This natural stone stove backsplash is rustic look that works with these shaker cabinets and unfinished wood stove hood. In contrast to tiles, this backsplash feautures texture as well as a range of neutral colors.
7. Mixed Material Backsplash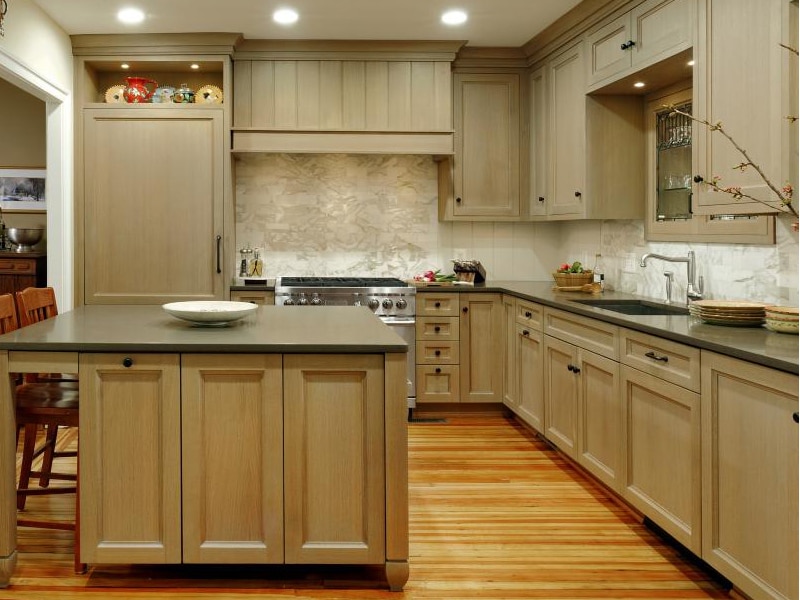 Just like cabinets and countertops, there is no rule stating that there can be only one color or material. This kitchen design uses granite tile behind the stove and sink and a neutral tile elsewhere. The combination saves on costs and places emphasis on the workspaces.
8. Multi-Color Tile Kitchen Backsplash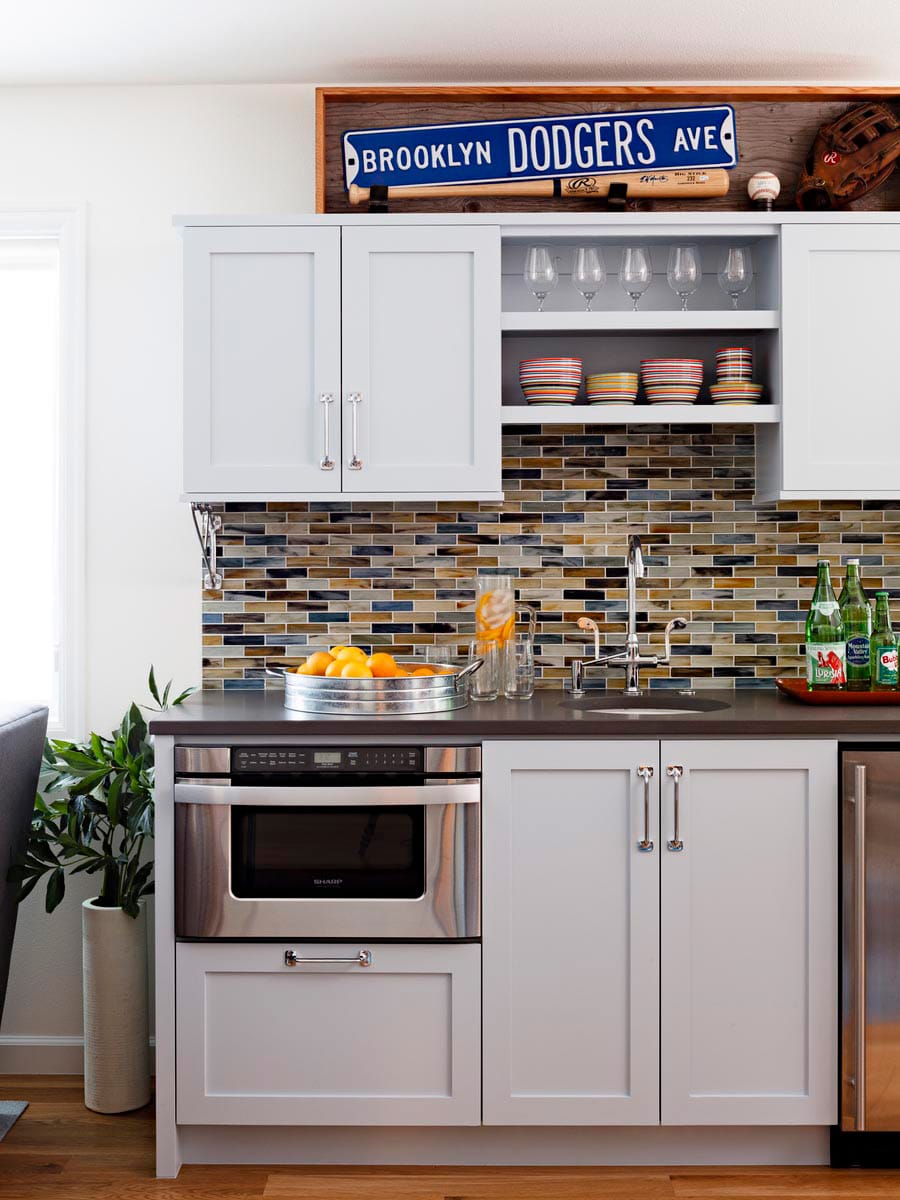 If you're looking for a vibrant accent to your kitchen, the backsplash is an excellent place to do it. This fun design offsets gray cabinets and stainless steel appliances with bold dishes and a multi-color tile backsplash. The tiles are mostly neutral but range into warm orange and navy blue.
9. Blue Kitchen Backsplash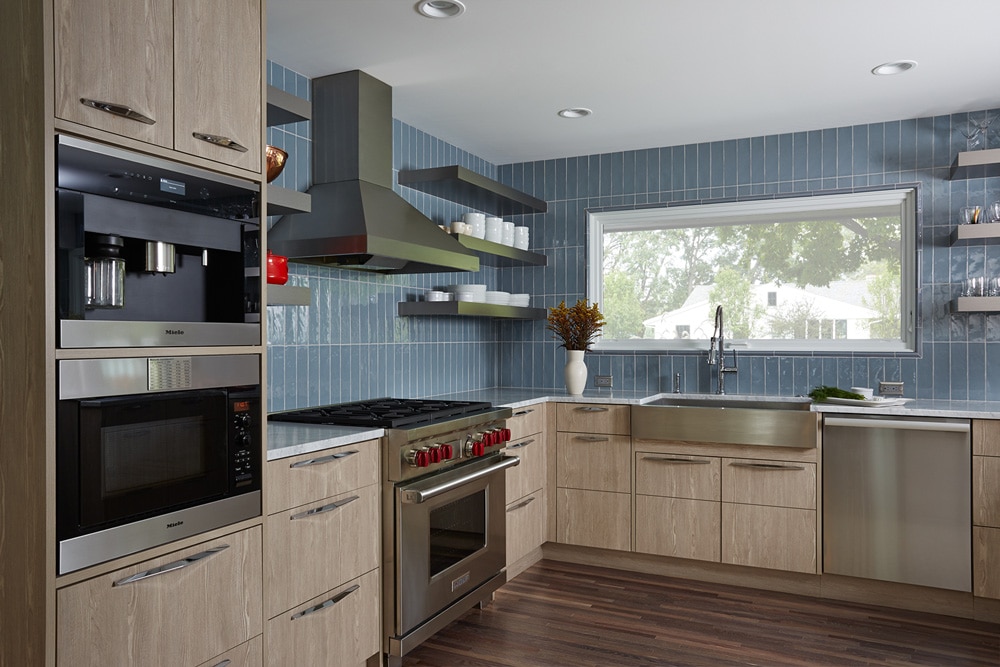 Blue is a popular kitchen color choice. The only question is how to add in that hue. This slightly unusual kitchen does it with gray-blue tile walls that complement the cabinetry. Contrary to the convention, tiles are run vertically, which works with the grain of the cabinets and emphasizes the width of the window over the sink.
10. Light Tiles with Dark Grout
In addition to a huge choice in tiles, grout comes in a range of colors too. This kitchen uses light tiles with a narrow band of dark grout that works perfectly with the dark wood cabinets and dining set.
11. Modern Tile Backslash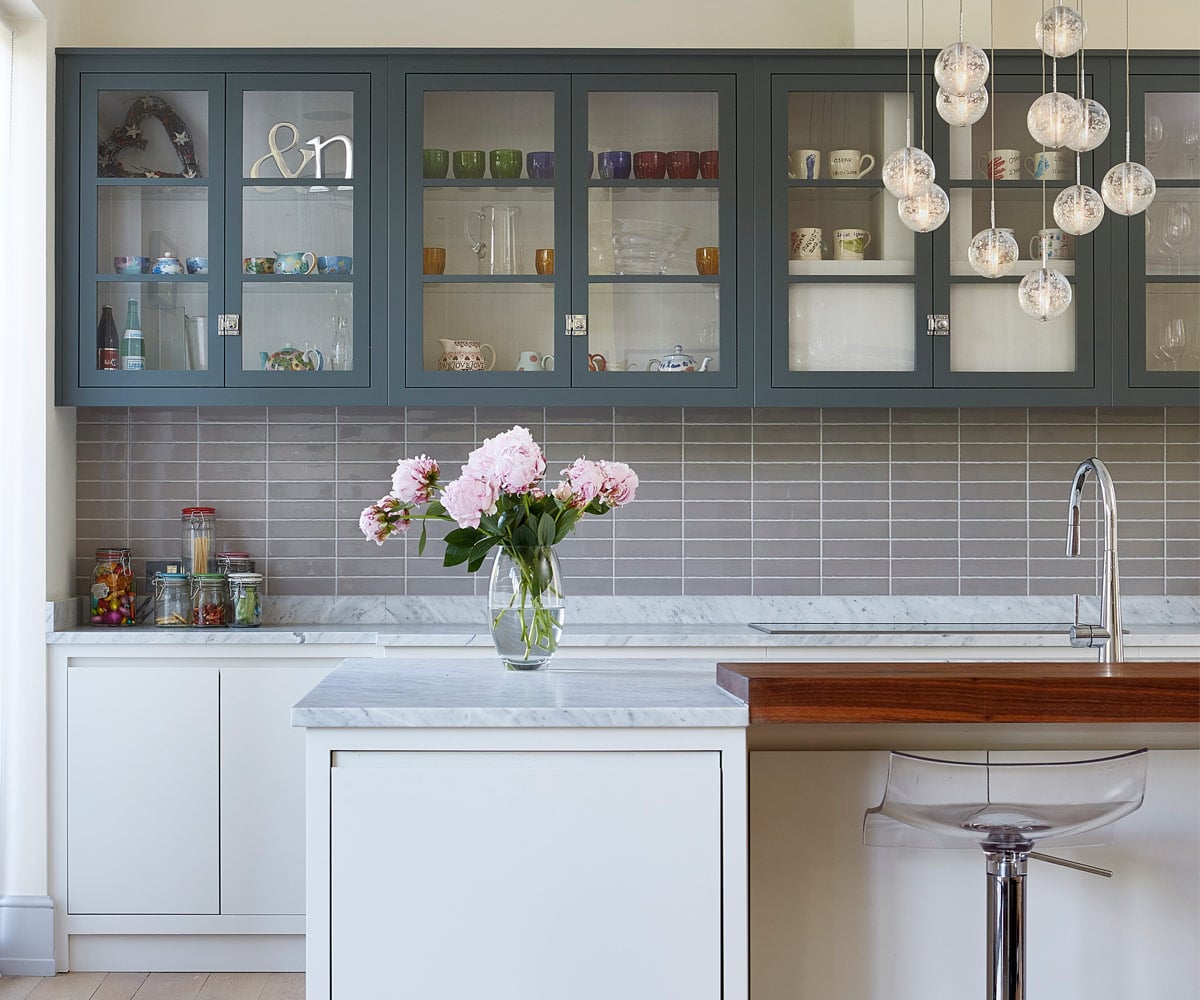 Tile is a remarkably versatile medium. While they are usually stacked with an overlap like bricks, this grid-style backsplash of gray tiles works with the modern design and cabinetry.
12. White Tiles with Grey Grout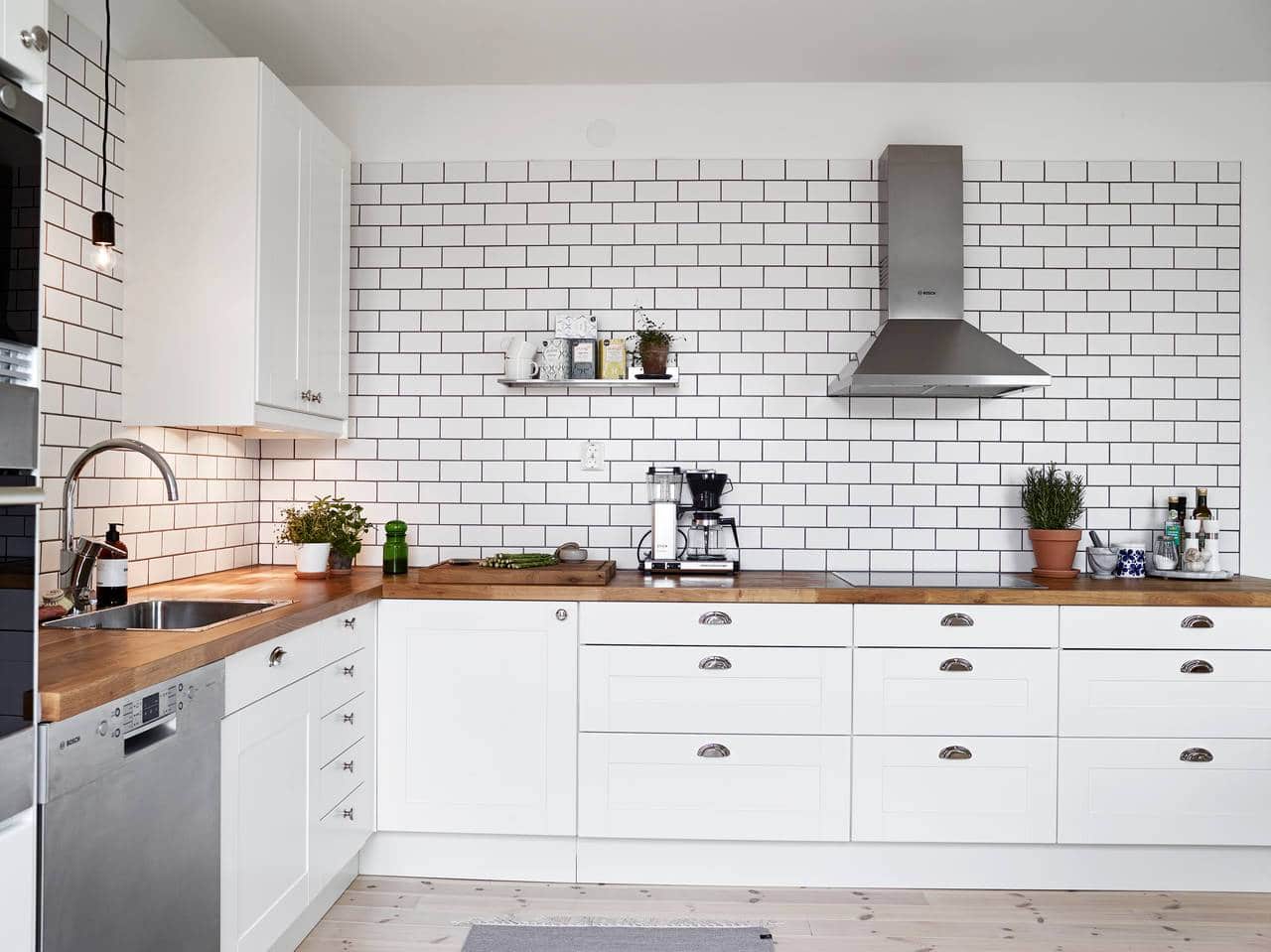 White kitchens are another popular color scheme. This design adds contrast with wood countertops and dark grout between white tiles. The result is a modern backsplash with an otherwise traditional design.
13. Bold and Blue Kitchen Tile Walls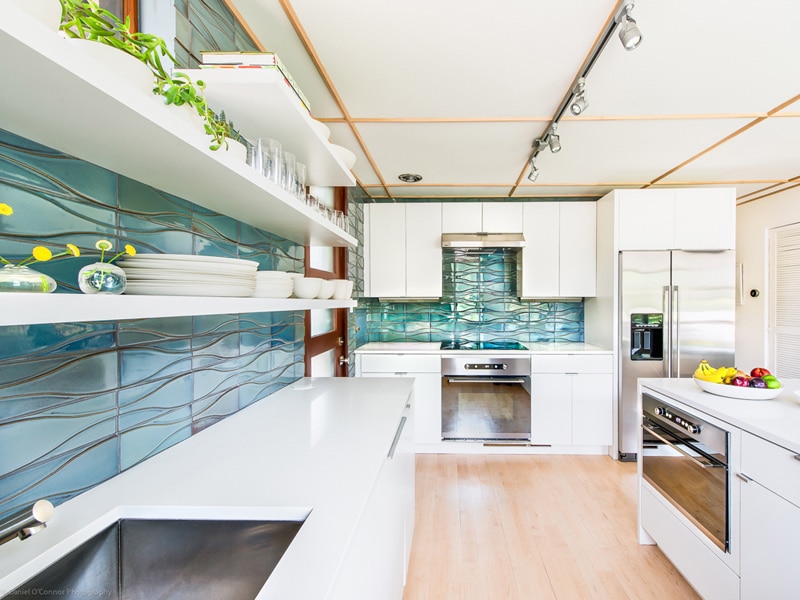 These water-inspired tiles are the focal point of this modern kitchen. The undulating waves and sheen contrast with the straight lines and matte cabinets.
14. Houndstooth Kitchen Tiles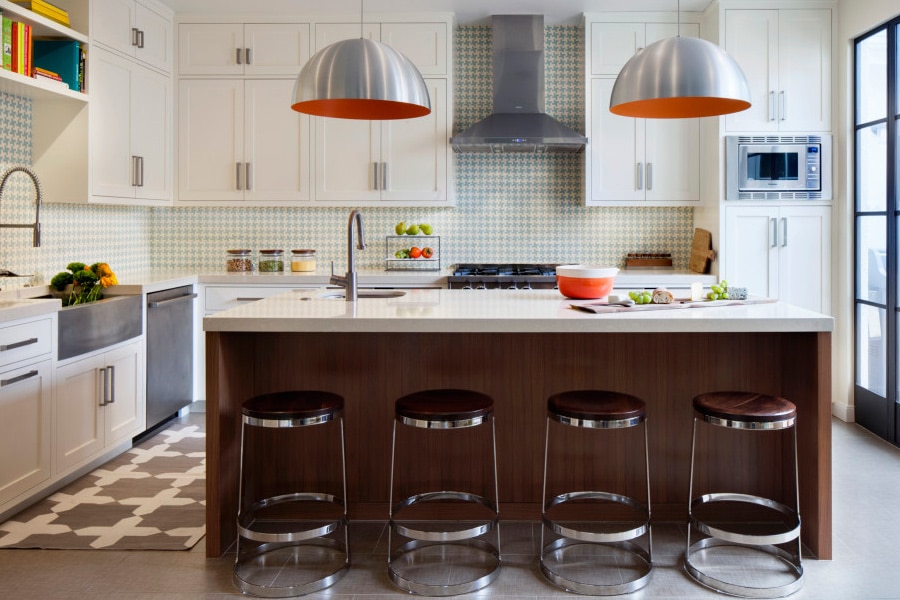 There are so many amazing tiles out there to add a unique finishing touch to any kitchen. These blue and white houndstooth tiles look like wallpaper from afar but are so much easier to clean.
15. Retro Backsplash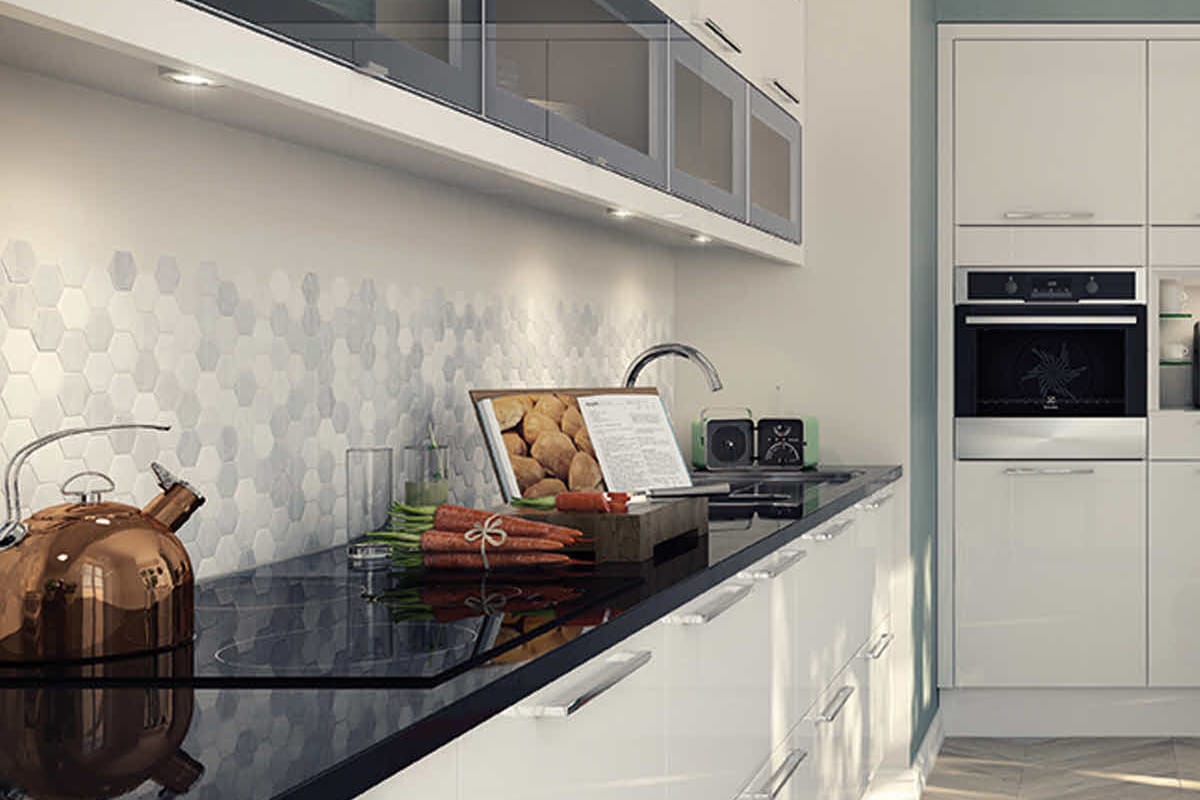 These neutral hexagonal tiles add a retro touch to an otherwise modern kitchen. The shades of gray are the perfect complement to a black and white color scheme.
16. Contrasting Stove Backsplash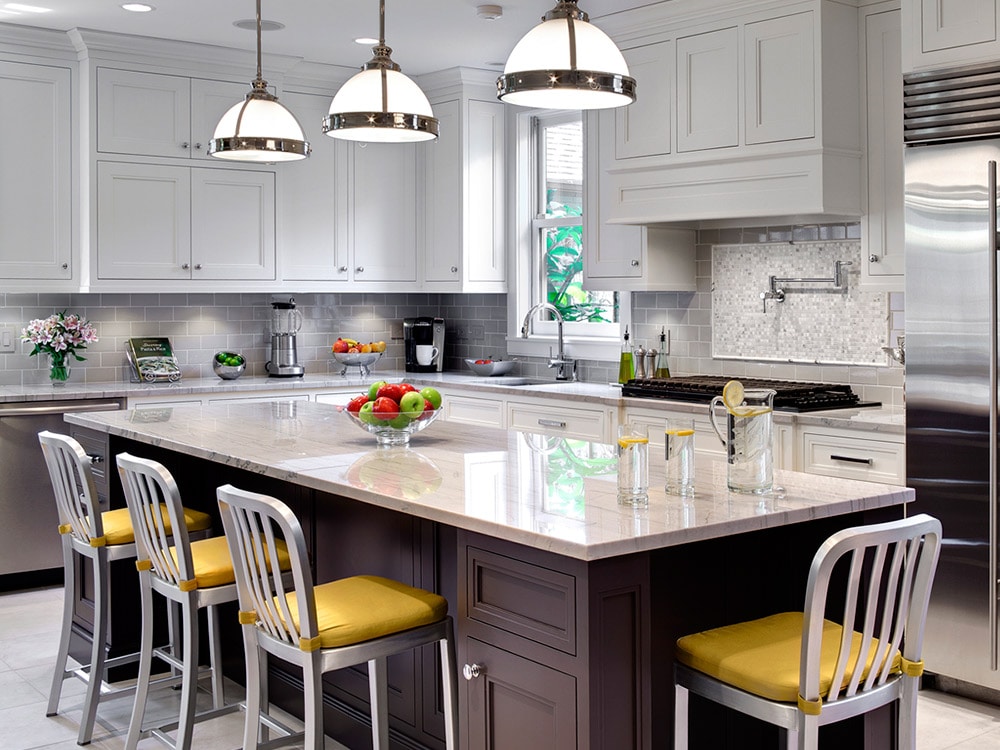 The large area of a stove backsplash is an opportunity to add a special feature. This design uses a framed rectangle of small neutral square tiles that contrast with the larger gray tiles that cover the rest of the walls.
17. Matching Sink and Stove Backsplash Designs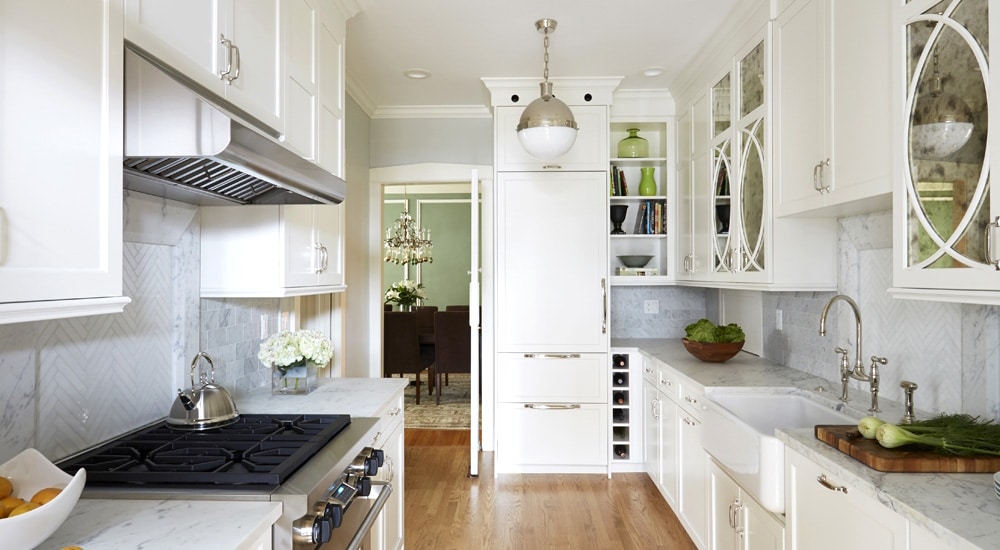 For a coordinated kitchen, go for matching backsplash designs behind the stove and sink. This gorgeous design uses custom marble backsplashes that work with the marble tile and Carrera countertops.
18. Stove Backsplash Mosaic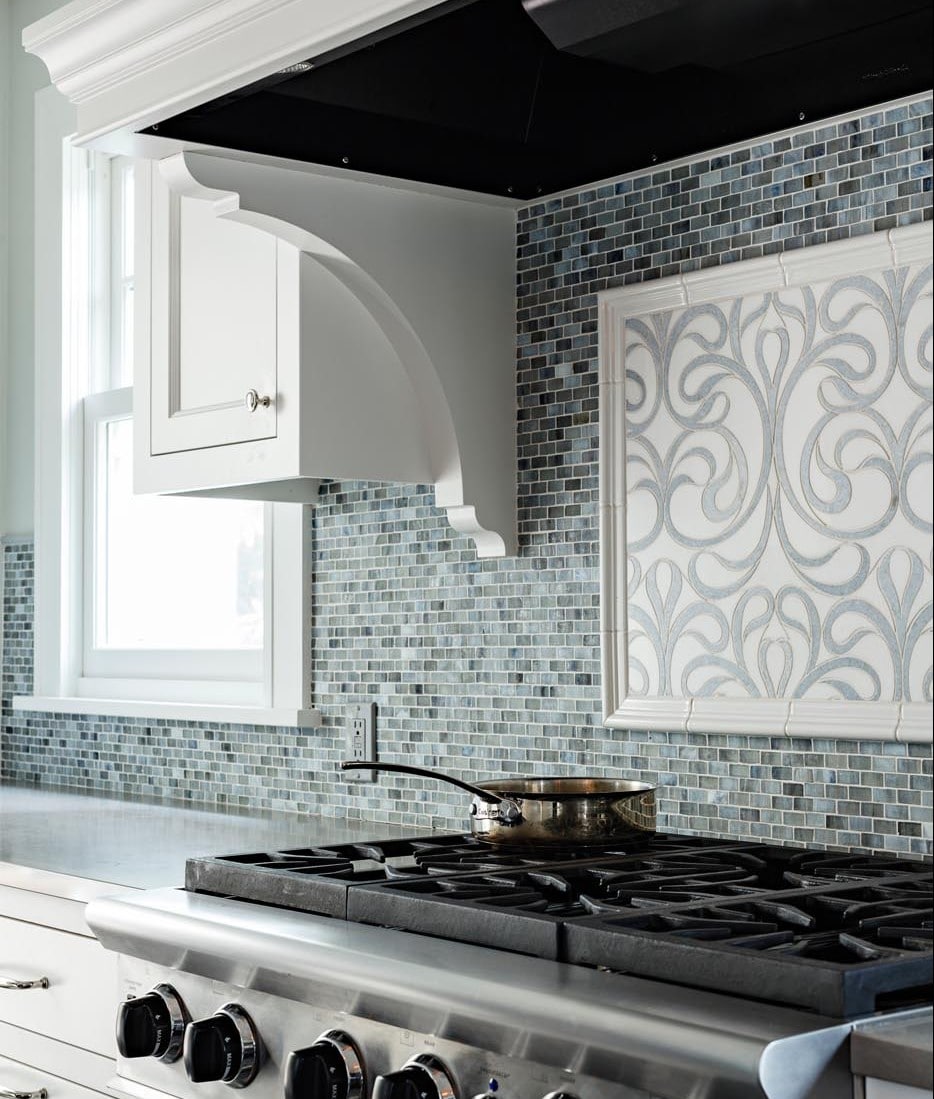 The stove backsplash can also be a work of art. This gorgeous design features a custom mosaic that is a perfect accent to the old world design.
19. Stove Backsplash Feature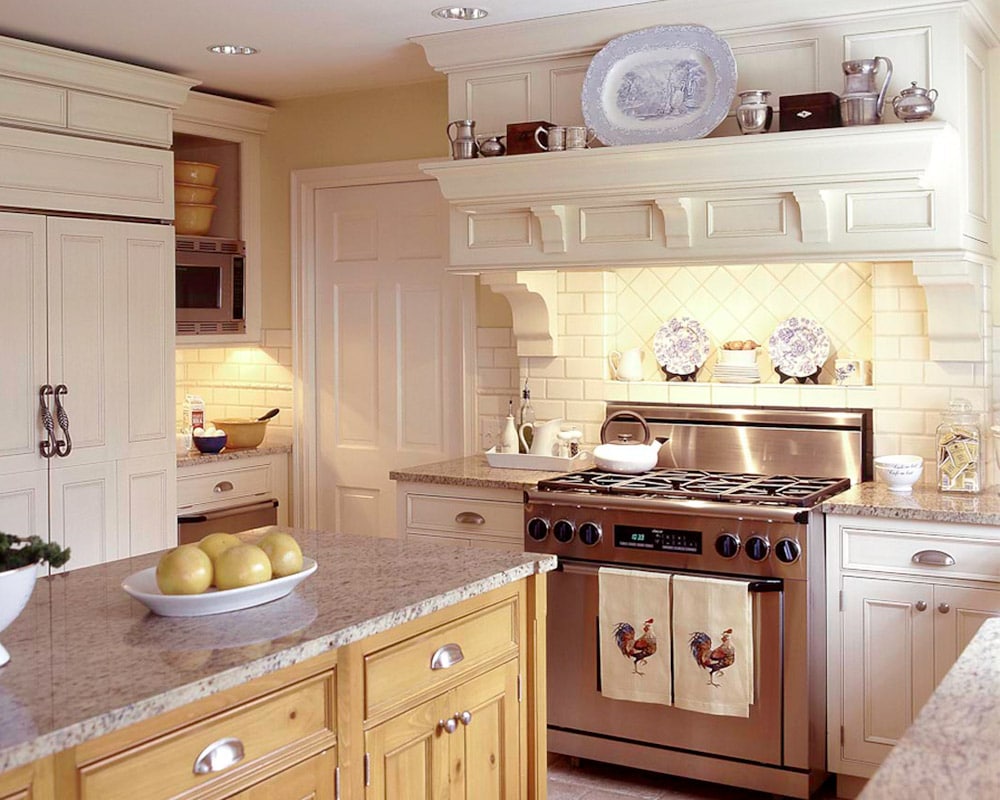 This French country kitchen uses the stove as a feature element. The stove backsplash includes a small ledge for display that works with the ornate hood.
20. Tile Stove Backsplash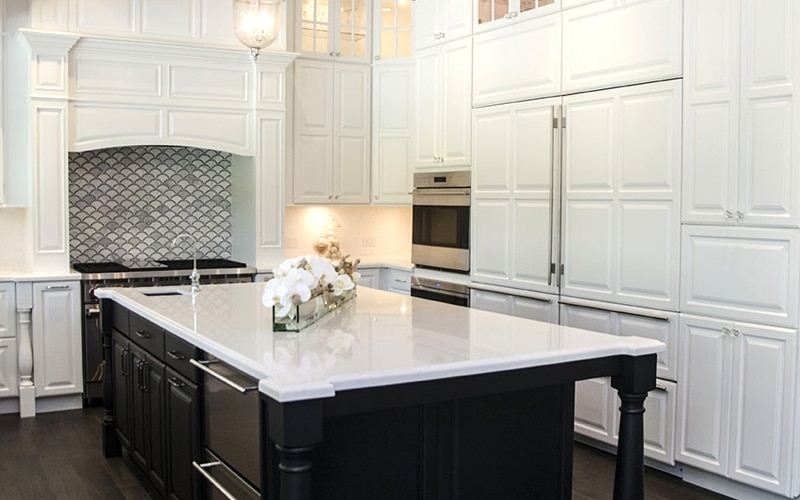 This traditional kitchen contrasts a multi-color scalloped pattern for the stove backsplash that works well with the lines of the cabinetry.
21. Glass Kitchen Backsplash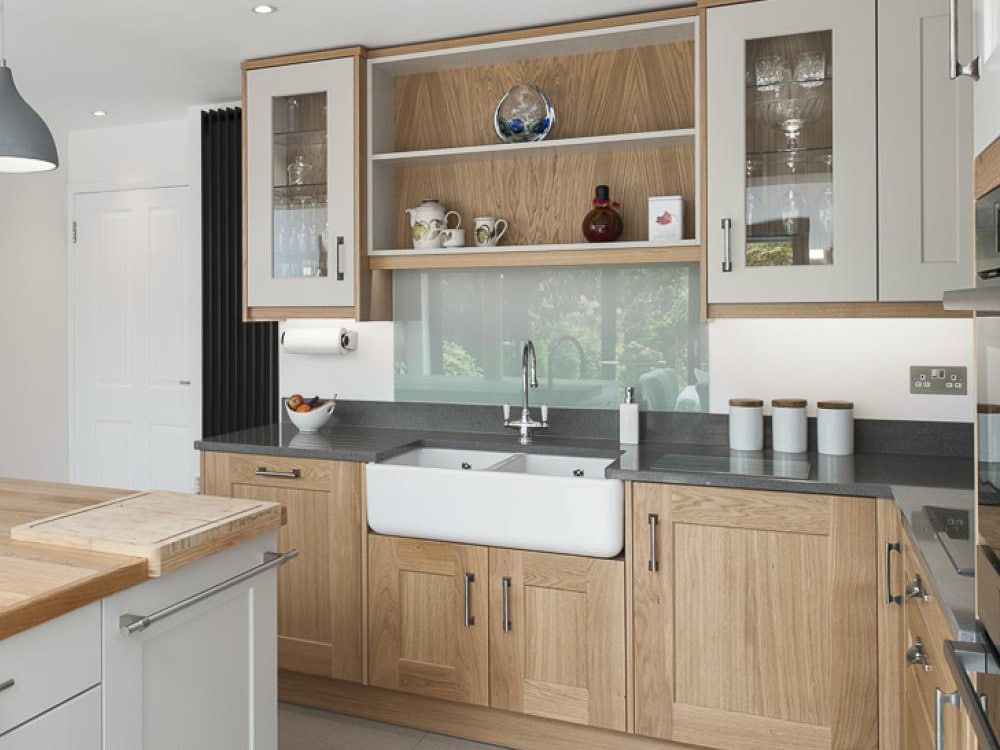 Stone and tile aren't the only materials available for backsplashes. Glass is affordable, easy to clean and works with any design style. Here the glass sink backsplash is unobtrusive amidst a lovely white and wood country kitchen.
22. Solid Glass Backsplash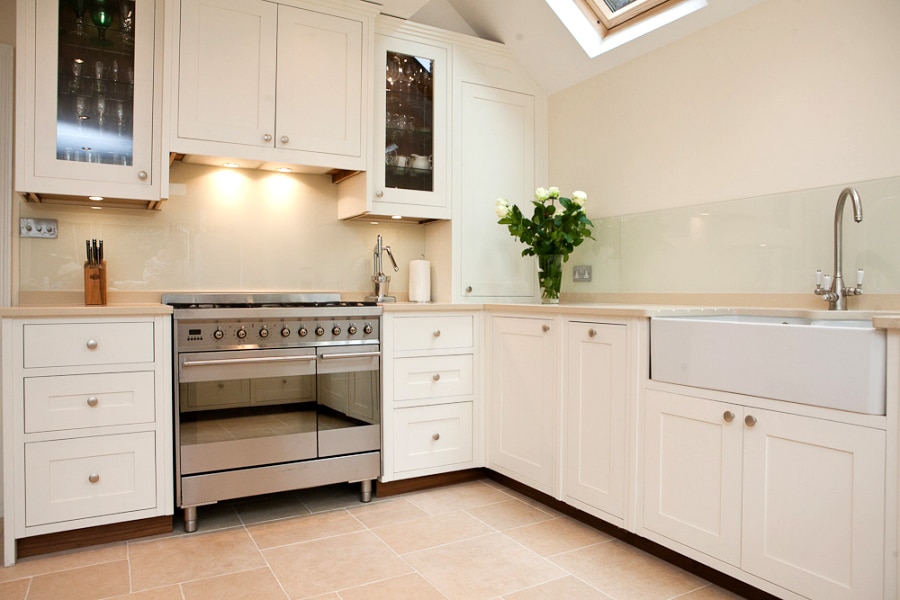 For ease of cleaning, nothing beats a solid glass backsplash. Just use your favorite kitchen cleaner and soft cloth. In addition, the subtle reflection adds light to the room.
23. Wood Backsplash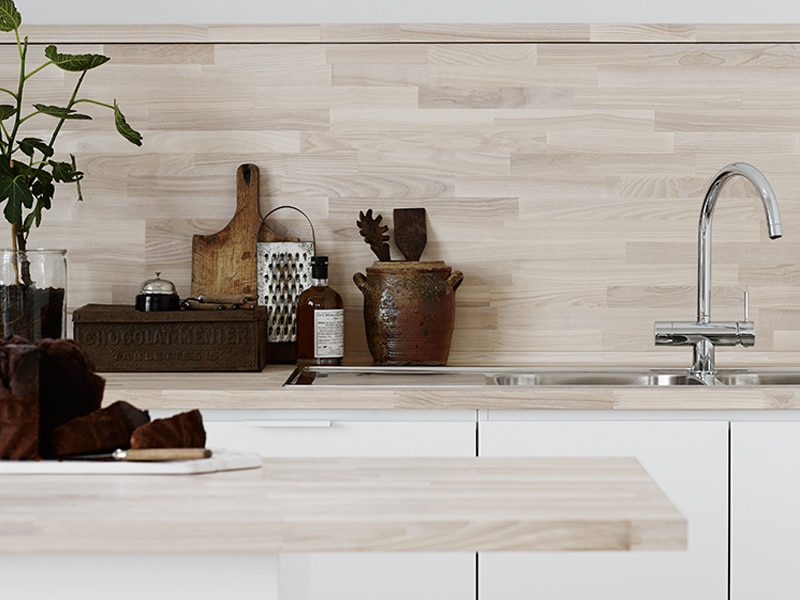 We can't speak to the utility of an unfinished wood but it certainly is attractive.
24. Rustic Wood Tile Backsplash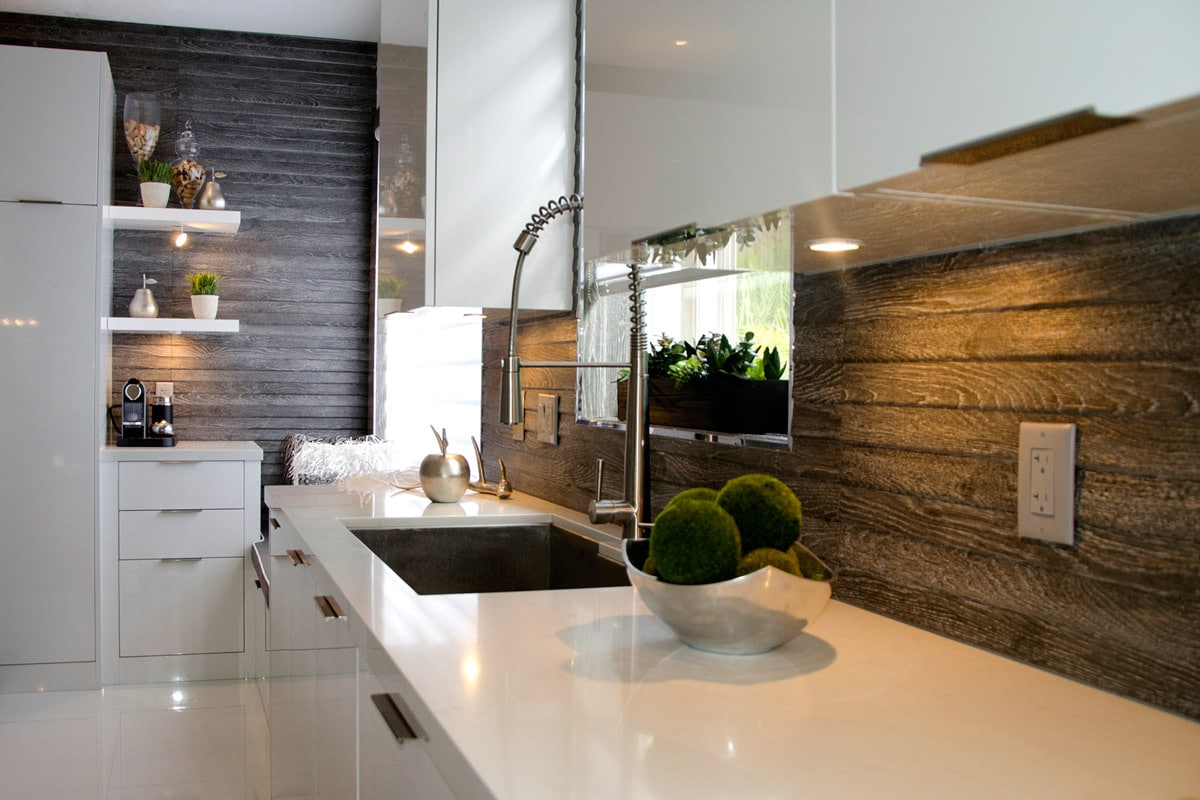 For the rustic kitchen, this wood tile backsplash adds gorgeous texture and patina. These tiles have a wooden pattern so you get the look of wood with the longevity and cost of tile. This cool design contrasts dark walls with bright modern cabinets.
25. Stainless Steel Backsplash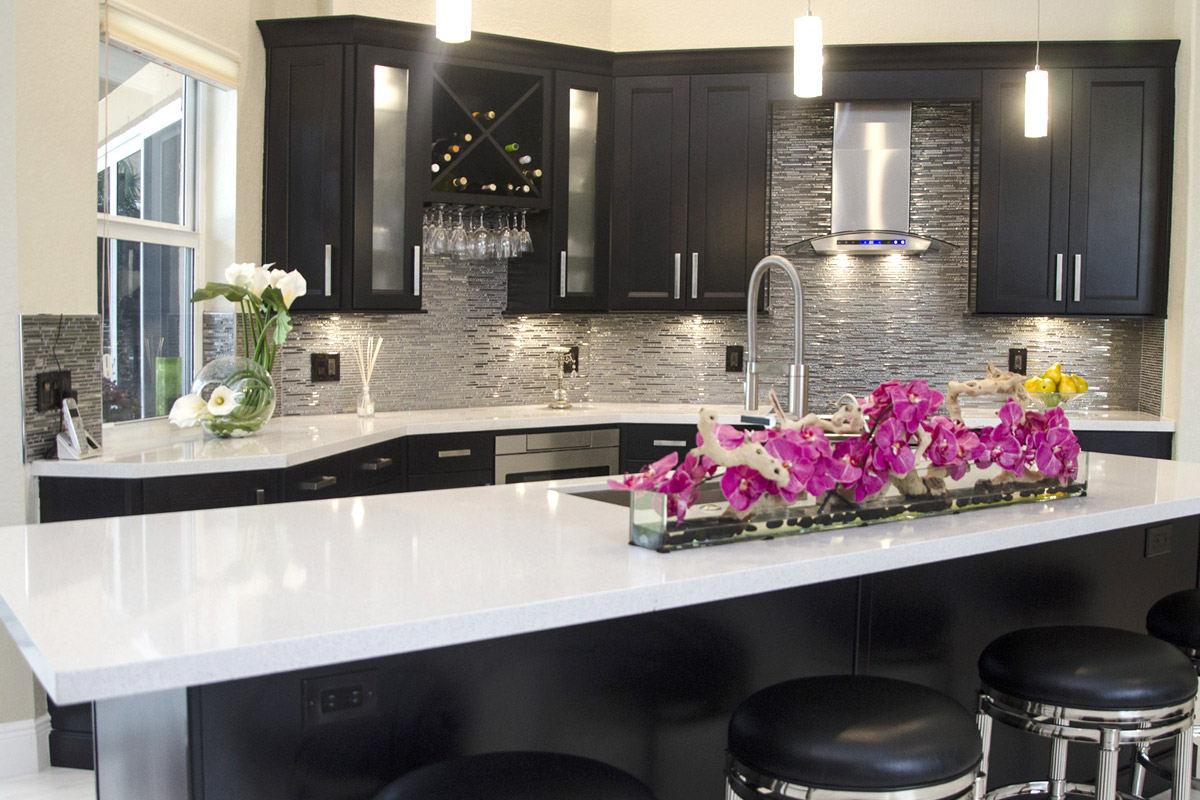 For something really different, consider a stainless steel backsplash. This high shine version adds a bold contrast to traditional light counters and dark cabinets. And this is so much easier to clean than your stainless steel appliances, just use water with a detergent that cuts grease and a soft cloth.
26. Stainless Steel Subway Tile Backsplash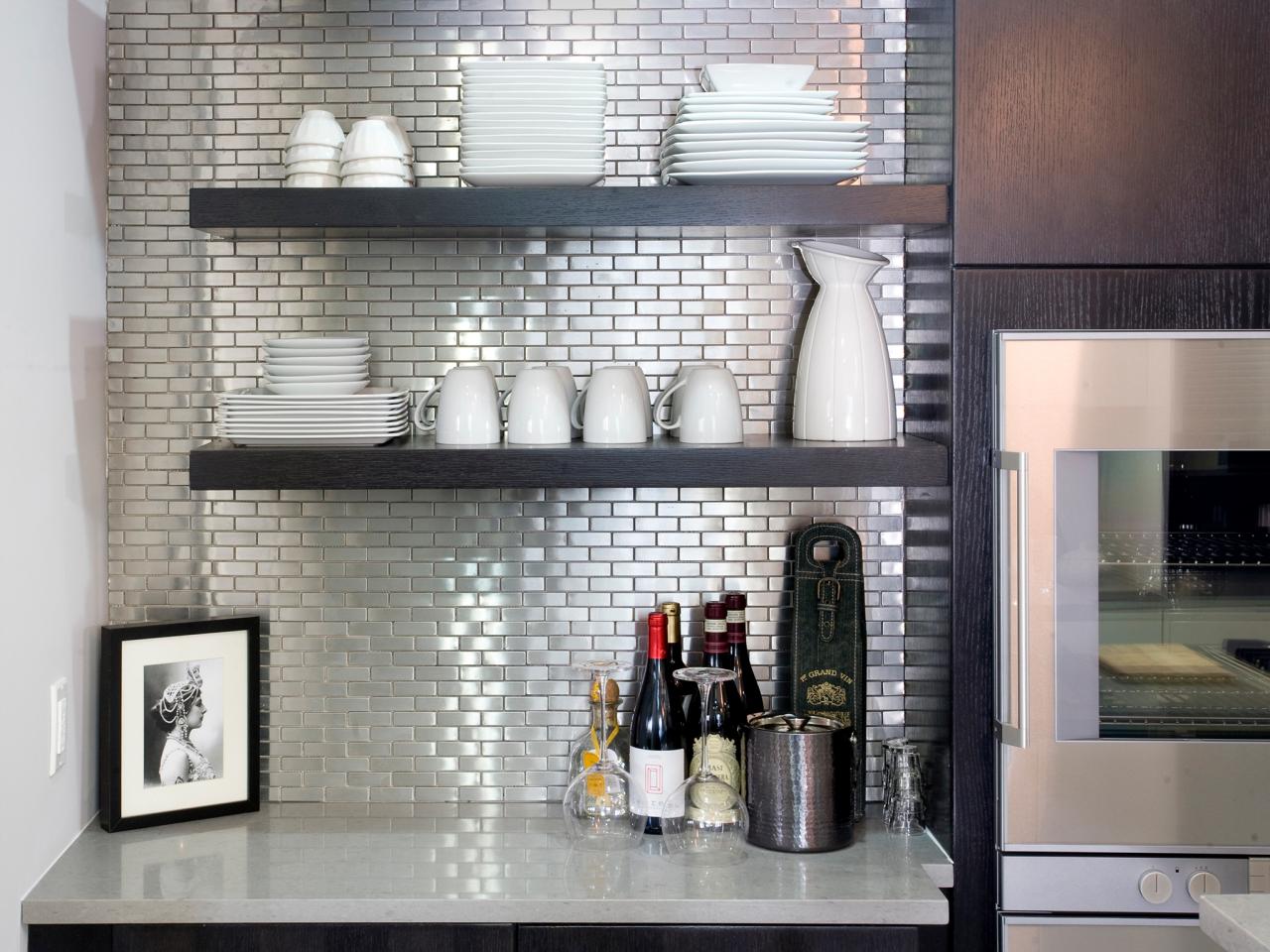 This stainless steel wall is a unique way to get the subway tile look.
27. Herringbone Backsplash    
Simply reworking a tile pattern can have totally unique results. This gorgeous rustic backsplash is made of wood tiles. Set in a herringbone pattern, it makes a gorgeous feature wall for your kitchen.