With the introduction of luxury vinyl planks, vinyl flooring has never been more popular. It is attractive and one of the lowest maintenance flooring types. You still have to clean it though so here's the best mop for vinyl floors.
In addition to these suggestions, we recommend looking up the manufacturer recommended cleaning products if possible. While these tips apply to most vinyl floors, there may be differences between particular brands.
Before we talk about the best mop for vinyl flooring, here's how to care for your floor.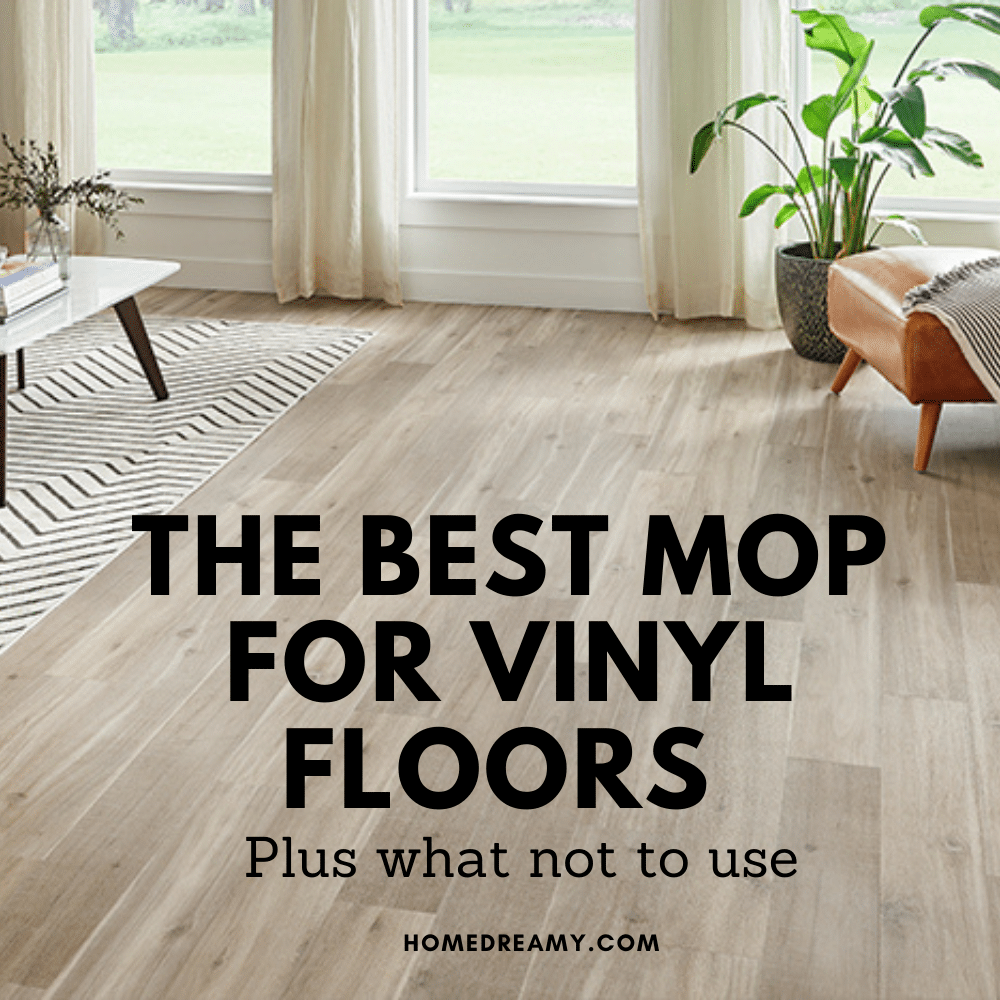 1. Sweep
You already know to sweep before you mop (right?) but regular, even daily, sweeping is the best way to take care of vinyl flooring and keep it looking new for a long time.
Even the smallest particles of dust and dirt have sharp edges that can cause damage. These little bits work like sandpaper to scuff, scrape, and wear down flooring over time.
So sweep, or vacuum, if you prefer daily. Does this make you want to invest in a robotic vacuum like a Roomba or knockoff? Then do it. It's a small price to pay for the long-term health of your floors.
2. Mop
Vinyl flooring is susceptible to scratching more than water damage so look for a soft mop. Lots of options work, just avoid anything with rough and scratchy.
Microfiber is an ideal choice for mopping vinyl floors. The fabric is ultra-soft, highly absorbent, and picks up all kinds of dust, dirt, and grime. Look for a microfiber head in any type of mop you choose. These mops will also work for other areas of the house including wood floors and tile.
Microfiber Flat Mop
Flat mops are easy to use for daily or weekly cleans, depending on if you want to be able to eat on your floors or not. We like the Rubbermaid Reveal Spray Mop Floor Cleaning Kit because it doesn't require any additional purchases. The microfiber pad is reusable and the bottle is refillable.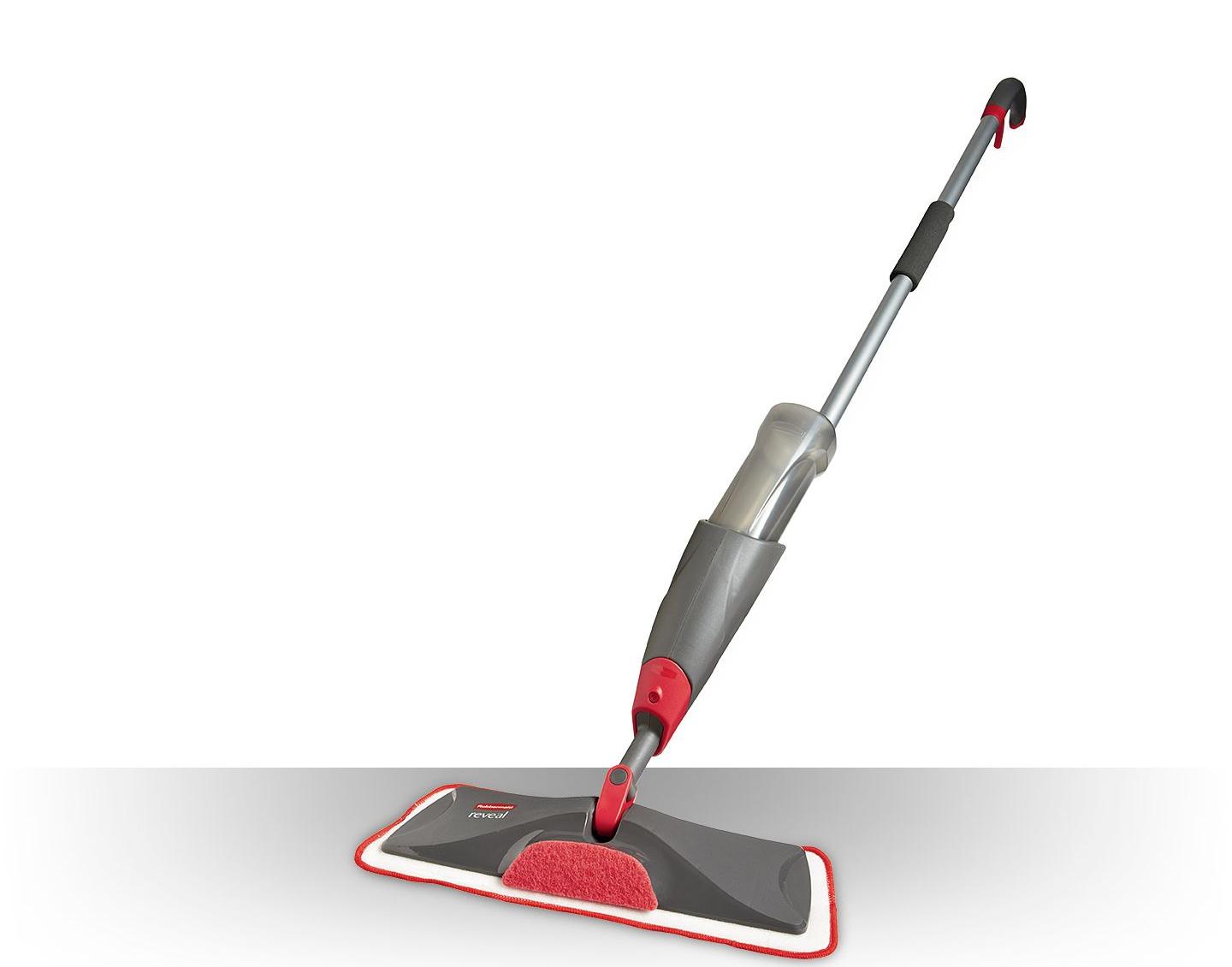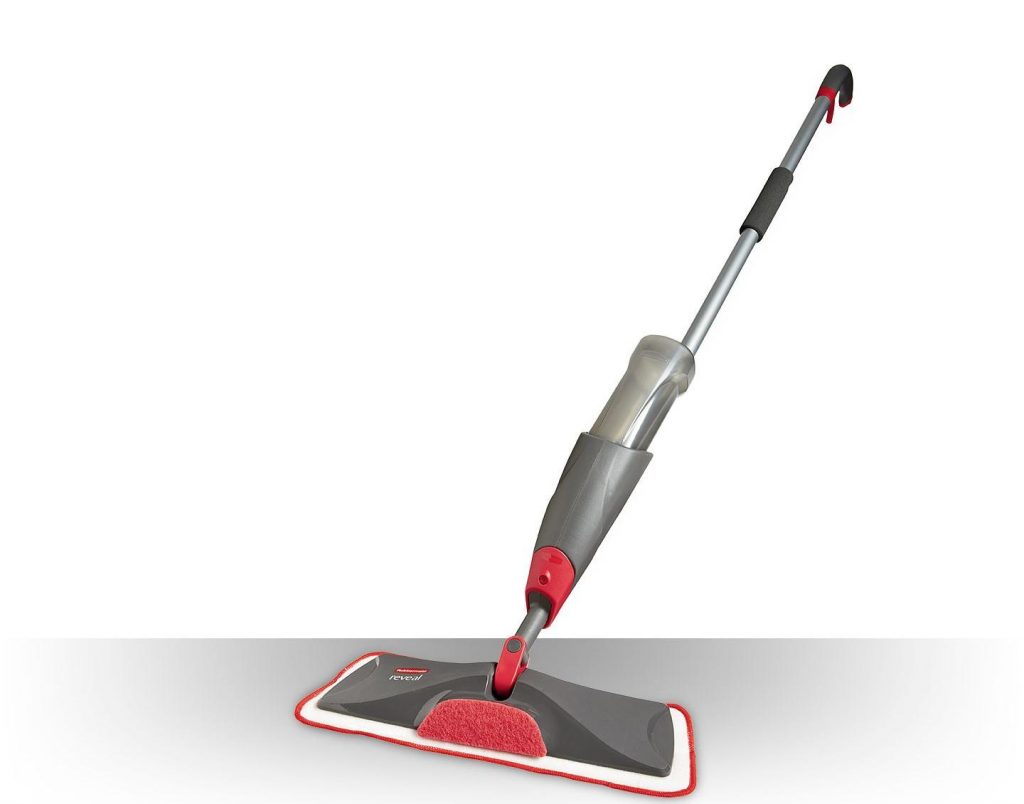 Microfiber Strip Mop
For deep cleaning or houses with kids and/or pets that get messy fast, a classic stripe mop head that is wrung out has more cleaning power. The O-Cedar Microfiber Spin Mop is one of the top-rated mops available for all types of floors.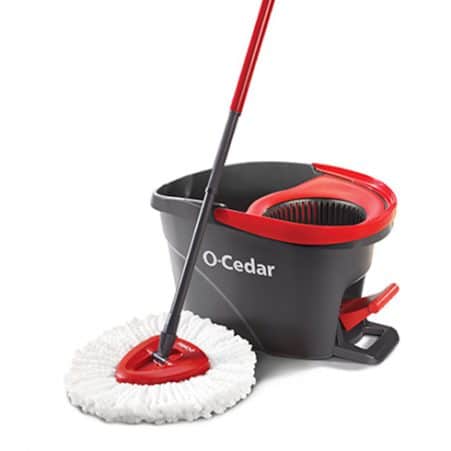 The microfiber head removes over 99% of bacteria water alone. A foot pedal on the bucket wrings out the mop without needing hands. And the reusable mop head is washable, although it is recommended to replace the head every 3 months.
Microfiber Spin Mop
For a mop that is as easy to use as a flat mop with the deep-cleaning power of a strip mop, enter the spin mop. The mop we recommend swivels 360 degrees and spins to wring out water.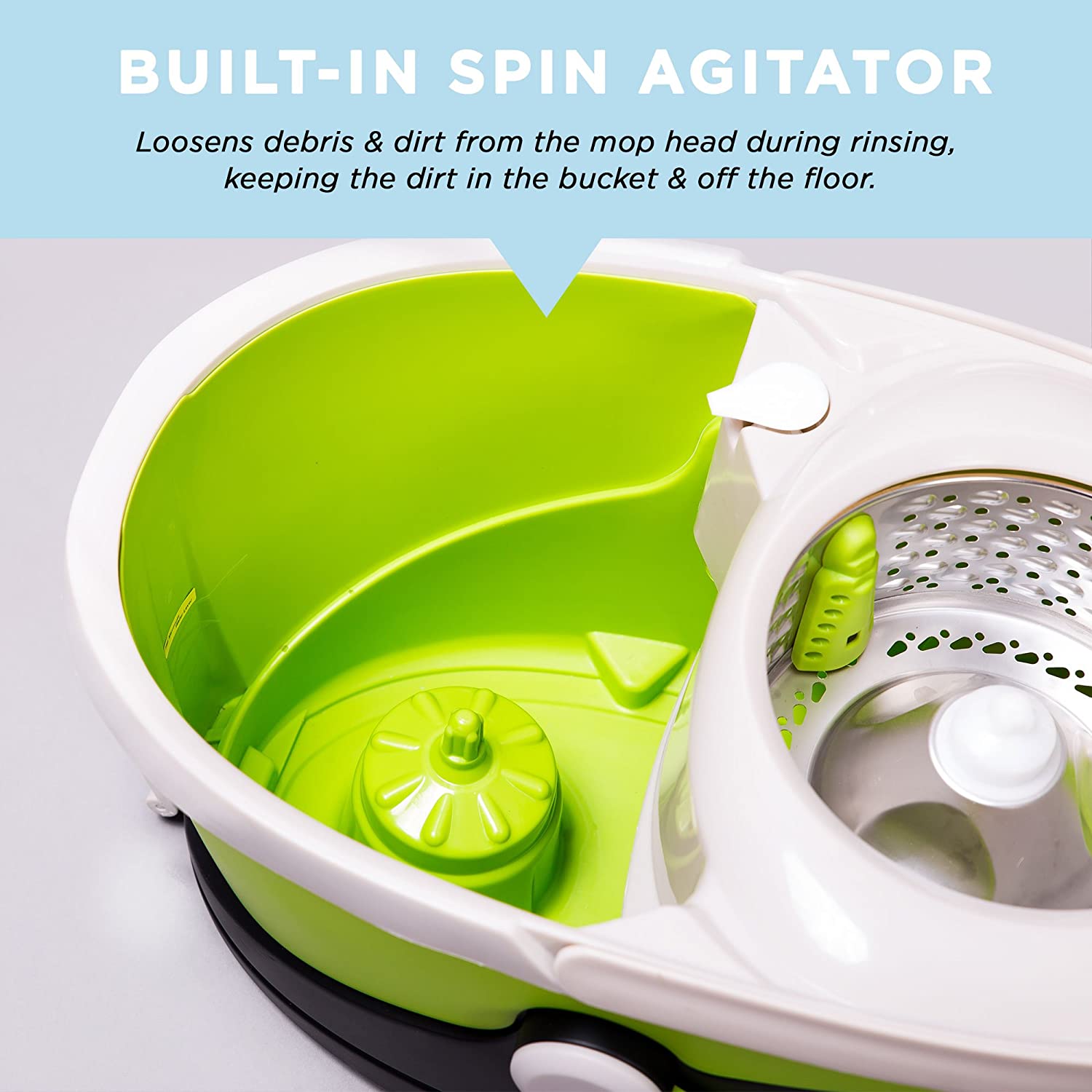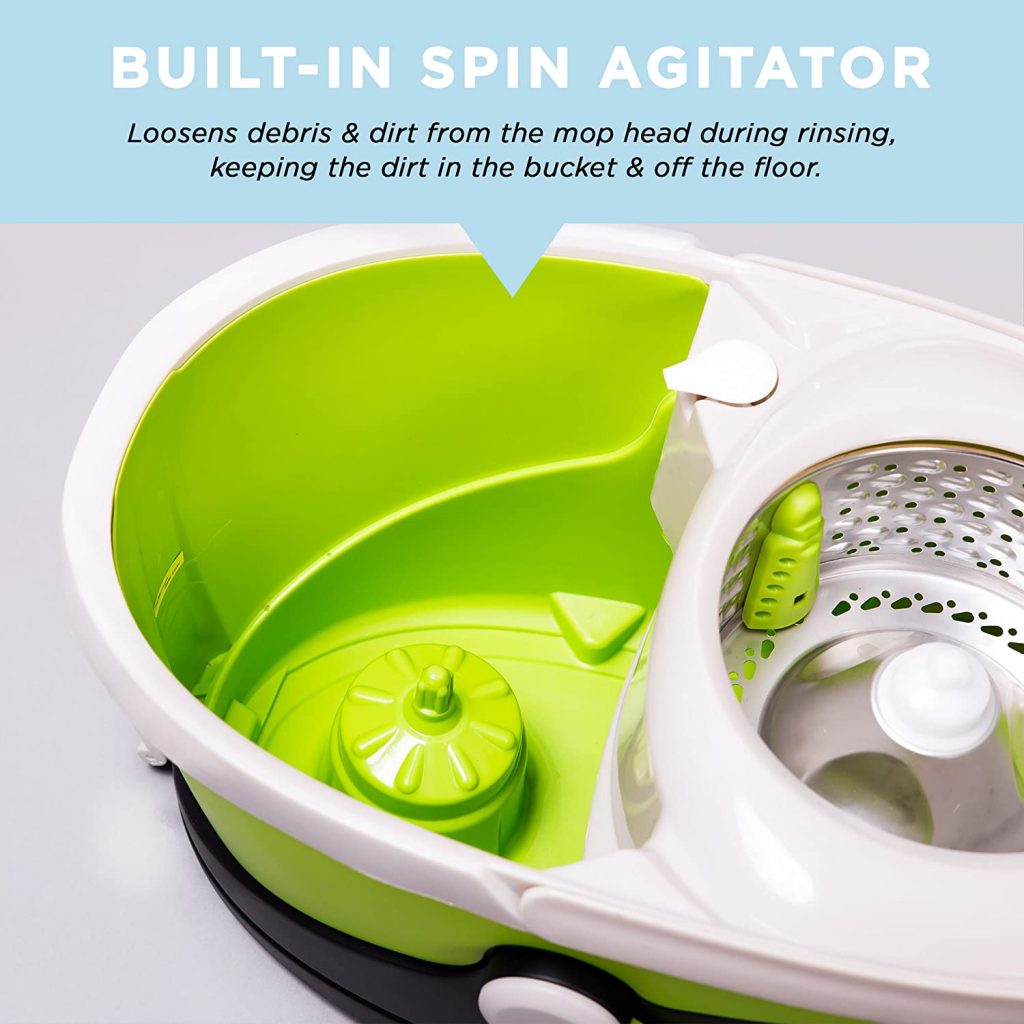 The Mopnado may be an As-Seen-On-TV type product but it works. It is similar to the O-Cedar but has a smaller head. To wring out the mop, put the head into the spin area and push down. The bucket also comes with a built-in soap dispenser to add the official or your desired cleaning solution to the freshly wrung-out mop head.
Don't Use Steam
Never ever use a steam mop on vinyl flooring. The heat can start to melt the glue that holds it down.
3. Clean
For vinyl flooring, cleaning solutions are not even necessary. If you do go that route, make sure it safe for vinyl flooring.
For weekly cleanings, warm water with a dash of dish soap is all your floor needs.
For deeper cleans, look to your kitchen pantry. Add one cup of apple cider or white vinegar to a gallon of hot water. The acidity in the vinegar helps remove dirt and grime without leaving a buildup of soap or wax.
Whether you use vinegar or soap, go back over the floors with a clean wet mop to remove any residue.