Want to see your hardwood shine and sparkle? Here are the best mops for wood floors including three powered options.
Protecting and cleaning wood floors takes more than mopping. Sweep wood floors frequently (daily if possible) to remove large particles that can cause scratches. However, broom bristles don't always pick up everything. A microfiber mop makes sure nothing is left behind. Microfiber generates a static electricity charge that attracts and traps dust, dirt, and allergens. The microfiber mops we recommend can be used dry as well as wet.
To get rid of grime and buildup, it's time to mop. Somewhere between once a week and once a month works. Wood and water don't mix so the best mops for wood floors make it easy to control the water level.
Here are our top picks in six categories: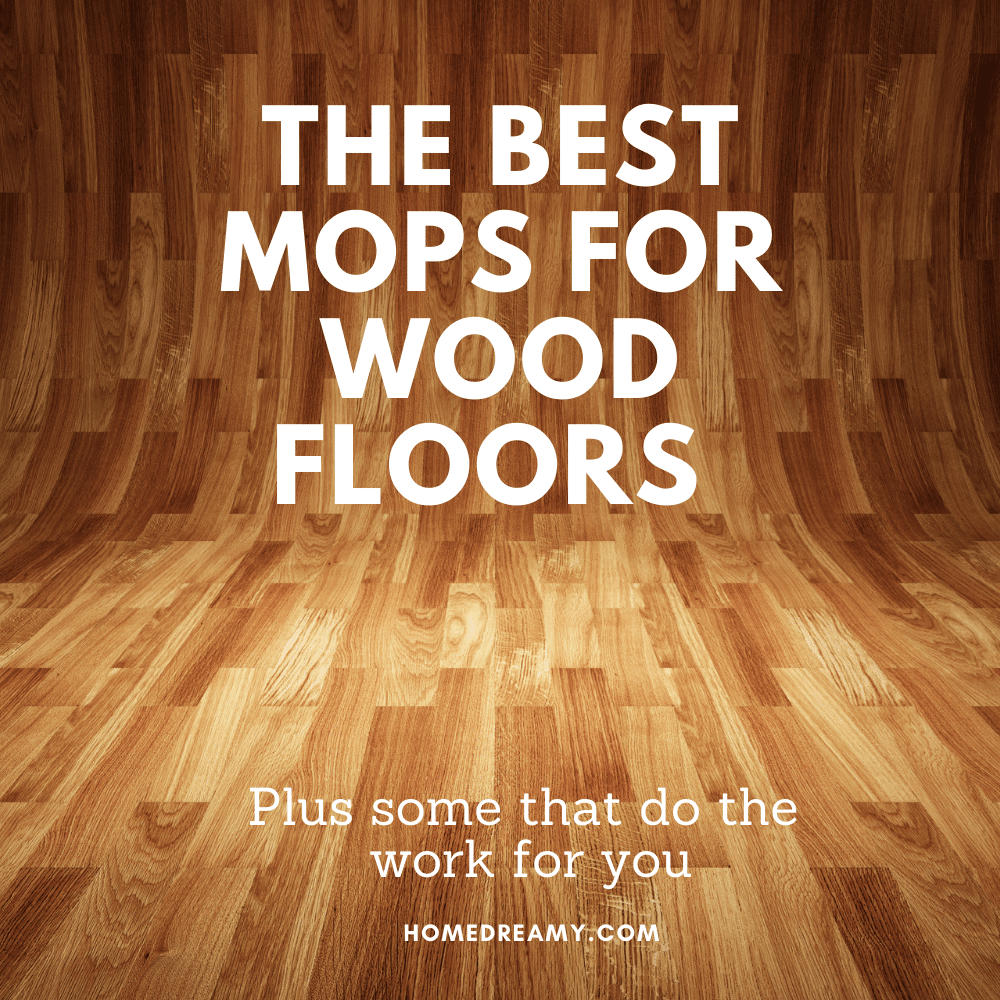 Best Flat Mop For Wood Floors
A flat mop is the Swiffer-style mop that is common these days. You're looking for a sturdy handle, thick microfiber pad, and head that spins.
Turbo Microfiber Mop Floor Cleaning System
This is the bestseller on Amazon and stands out from the competition thanks to the absorbent microfiber pads that can be washed and handle that telescopes up to 60″ so you can finally get all those cobwebs.
Turn it into a wet mop by using it along with a spray bottle.
Best Mop & Bucket For Wood Floors
For a deeper clean, go to to a classic.
This is one of the best traditional mops out there that also made our best mops for vinyl floors list. The Spin Mop updates the mop and bucket system with a foot pedal-operated spin ringer that allows control over the level of moisture for different surfaces.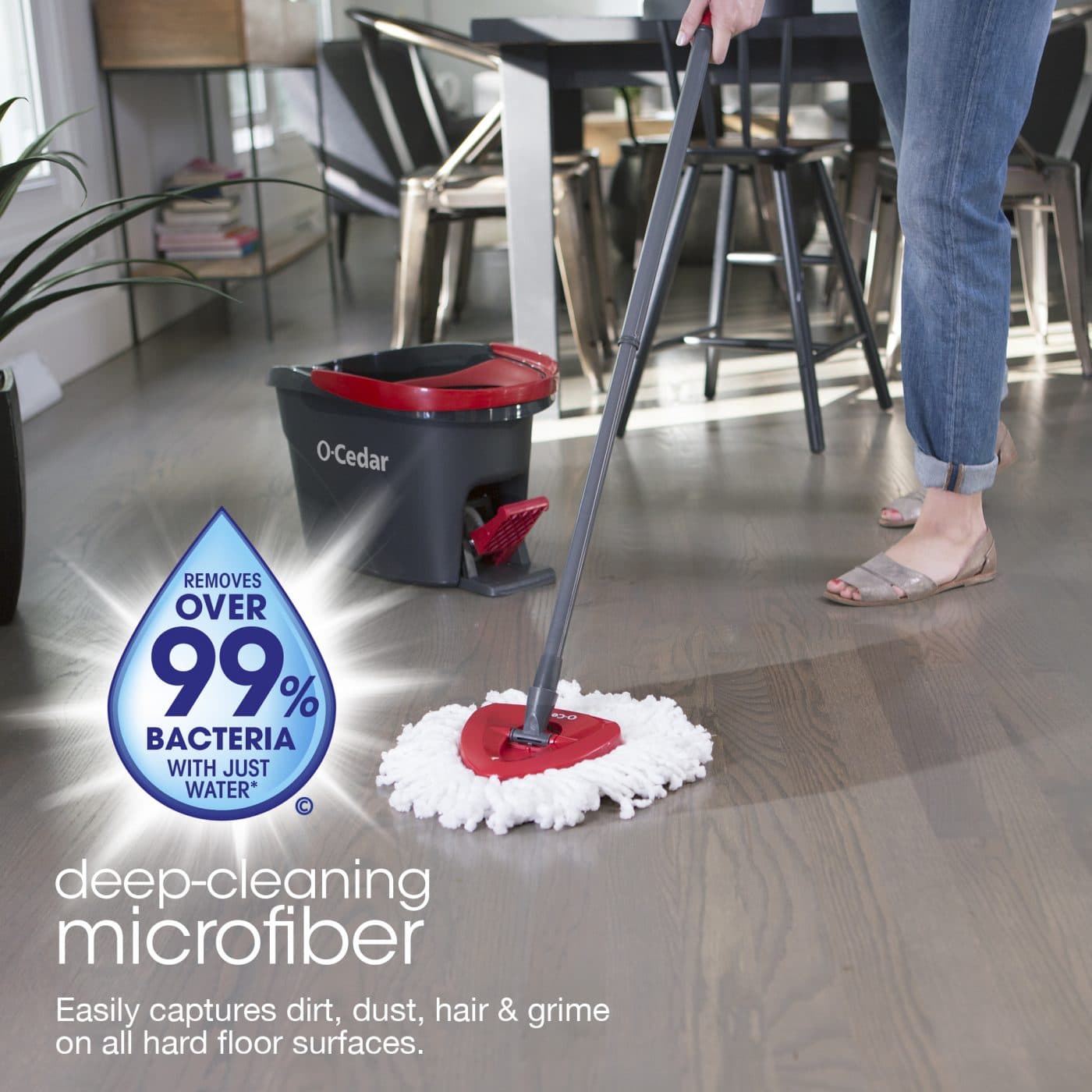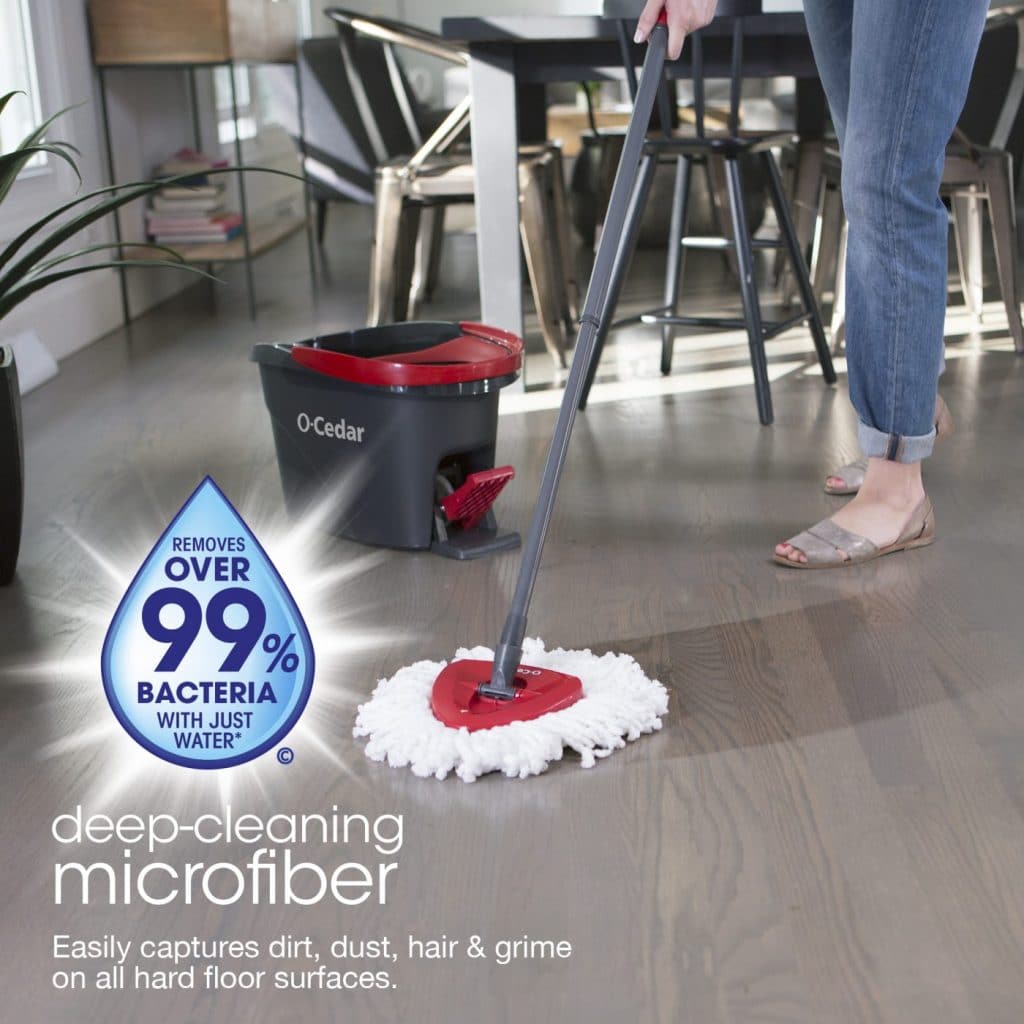 The microfiber mop head can remove 99% of bacteria with just water alone or add your favorite cleaning solution to the water. The mop head is also machine washable and can be re-used for 3 months. Plus the triangular shape makes it easy to get into corners.
Use this mop wet or dry.
Best Spray Mop For Hardwood Floors
A spray mop is a flat mop with an attached spray bottle to wet the floor. These are excellent for wood floors because you can choose how much and where you spray, the cleaning solution, and mopping pads. Many people like reusable microfiber but if you prefer disposables, some spray mops fit those too.
Our recommendation is a good deal on Amazon but most spray mops available at your local store should work too. If the pads wear out or seem thin, there are thicker replacements available that are interchangeable with most brands.
MEXERRIS Microfiber Spray Mop for Floor Cleaning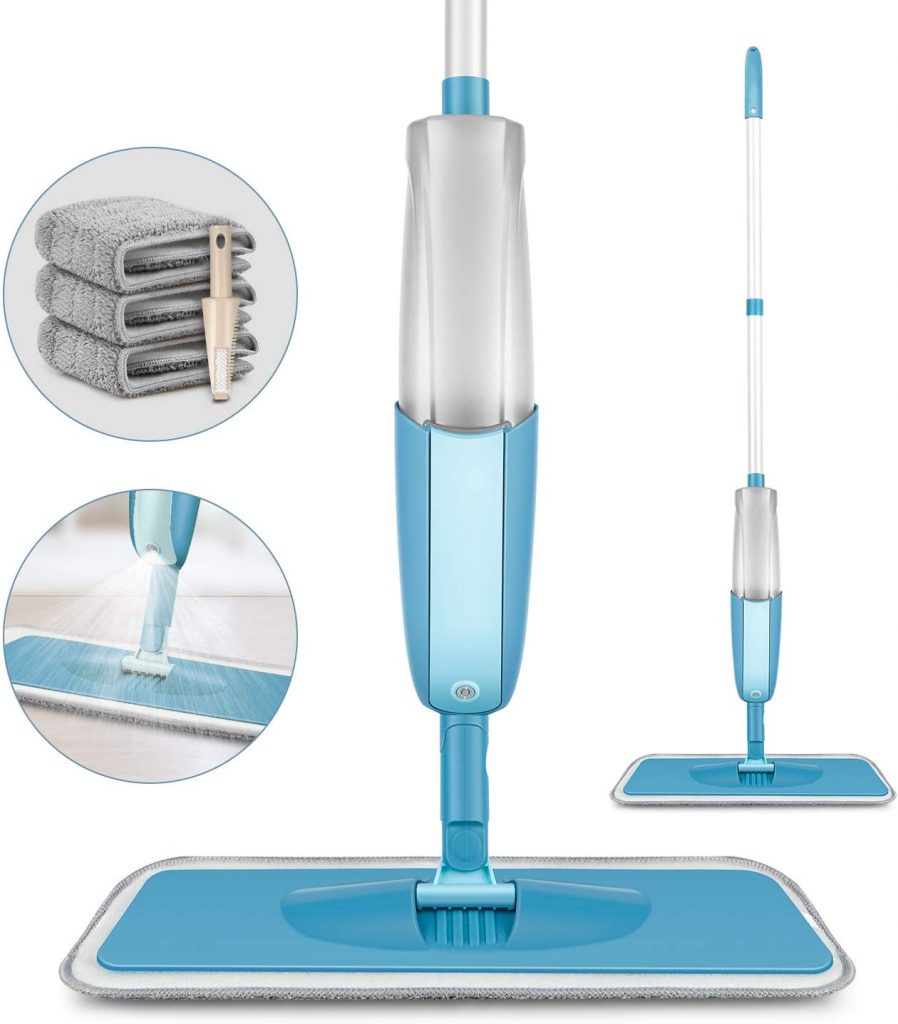 This is both a great mop and value. Unlike many spray mops, the pole is aluminum instead of plastic and the mop head swivels 360º. It can be used wet or dry and comes with 3 reusable microfiber pads and plus a scrubber to remove stubborn dirt.
Best Powered Mop For Hardwood Floors
Steam mops are not recommended for wood floors because the heat and water can get in between boards and warp the floor. Instead, check out this power mop that scrubs the floor for you.
BISSELL Green Spinwave Powered Hardwood Floor Mop
The key to this powered mop is rotating mop pads that gently scrub the floor. Use the washable soft touch pads for wood floors or scrubby pads for tougher messes on other surfaces. Like a spray mop, cleanser can be sprayed on demand and the head swivels to get in corners and under edges. This mop can be used on sealed, hard surface floors.
Best Cordless Vacuum Mop
If a powered mop isn't enough, here is the next level. Is it a vacuum? Is it a mop? It's both! This product is designed specifically for sealed hard floor surfaces, including wood.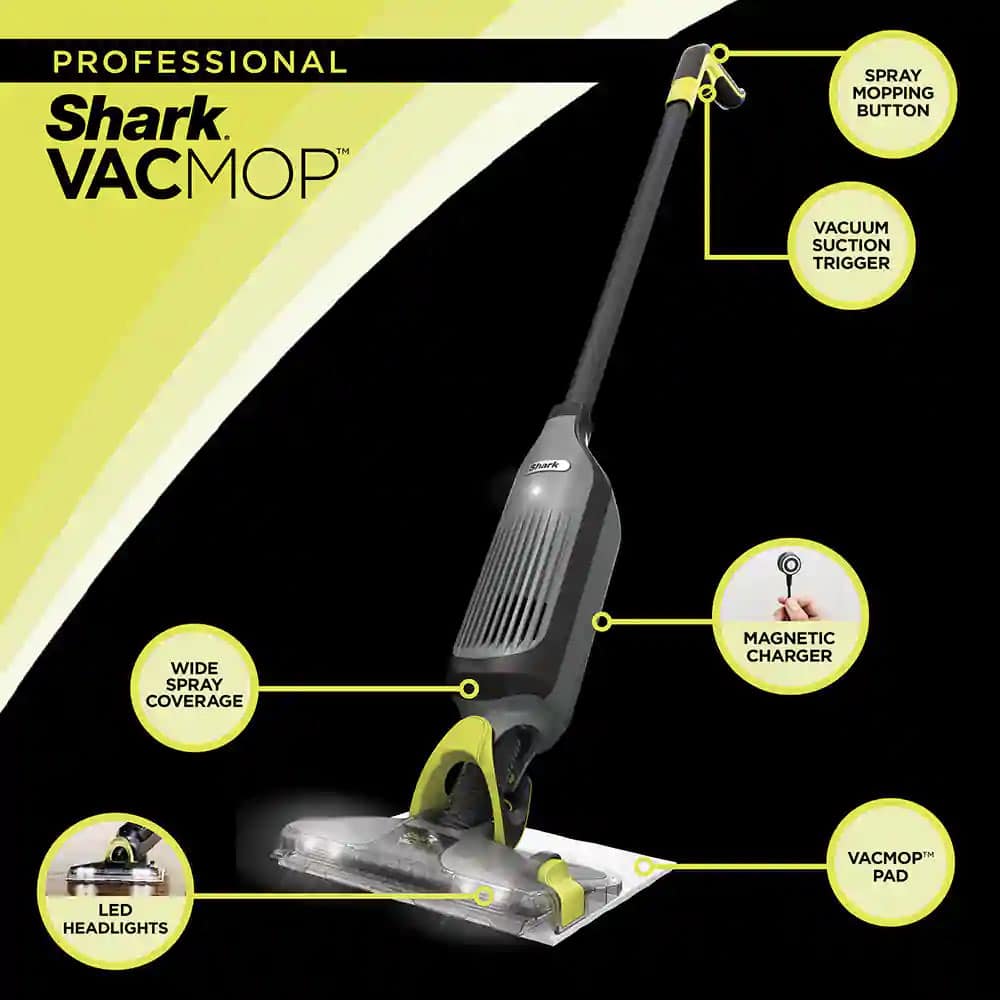 Another excellent and affordable product from Shark, this is a cordless vacuum and mop combination that weighs less than 5 pounds. It sucks up debris, absorbs spills, and leaves floors spot less. That's not all, this innovative product also features LED headlights and a magnetic charger.
The VacMop does use a disposable pad, which may be a pro for some and a con for others. It can be disposed of at the push of a button so you never need to touch the mess.
Best Wet/Dry Vacuum-Mop
Bissell CrossWave Multi-Surface Wet Dry Vac
Bissell really wants to help people clean their floors! This cordless stick vacuum vacuums and mops at the same time to make this chore a breeze.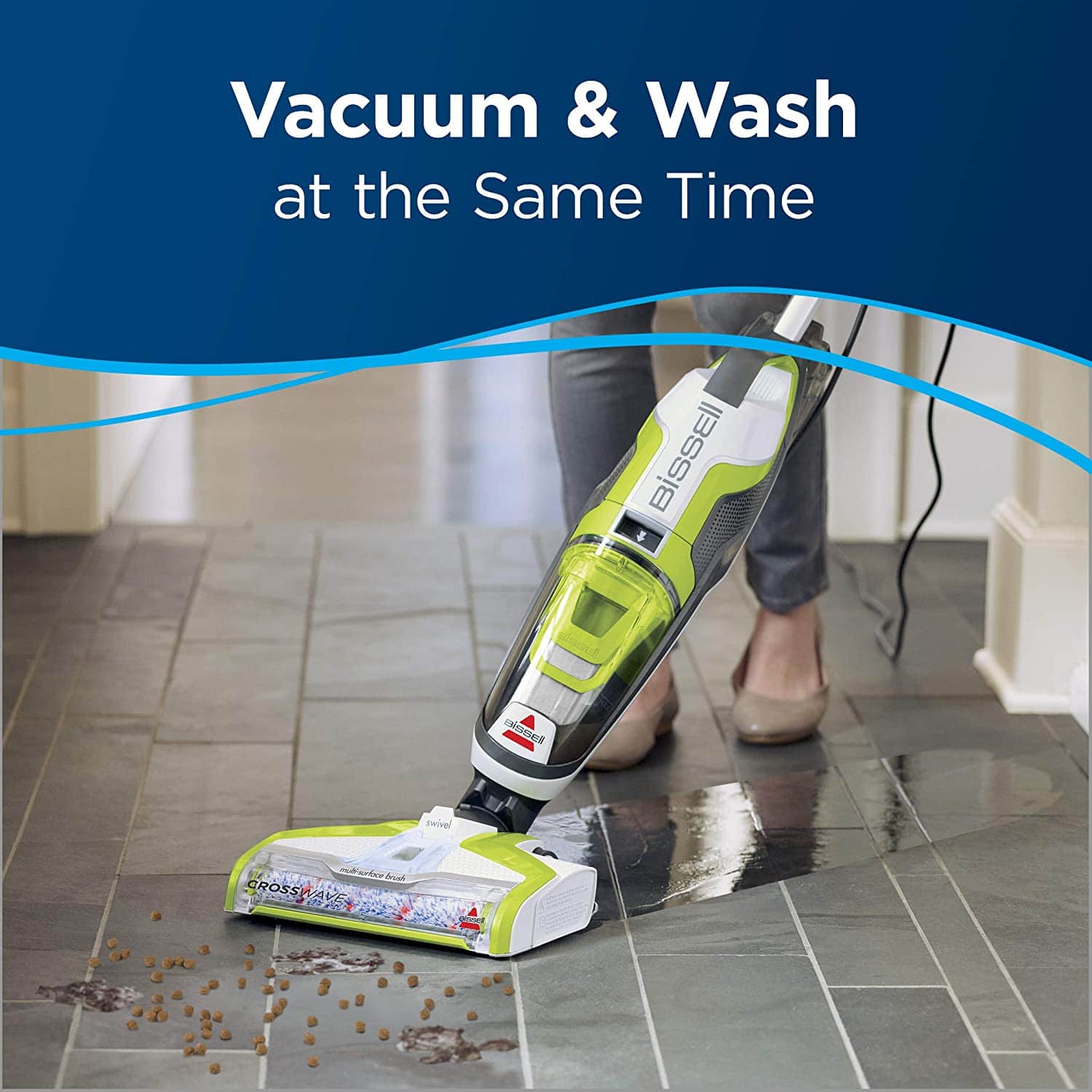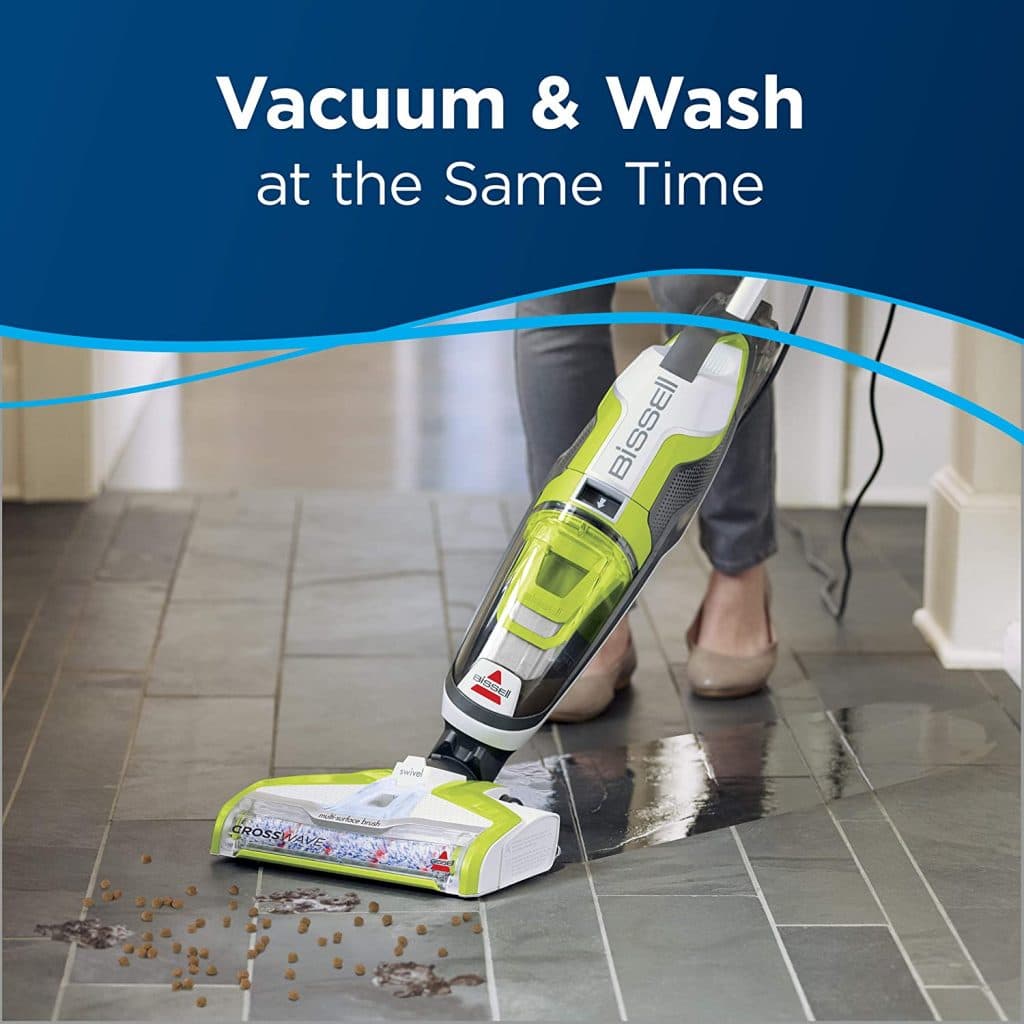 Two tanks keep clean and dirty water separate so only clean water and formula go on the floor. When you're done, the self-cleaning cycle cleans the brush roll. The vacuum mop can also be used on laminate, linoleum, pressed wood floors and even rubber floor mats and area rugs.
This model is marketed toward pet owners but anyone can benefit and different Crosswave models are available from other retailers.
Best Robot Vacuum Mop
Yes, the future is here. We don't just have robot vacuums but a robot vacuum that also mops. Well, almost. This product should be available soon.
Bissell SpinWave Wet and Dry Robotic Vacuum
This robot system vacuums and mops, but not at the same time like CrossWave. You're not pushing around the mop so it doesn't matter.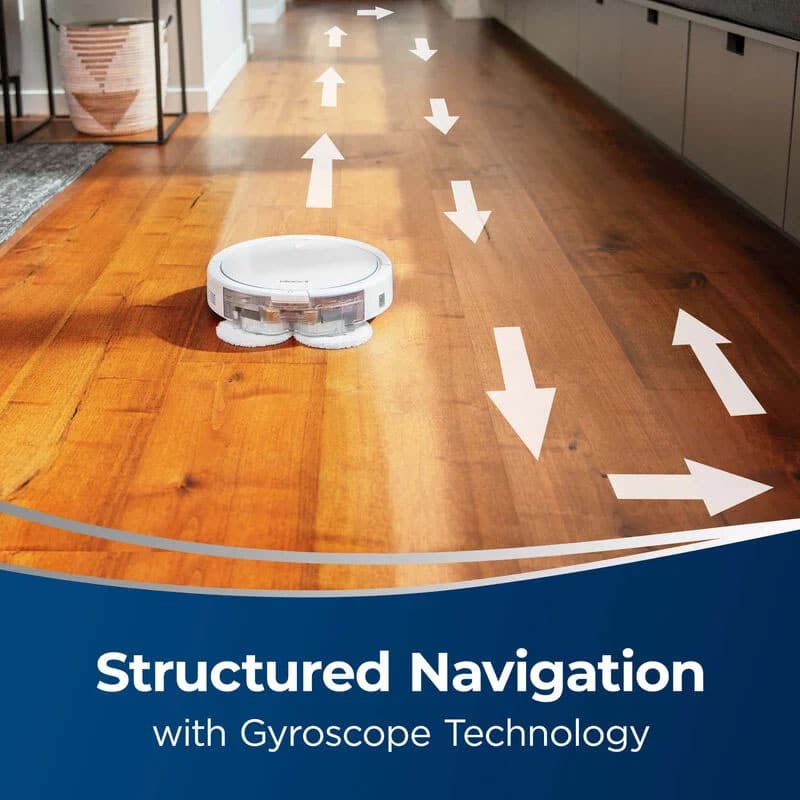 The dry vacuum mode sucks up dirt, debris, and pet hair on wood floors, rugs, and carpets. Wet mopping mode uses rotating mop pads to scrub hard surfaces clean while sensors keep it from wetting soft surfaces.
Best Cleanser For Wood
Now you have a mop but what to clean with? An oil-based, soap-free hardwood floor product is ideal, especially for older wood floors. For newer surface finish floors, try a water-based hardwood floor cleaner or even just warm water mixed with dish soap.
There are plenty of natural hardwood cleansers (like the classic Murphy's Oil Soap) but don't use vinegar. While it is often recommended, the acidity can strip away all types of wood floor finishes.
Wood Floor Mopping Tips
Mop with the wood grain to hide streaks and keep dirt out of spaces between floorboards.
2. Don't forget to rinse. Most wood cleansers aren't meant to be left on the floor (the aforementioned Murphy's Oil Soap is an exception). When you're finished, fill the bucket with plain water and go back over the whole floor with a lightly damp map to rinse it.
3. For a highly polished shine, finish your floor cleaning by going over it all with a dry mop or cloth.