Cabinets are one of the most defining features of a kitchen, even more so than the countertops, flooring and paint. They are also the most expensive item. Here's a rundown on what you need to know about updating kitchen cabinets on every budget.
A. How Much Do Kitchen Cabinets Cost?
Cabinets are one of the largest pieces of the kitchen renovation budget, at an average of 30% of the total cost but up to 50%. According to Home Advisor, the average cost of kitchen cabinets is $4,621. However, the medium price range spans from $2,034 to $7,210.
Updating cabinets can be as low as $640 for fresh paint and new hardware. A luxury kitchen with complete custom cabinetry can go as high as $13,340.
1. Custom
Custom cabinets are built from scratch according to a specific design. This offers the widest range of options for sizes, styles and finishes but also costs the most. For kitchens with uncommon shapes or out of the ordinary designs, custom cabinets may be required.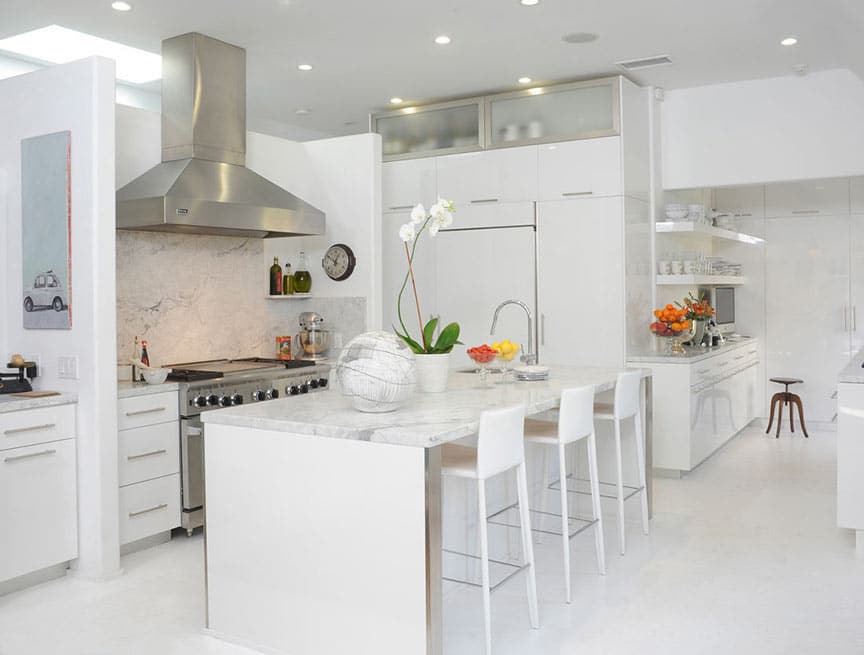 2. Semi-Custom
Balancing design choices with a lower cost, semi-custom cabinets are a more budget friendly option that still offers customization. Similar to stock cabinets, there are some basic cabinet sizes but there are more choices for drawer size, doors and the cabinet depth.
Get the look you love by choosing from a range of door styles, colors and finishes. There are also detailing options such as crown molding, decorative accents, and interior storage. While semi-custom cabinets are mass-produced, adding more design features and upgrades will increase costs as well as production time.
Keep costs in check by choosing a standard cabinet size in a mid-range material and make it your own with a different color and hardware upgrade.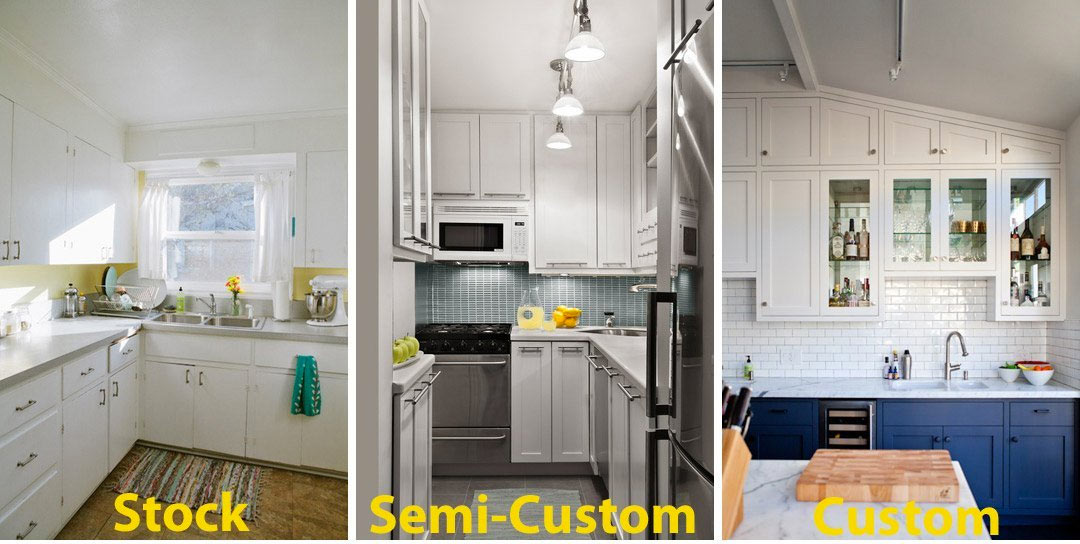 3. Stock
To really keep kitchen renovation costs down, opt for stock cabinets from a home improvement or cabinet specialty store. Ready to buy in standard sizes and finishes, many stock cabinets can be taken home immediately. Most are sold already assembled and ready to install, making them a top choice for the DIYer. Some home stores also offer installation.
Jeff Cannata, past president of the National Kitchen & Bath Association and president of Designer's Showcase Kitchens & Baths Inc., estimates that 8 out of 10 kitchens can be outfitted with stock cabinets. If you are working with a designer, they will be able to work with the common sizing. Kitchen islands can also be made with stock cabinets.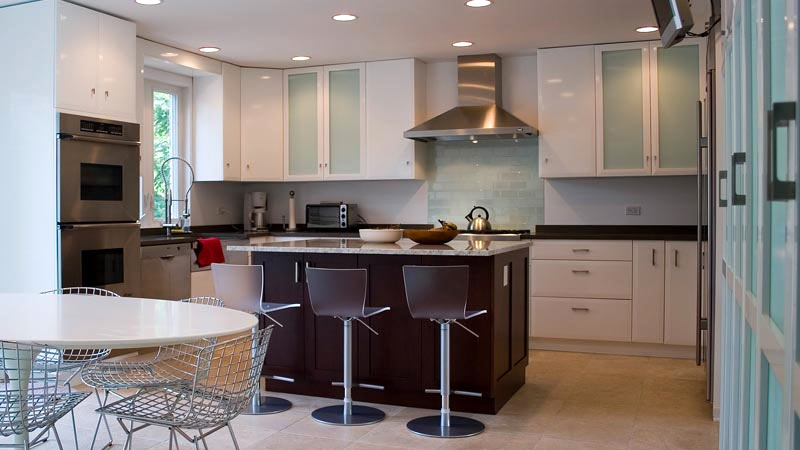 Stock Cabinets in MDF by Advance Cabinets
The materials are also budget friendly. While many stock cabinets are available in particleboard and laminates, there are also real wood options. Usually the base and interiors are particleboard with wooden doors, getting the look at a better price. Unfinished wood is available but it is not worth the time and money to stain them.
While stock cabinets come in many more options than ever before, they are limited to standard sizes. The limited selection may not fit all kitchens.
In addition to the big name home stores, there are many cabinet companies to find more styling options.
4. Refacing Cabinets
If installing new cabinets is not in the budget, consider refacing cabinets instead. This process maintains the cabinet frames and replaces the doors and drawer fronts and veneers the cabinet boxes.
The existing layout stays the same but the entire kitchen gets a fresh new look. Since everything has to be moved out of the cabinets anyway, this is an opportunity to add in additional organization features like a lazy Susan, spice drawer or even roll-out drawers. This is also the time to update kitchen hardware.
In addition to keeping parts and labor costs down, refacing cabinets should only take two to four days. That means less disruption to your household and possibly even being able to access the kitchen at night.
There are companies that specialize in this type of work in addition to the home stores so check out your options. Refacing can also be a do it yourself job. Replacing doors is easy using existing hinge holes. Peel-and-stick veneer makes the finishing touches a breeze.
5. Refinishing Cabinets
For even less money, but more work, cabinets can be refinished. First you need to determine what you're dealing with. Hardwood can be stripped and refinished or painted while fiberboard will have to be re-veneered or painted.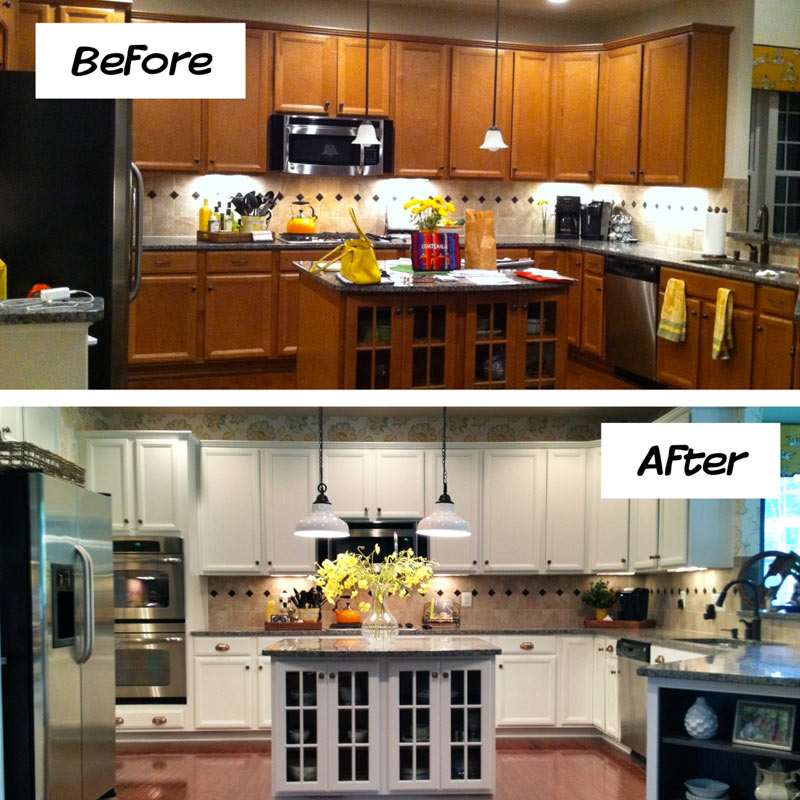 If cabinets are currently painted, Bob Vila recommends first removing one door and sanding off a small area of finish on the back. Do the same with the back of a rail or stile, which is a horizontal or vertical frame. This should tell you if it is real wood or laminate.
If the current cabinet color is too light for your taste, it is possible to simply go over it with add a darker tint. Follow the same instructions for repainting cabinets.
Stripping cabinets of paint or varnish is a messy job that requires patience and exposure to noxious chemicals. That being said, it is much cheaper than shelling out for new wood altogether. Of course, you can do the project yourself or call in a professional.
6. Repainting Cabinets
An alternative to refinishing cabinets that works for hardwood and laminates is repainting cabinets. This project is more than just applying a fresh coat of paint though. Cabinets need be removed and prepped.
In addition to selecting a new paint color, update hardware for a complete makeover. Buying new hardware that is the same size as the old makes this process easier. Then you can simply swap out one for the other. Otherwise, you will have to fill in the old holes and drill all new ones.
If you are doing this yourself, make sure you are happy with the results by experimenting on the back of one door before committing to the entire project.
B. Kitchen Cabinet Materials
1. Cabinet Box
Behind the doors is the box frame of the cabinet. These are not made of pricy real wood but either plywood or particleboard. Plywood is stronger and last longer, in addition to being free of glues that off-gas.
Particleboard or melamine framing is not recommended. The cost savings are not a value in terms of longevity or resale value.
2. Cabinet Doors
The most visible part of the cabinets need not be the most expensive. Hardwood is desirable but also pricey. Today's veneer are virtually indistinguishable from the real thing, although your budget can certainly tell the different.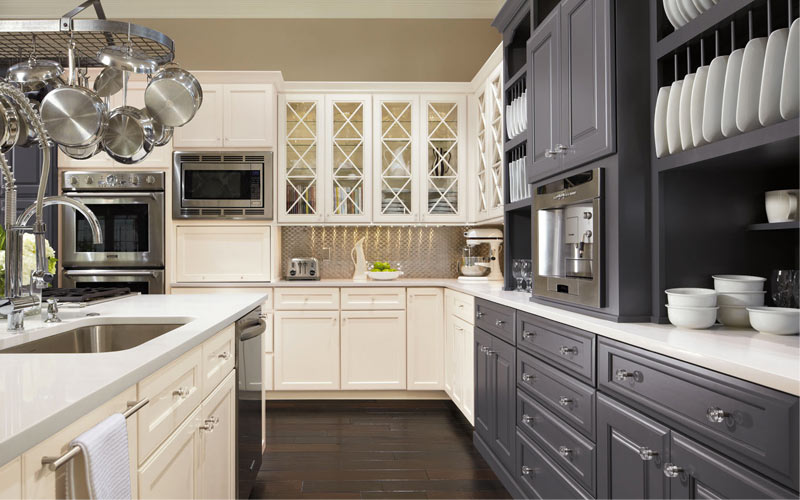 Maple Cabinets by Omega Cabinetry
Laminates are also available in a range of colors, if the wood look is not your thing.
C. Types of Cabinets
1. Framed Cabinets
Framed cabinets consist of cabinet boxes held together by a frame attached to the front. With framed cabinets, hinges are placed on the outside of the cabinets. These are most common in North America and will be the type of cabinet in almost all older houses.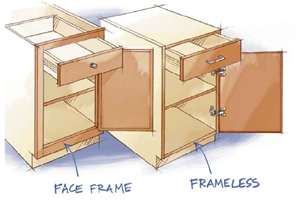 2. Frameless Cabinets
Common in Europe, frameless cabinets have a more contemporary style that is popular today. Without the frame for support, a thicker box provides stability. Doors are full overlay with hinges attached inside the cabinet box.
D. Types of Cabinet Doors
As if there aren't already enough decisions to make, there are three types of cabinet doors as well as multiple door styles to choose from. If you are going with frameless cabinets, the choice is made for you.
1. Full Overlay
For a seamless look, the door or drawer face is larger than the cabinet box and "lays over" it. The result is no visible frame.
Also called European style, all frameless or European cabinets are full overlay. This door style uses European hinges that not visible from the outside.
2. Partial overlay
This is the most common style and also known as standard overlay. Doors and drawers overlap the face frame by 1/2", leaving 1″ of the frame exposed.
3. Inset
Inset doors fit into the box and are installed flush with the cabinet surface, leaving the entire frame exposed. This traditional cabinet style is making a comeback although it tends to be more expensive and means smaller drawers and doors.
Hinges are visible when the door is closed. Full inset doors can use either butt hinges or surface mounted cabinet hinges.

4. Partial Inset
Also called lipped doors, part of the door is inset into the opening and part of the door overlays the opening. This type of door is routed with a wooden groove to fit over the face frame.
E. Cabinet Door Styles

1. Flat Panel Doors
Also known as slab doors, this is a solid door without a frame or panel. Flat panel doors and drawers create a continuous surface for a modern look.
2. Raised Panel Doors
Raised panel doors and drawers have a decorative panel in the center of the door or drawer. There are a range of patterns to choose from including square, cathedral, arch and tombstone. This is a traditional style that adds texture and detail to any kitchen.
3. Recessed Panel Doors
In contrast to raised panel doors, the middle section of the door sits behind the frame. Also called Shaker style, this simple style works with modern as well as traditional kitchen styles.
F. Cabinet Hinges
Hinges contribute to the look and feel of cabinets by adding detail or not being visible at all. There are three types of hinge looks plus the two most common types of hinges.
The function of hinges is to attach the cabinet door to the frame. Larger and heavier doors will require additional hinges.
1. Concealed Hinge
The hinge is not visible from the outside of the cabinet when the door is closed. These hinges are used for all full overlay or inset doors. The final look is modern and minimalist.
2. Semi-concealed Hinge
The hinge that is partially visible from the outside of the cabinet when the door is closed. Some designs feature details like a decorative ball tip or finial tip.
3. Exposed Hinge
The entire is visible on the outside of the cabinet when the doors are closed. This tends to be associated with rustic or old world kitchen styles.
There is a lot more to know about hinges. Check out excellent guides from Rockler and Lowe's or talk to your cabinet shop or home improvement store to find out what you need.
G. Organization and Accessories
The above was just the outside of the cabinets. Inside there are tons of options to maximize storage and keep everything organized. These accessories can be part of cabinets or added afterwards. The former allows complete customization of your kitchen while the latter is more budget friendly. A mix of the two can enhance kitchen capacity while keeping costs down.
1. Must Haves
The organization features that are most important add to the functionality and storage capacity. Built-in features that definitely worth the cost include:
Base cabinet drawers and rollout trays are easier and more comfortable to access.
Extending cabinets to the ceiling provides a lot more storage, especially for those rarely used items.
A lazy Susan makes use of hard to reach corner cabinet space.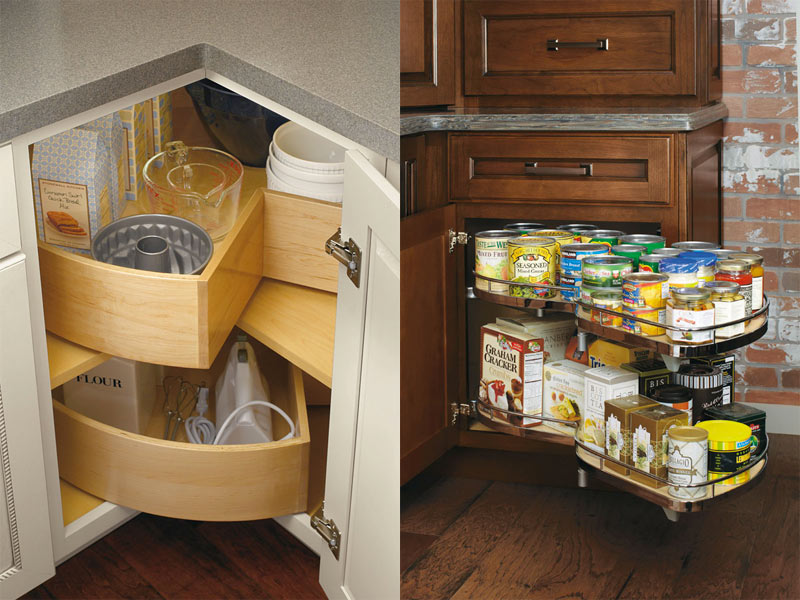 A tall, narrow cabinet or vertical dividers that keep cookie sheets and cabinet boards organized.
European-style self-closing side-mount drawer slides have a stop to prevent drawers from sliding out completely. Once considered a luxury, they are more common now due to lower costs, increased convenience and added resale value
2. Nice to Haves
These features are not mandatory but make a kitchen more organized and neat.
A dedicated spice drawer makes every flavor easy to find.
Integrated panel systems are veneered facades that conceal appliances, like the dishwasher and refrigerator, for a continuous look.
Create a waste center to organize and hide trash, recycling and compost bins.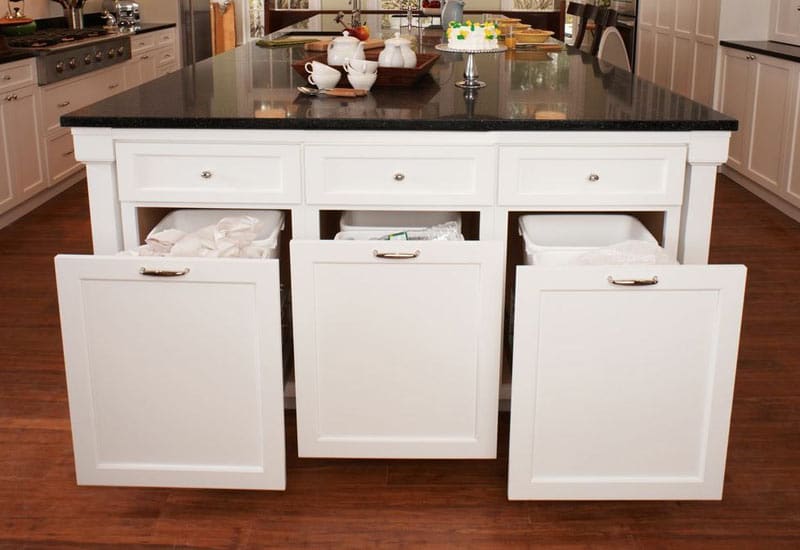 3. If You Love It
There are even more cabinet features available for dedicated cooks, organization fanatics and those with a limitless budget.
Tilt paneled sink fronts store cleaning supplies right where you need them.
Built-in cutlery and utensil dividers keep drawers neat while using all available space.
Plate displays and divided wine racks show off your collection.
Appliance garages look like a larger built-in bread box and keep small appliances, like a blender, mixer or coffee maker, out of sight and eliminate the need to put them away.
Swing-out shelving increases pantry capacity and makes everything easy to find.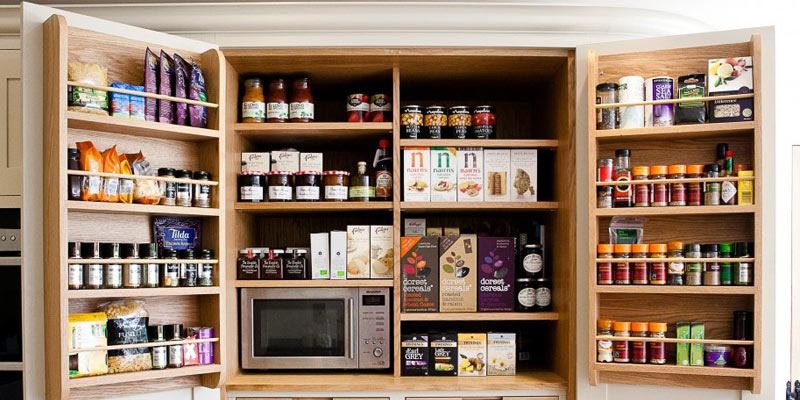 H. Design
A kitchen renovation is the time to create your dream kitchen, whatever that is.
1. Layout
The cabinet configuration can help make the kitchen triangle even more efficient. For example, placing deep drawers for pots and pans and a vertical cookie sheet cabinet on either side of the stove.
This is the time to make fix any issues you have with the current layout as well as customize the kitchen for the needs of your home, whether the priority is cooking multi-course feasts, entertaining guests or hanging out with the family.
Cabinet professional can help configure cabinets to make the most of your kitchen, at any size and layout.
2. Style
Cabinets are the most dominant feature of any kitchen. Therefore, they are integral to working with your chosen style or color scheme. Modern kitchens tend to have frameless cabinets with flat doors, often in bold colors, while traditional kitchens usually have wooden cabinets rich with detail.
3. Get Creative
There are no rules for kitchen cabinets. Just because they are usually all one color, doesn't mean they have to be.
If you can't decide on one color finish, mix and mix your kitchen cabinets. Usually, the darker color is for bottom cabinets and the lighter color is up top to keep a sense of balance.
An alternative is to have one wall or one floor to ceiling cabinet act as an accent color. Do keep the type of doors the same for continuity though.
Using different materials for a kitchen island also works. Using a wood countertop and contrasting color can integrate the island with the living more than the kitchen or create a transition.