A galley kitchen is one of the most common layouts for smaller spaces like apartments as well as older homes. An update can brighten the room, add more storage or create an open plan with an island.
Galley layouts are favored because the parallel walls create an efficient layout and functional work triangle. Open plan homes are more popular today. If that is your desire, swap one wall for an island, just talk to a professional about load bearing walls first.
Check out these pictures for 12 fresh galley kitchen remodels.
1. All White Galley Kitchen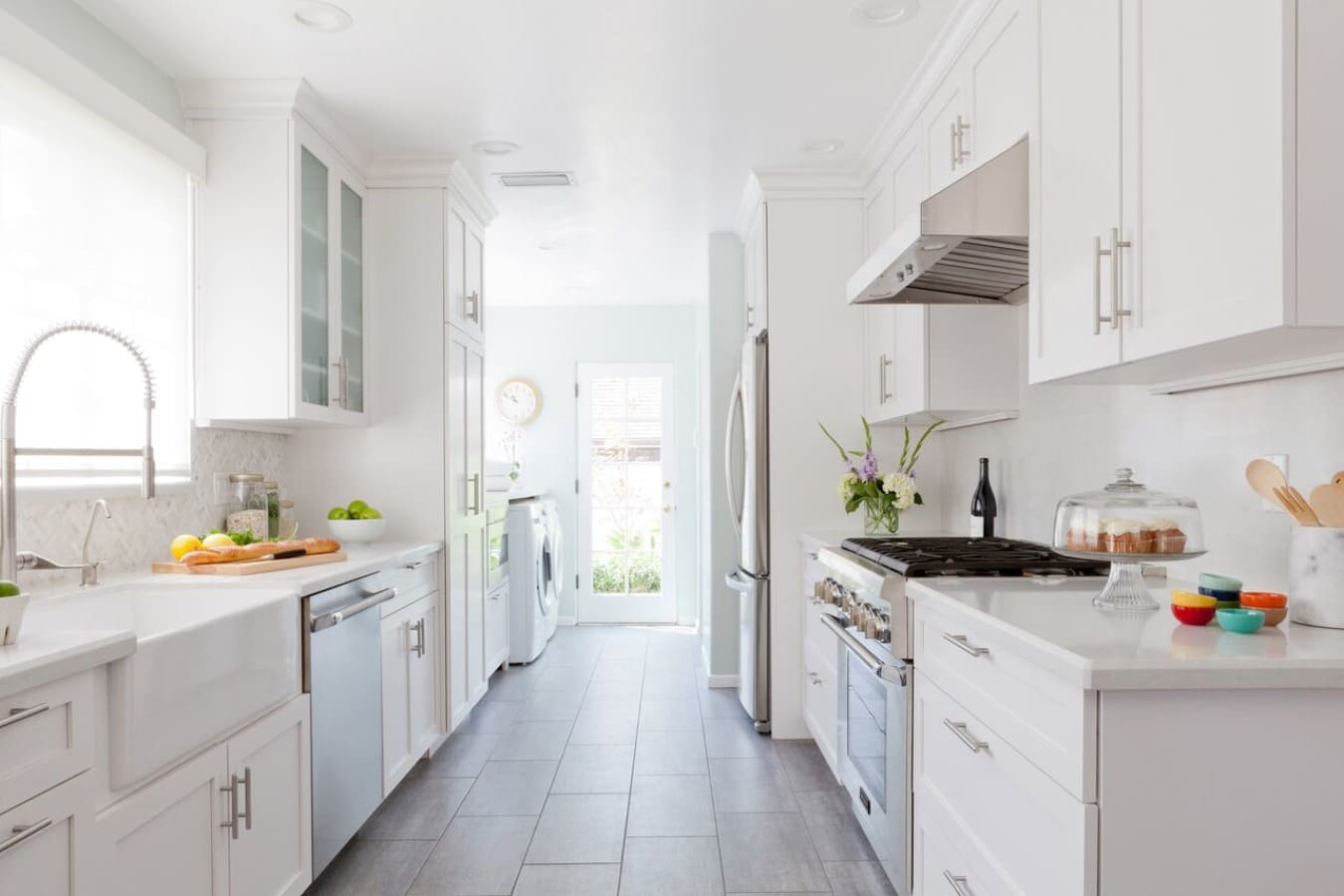 Homepolish by Erin Kane
With light coming in from only one or two sides, galley kitchens can be dark, especially with dated cabinetry. This update makes the most of natural light with all white cabinets, light counters and a ceramic apron sink. The large tile floors also reflect light.
2. Country Galley Kitchen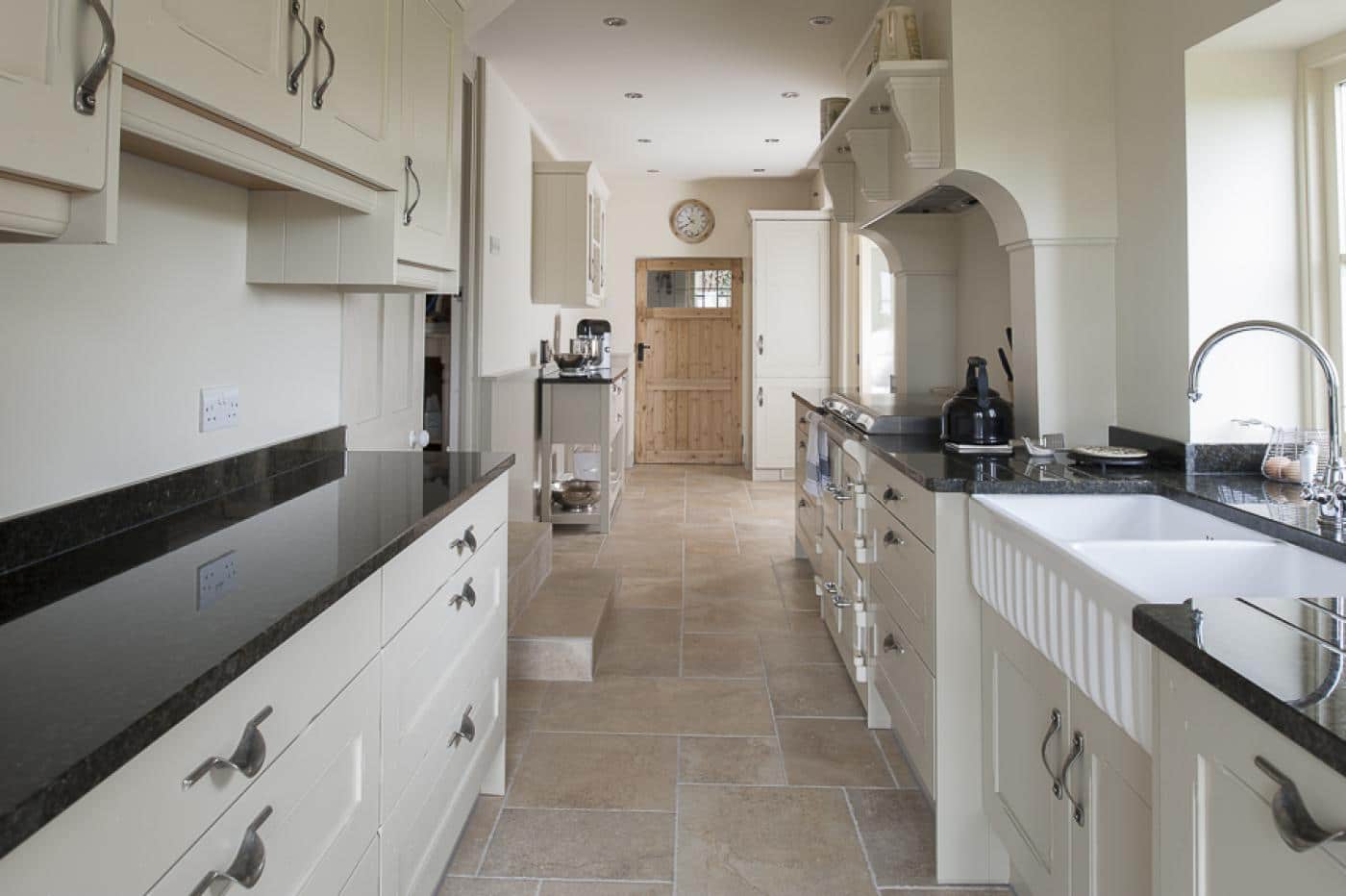 A galley kitchen is a layout, not a design style  so it can be remodeled to suit your taste. This long, linear kitchen is a classic black and white combination in a country kitchen style.
3. Galley Kitchen with Banquette Seating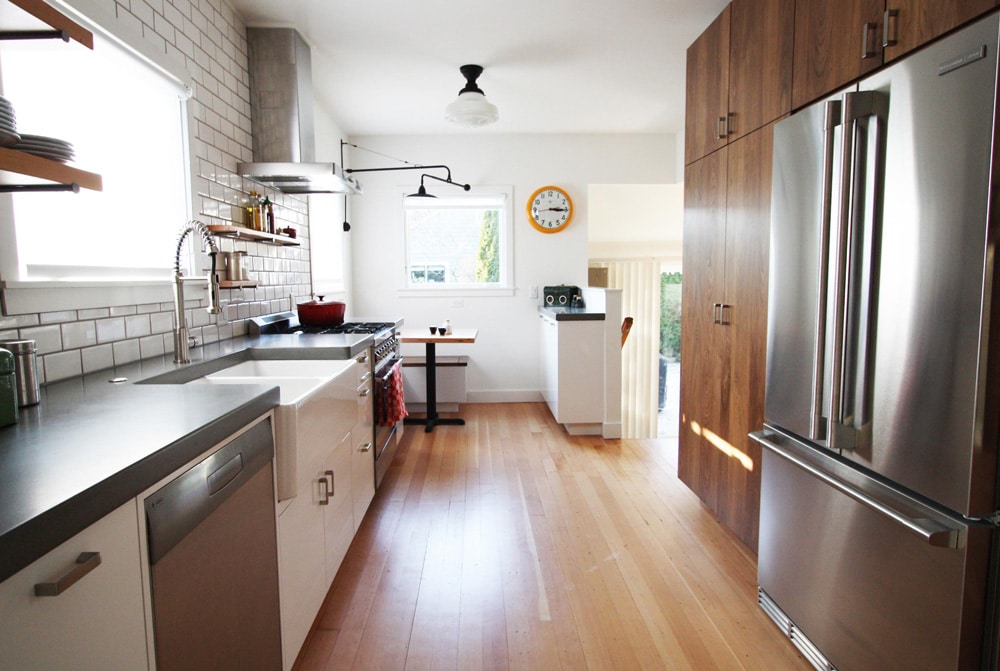 The particular layout of galley kitchens varies depending on the home but many end with an eating area. This banquette makes the most of a small eat-in kitchen while allowing room for extra storage.
4. Luxury Galley Kitchen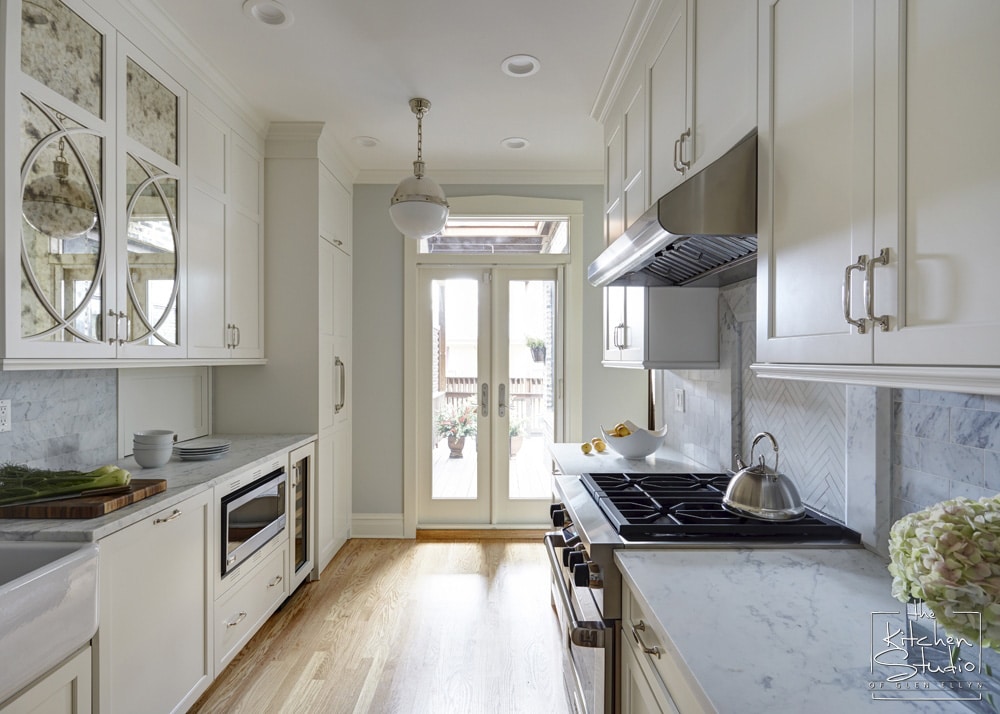 A luxury kitchen is all about the materials, appliances and details. Galley kitchens tend to be smaller, leaving more money to invest in the best. This gorgeous traditional kitchen features Carrera marble counters, custom backsplash and a professional range.
Custom cabinets conceal a washer and dryer at the far side of the room and an arced feature over glass that goes perfectly with the retro
5. Black and White Galley Kitchen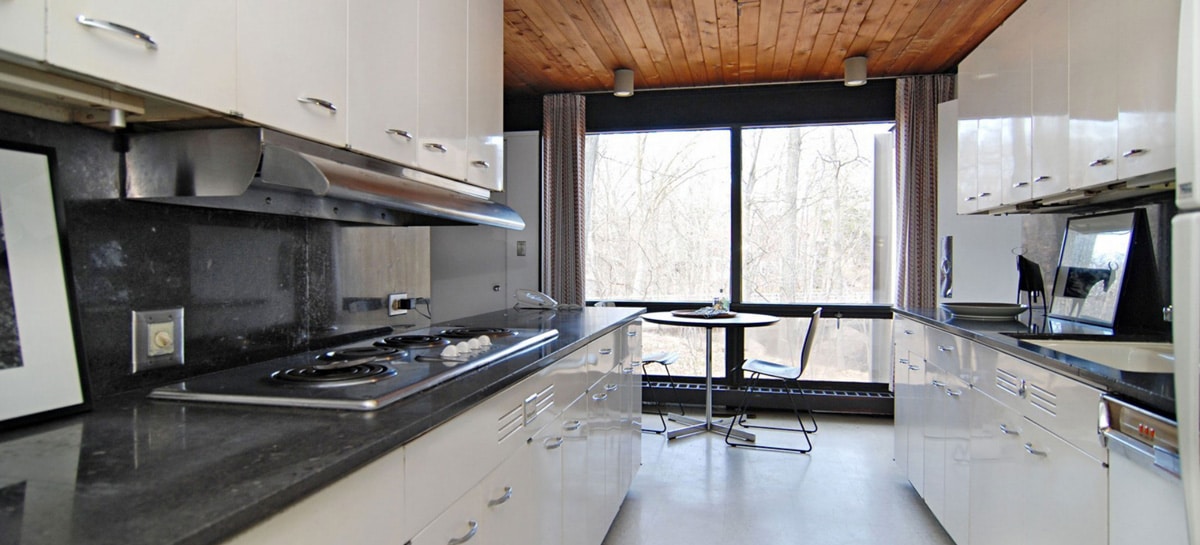 This minimal black and white kitchen keeps it simple. This mid-century modern kitchen is actually Cameron's house from Ferris Bueller's Day Off.
6. Galley Kitchen with Island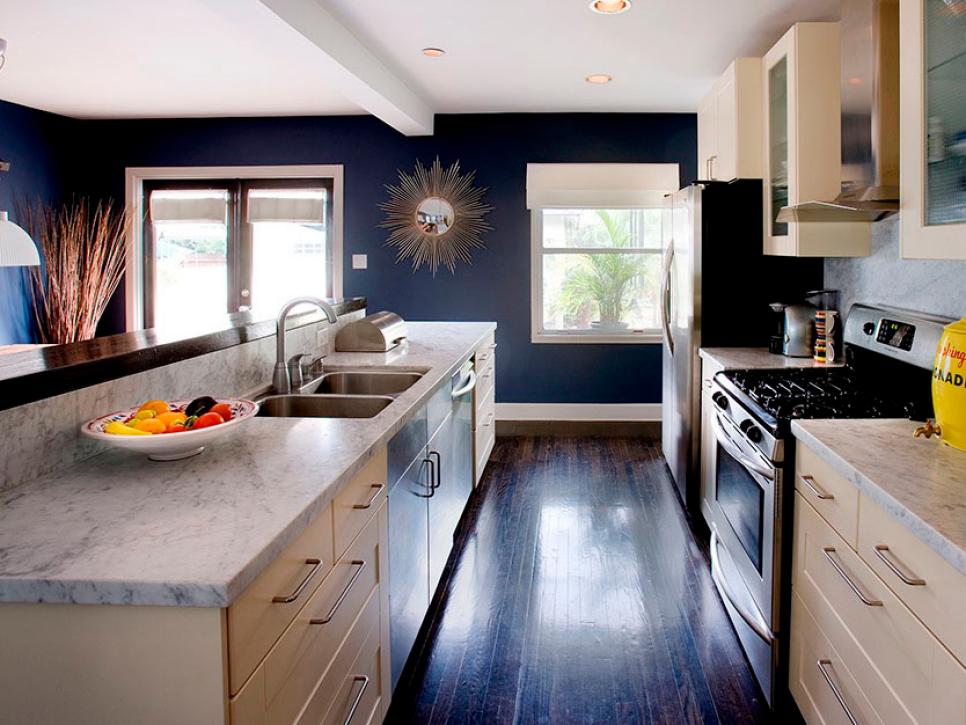 The galley kitchen layout it two parallel counters, not necessarily walls. For an open concept living space, a kitchen renovation can usually replace one wall with an island. This two-level island adds a bit more separation without impeding sight lines.
7. Contemporary Galley Kitchen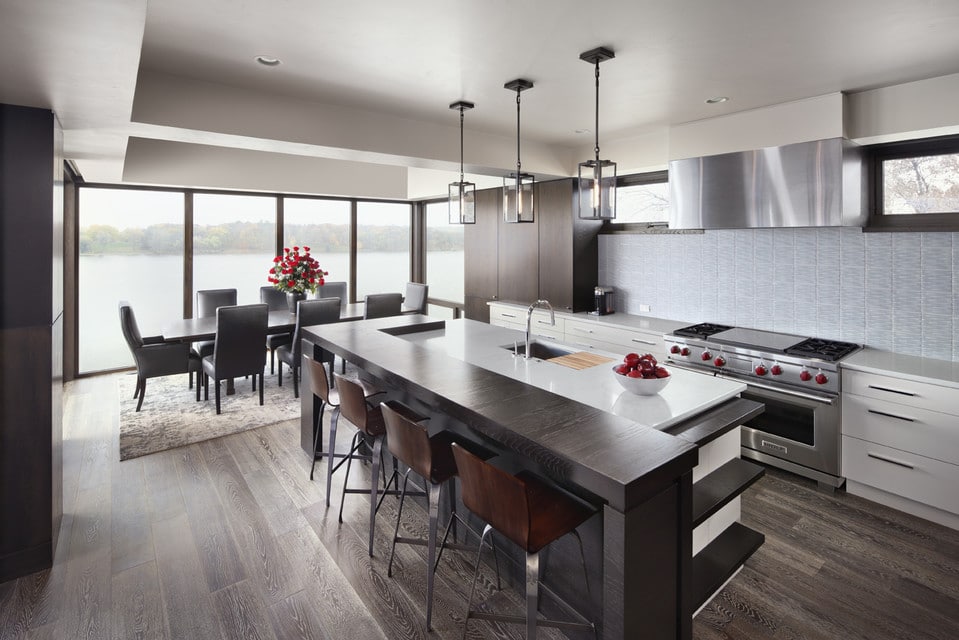 Robert G Sinclair Architecture
This kitchen makes the most of a small space with narrow counters against the wall opposite a large island. Floor to ceiling cabinets make up for the lost storage space while the multi-level island also adds seating with a contrasting wood bar.
8. Galley Kitchen with Long Island   
Even with a good amount of space to work with, a galley layout can be the most space efficient solution. This design features a long island for lots of counter and storage space that leaves plenty of room for a dining room table.
9. Small Galley Kitchen with Island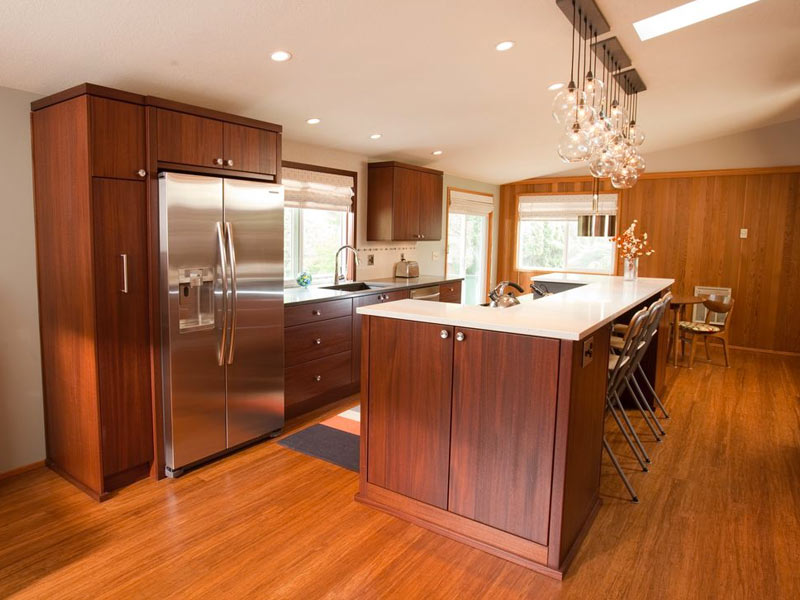 Custom cabinetry makes the most use of space for a small kitchen. Floor-to-almost-ceiling cabinets one side plus bar-height cabinets on the island maximize storage in this limited area. With a range at the island, the higher bar level also helps contain cooking splatters.
10. Modern Galley Kitchen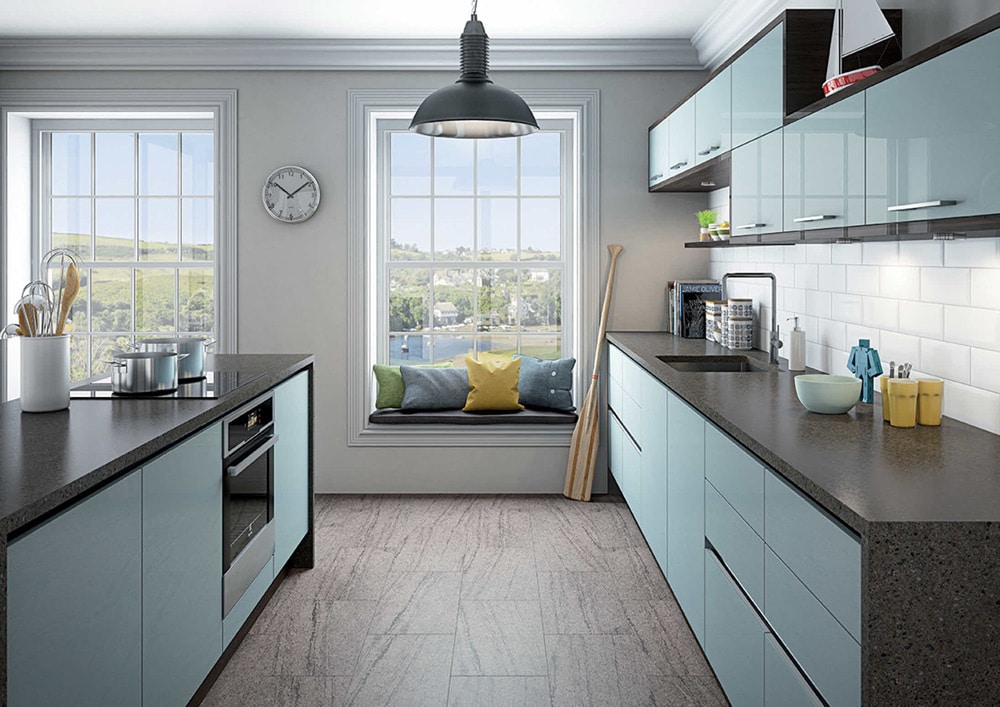 With slab cabinetry and large tiles, this galley kitchen is all about clean lines. Blue slab cabinet doors with waterfall counters make for a playful yet polished design.
11. Galley Kitchen with Ample Storage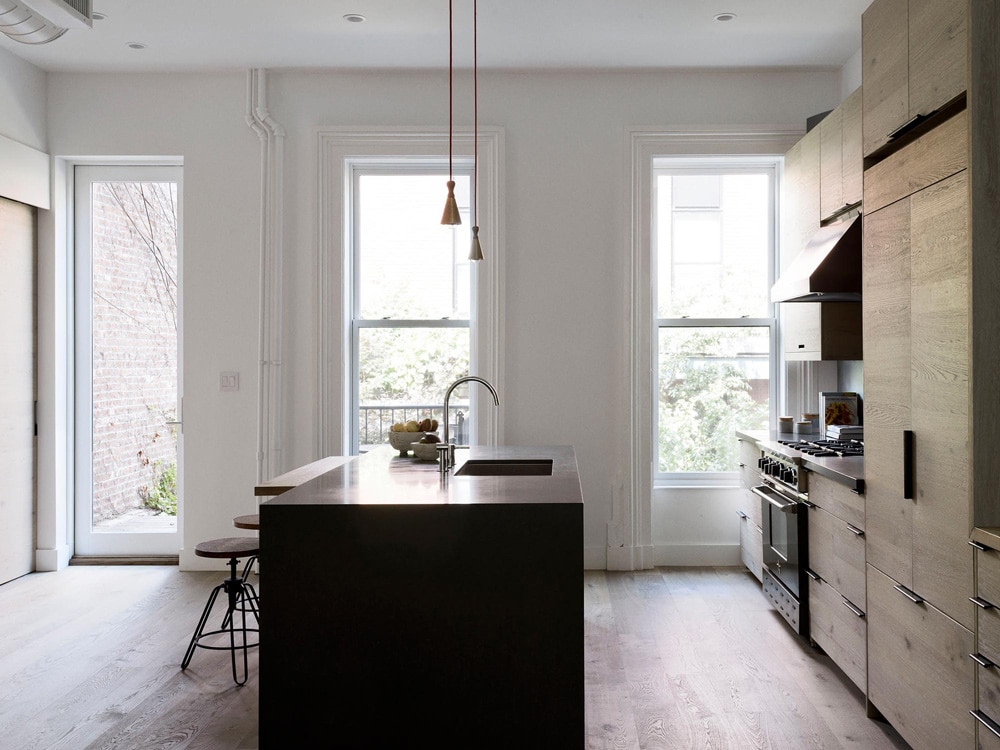 This beautiful kitchen features modern lines, rustic wood and industrial metal. Even better, the design creates ample storage for a small kitchen. All of the lower cabinetry is drawers for the best kitchen organization.
While the concealed fridge reduces breaks up the counter against the wall, the large island adds plenty more work space.
12. Open Plan Galley Kitchen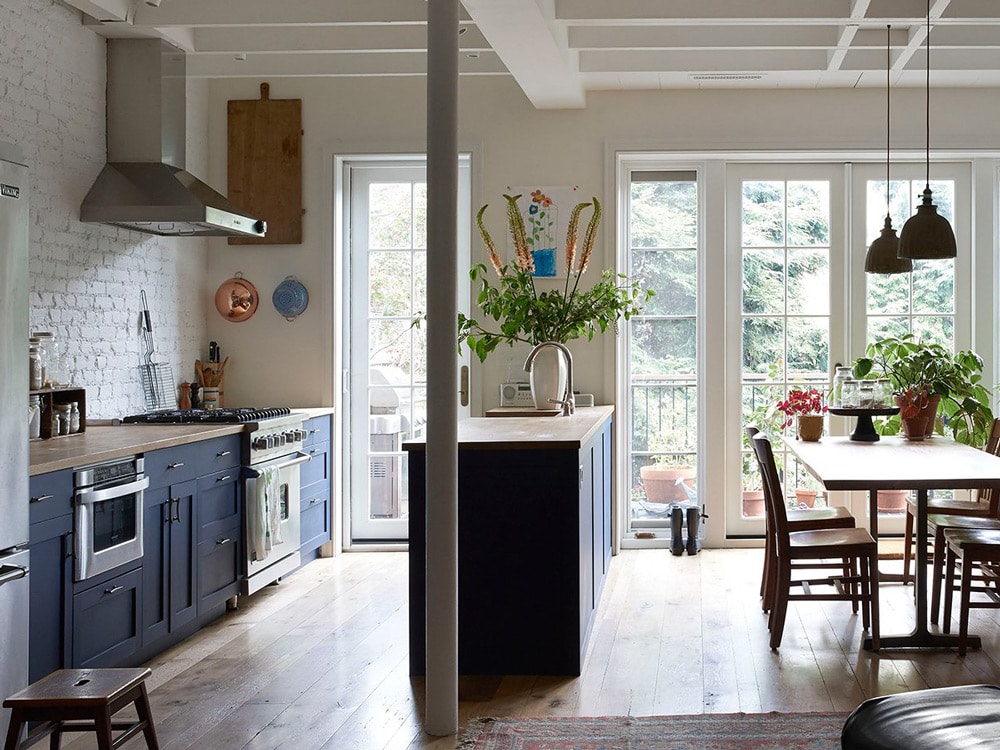 Catbird Founder Rony Vardi's Kitchen in Vogue
For lots of homes and apartments, the galley layout is ideal for small space and open plan living. Without any overhead cabinets, this design is light and airy.