Bathroom renovations are about functionality, comfort and style. Here is a run down of the costs, materials and design options for every type of bathroom, from powder room to the master bath.
There are two kinds of remodels. The first is a refresh of the current room while the second is a larger undertaking.
If the space and layout are working, simply install new flooring, counters and fixtures.
If not, it's time to start from scratch and consider adding more space as well as rethink the layout. If the kids have run out of space or that dream bathtub won't fit in the master, consider enlarging the room altogether.
Here are the major points to consider for both types of bathroom remodels, working from the ground up.
A. How much does a bathroom remodel cost?
The price of a bathroom remodel varies widely based on the extent of the work and which bathroom is being renovated. A master bath will typically cost more than a full bath and a half bath will be cost the least.
According to ImproveNet, a typical bathroom remodel can cost $7,920.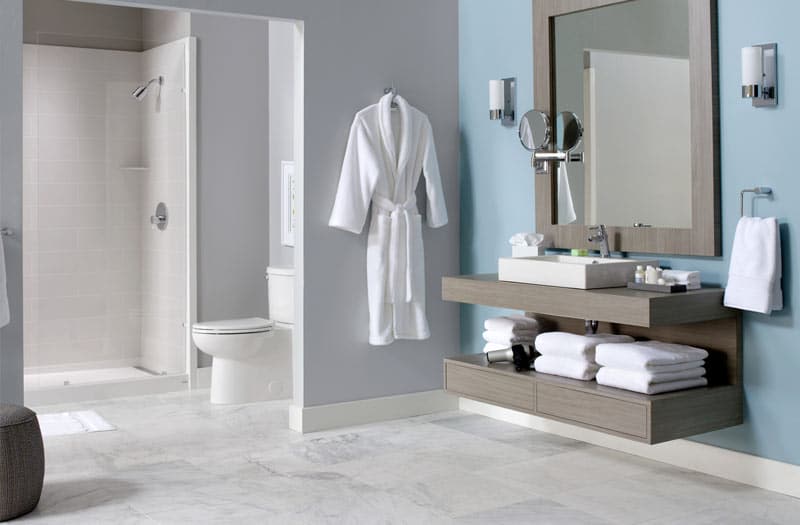 However, each piece of the project can be done individually and things like installing cabinets, flooring, or a sink, shower or tub ring in at about $2,500. Depending on the job, doing all of the work at once or piecemeal can keep costs down.
B. Plumbing Fixtures
This is what a bathroom is all about – the sink, toilet, shower and tub. In real estate, bathrooms are commonly defined in terms of the number of pieces they contain.
A powder room or half bath is a 2-piece bathroom with a toilet and sink. A 3-piece bathroom has a toilet, sink and shower. A 4-piece bathroom also has a tub.
And for the master, a 5-piece bathroom usually contains two sinks as well as the toilet, tub and shower but can be a variety of combinations including adding a bidet.
C. Bathroom Flooring
Bathroom flooring options come in a range of looks, feels and costs. Here they are in order of durability.
1. Ceramic tile
Tile is the most popular bathroom flooring choice because it is completely waterproof, affordable and available in a wide range of sizes, shapes, colors and finishes.
2. Stone
Stone bathroom flooring, such as granite, marble and limestone, is beautiful but pricey. Keep it from feeling cold underfoot with area rugs and/or in-floor heating.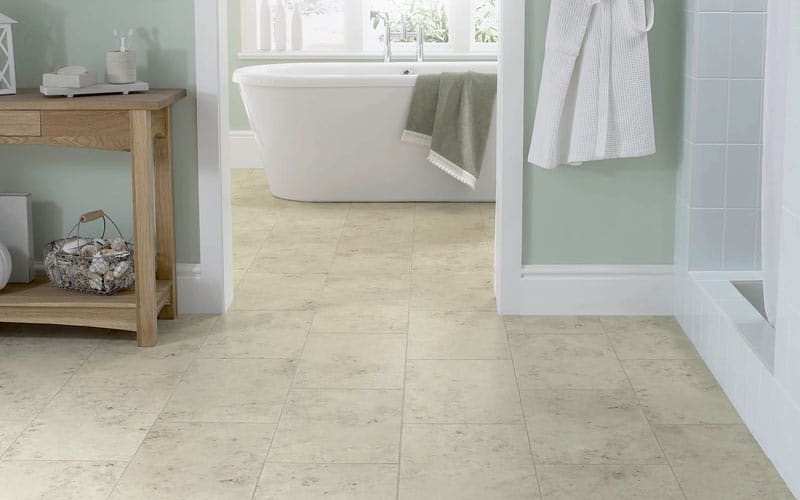 3. Vinyl
For bathroom flooring feels warmer underfoot, there is vinyl or wood. Vinyl is popular because it is durable, cheap and comes in a huge range or looks.
However, it also looks like vinyl.
4. Wood
Wood flooring is another option in the bathroom but does not mix with water. Engineered wood is the best choice for the look of wood with a degree of water resistance.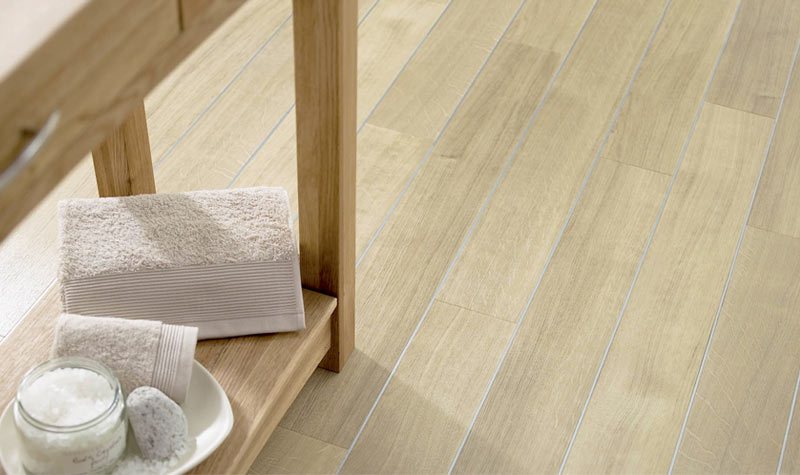 5. Heated Flooring
For literal warmth underfoot, there is in floor heating. Once considered a luxury, it is more affordable than ever at about $6 per square foot for electric radiant heat materials according to Bob Vila.
This type of radiant heat comes as a mat that can be installed under ceramic or tile flooring as well as laminate or engineered hardwood. It comes with a thermostat and timer that can set to heat only in the morning and evening to cut down on electricity costs.
For heated flooring throughout the house, hydronic tubing is pricier to install but saves money on heating costs in the long run.
D. Bathroom Counters
Unlike, the kitchen, bathroom counters are all about the look. In terms of performance, water resistance is the only consideration.
In the high end, there is real stone like granite or marble. Quartz or engineered stone is another option.
Manmade options that come in a huge range or colors and patterns are laminate and solid surface counters.
Tile is another bathroom countertop option, although the grout seams make cleaning more difficult than a continuous surface.
Some less common but also attractive options include recycled glass, stainless steel and porcelain. Sealed wood is also a beautiful countertop option.
E. Types of Bathroom Sinks
There are five types of sinks available. In addition, some bathroom vanities come with sinks that are sometimes also integrated with the countertop.
1. Wall-mount
As the name says, this type of sink is mounted to the wall. This is good option for small bathrooms because the space underneath can be used for something else or left open to make the bathroom seem larger.
2. Pedestal
Pedestal sinks are also mounted to the wall but sit on a pedestal. They save space in small bathrooms but have the drawback of not providing storage space.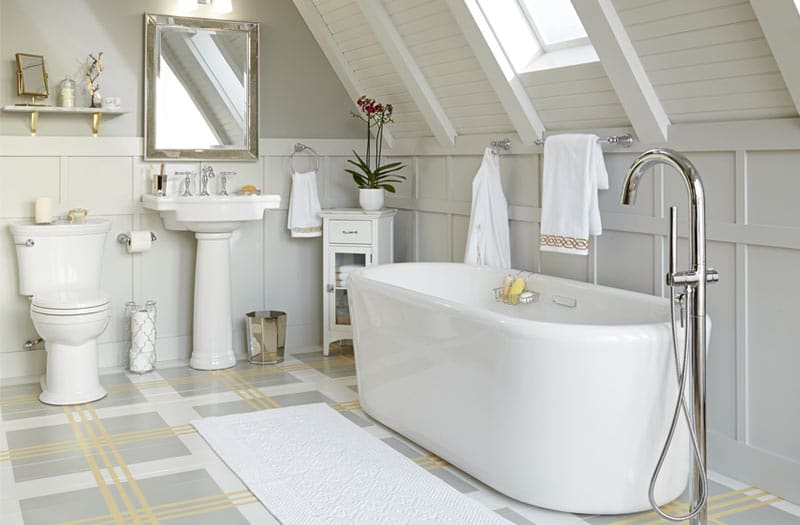 3. Drop-in
Also known as top mount or self-rimming, this type of sink are placed into a hole in the bathroom counter of vanity. Drop-in sinks can retrofitted to an existing counter, making them ideal for remodeling.
4. Undermount
Secured below the bathroom vanity, an undermount sink creates a continuous surface for easy cleaning.
5. Vessel
A growing trend, vessel sinks are a free-standing bowl that sits on top of the counter. They can also be partially recessed into the countertop. Vessel sinks sit higher than their conventional countertops and therefore require compatible hardware, either a tall deck mount faucet or one mounted to the wall.
F. Bathroom Backsplash
1. How high is a bathroom backsplash?
The standard backsplash is 4" but it can also be higher or lower.
2. Bathroom backsplash ideas
There are many different ways to protect the wall behind the sink from water. A vanity top is a bathroom counter with a sink plus backsplash all-in-one. The backsplash can be tile, glass or stone that covers the entire wall, part of the wall above the sink or the lower half of the wall just above the sink.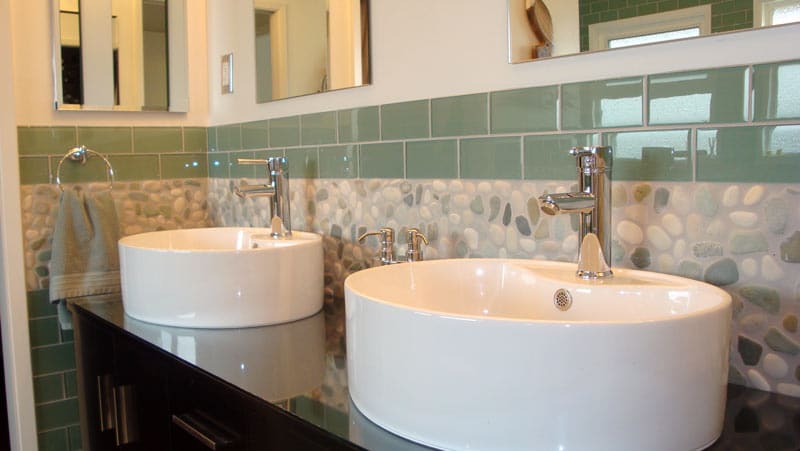 Other surface options include solid surface, cement and wood with a washable high or semi-gloss sheen. Another simple choice is a large one-piece mirror installed above the sink.
G. Bathroom Walls
As mentioned above, there are a range of options for bathroom walls. When going with options other than paint, consider the size of the room.
1. Paint
With a backsplash to protect the sink and tile in the tub and shower, the rest of the bathroom can simply be painted. Be sure to look for mildew resistant formulas made specifically for high humidity bathrooms.
Choosing the right finish also makes a difference in keeping walls clean and looking good. Consumer Reports prefers satin or semi-gloss and has a few vetted paint recommendations.
2. Tile
If you love the tile you picked, it can be extended around the walls as well. Floor-to-ceiling tile can look institutional so keep it to a small room or half way up the walls.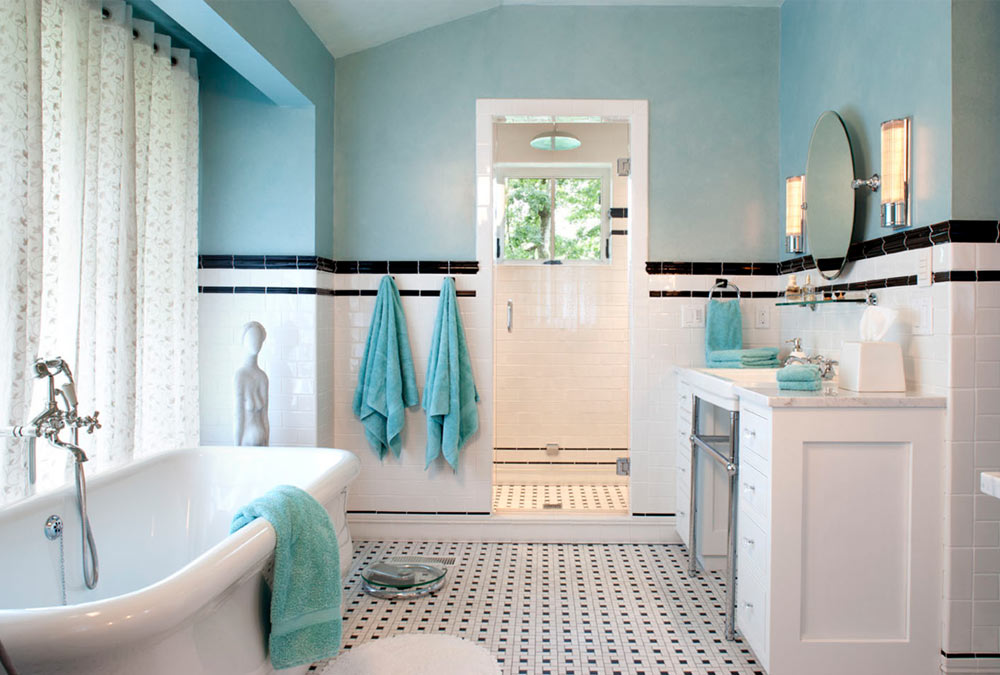 3. Stone
For a look with less seams, stone is gorgeous and can create a light and airy or dark and modern bathroom.
H. Bathroom Vanities and Cabinets
1. Bathroom Storage
Storage is essential to the bathroom, from toilet paper to extra towels and toiletries to grooming tools.
For most bathrooms, the majority of storage is in the vanity below the sink and wall-mounted cabinets. The right furniture depends on how much storage is required and the shape of the room. A powder room will only need storage for extra toilet paper while a master bath will need to house more volume of toiletries and towels. Bathrooms come in many shapes and sizes so getting can creative can solve storage issues.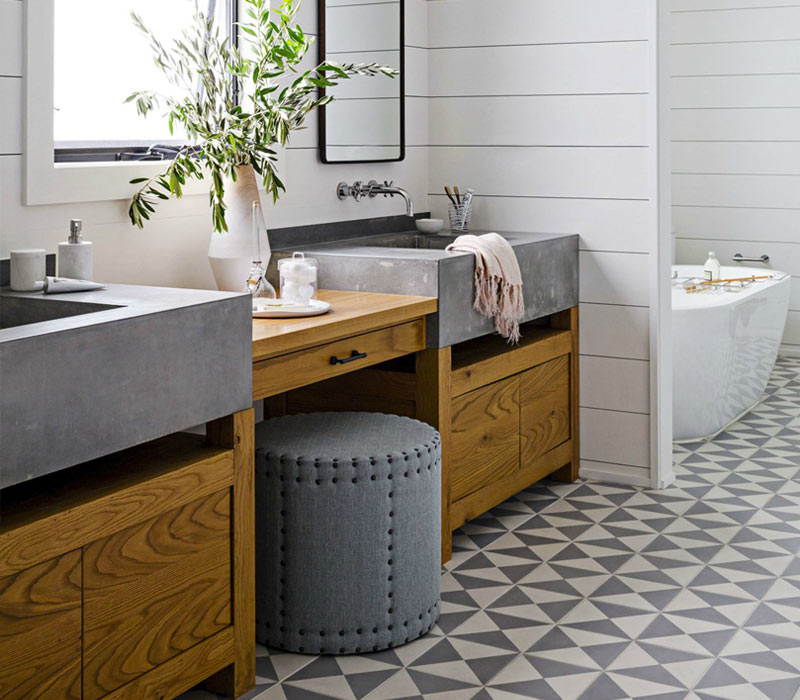 If there is enough room, a combination of standard bathroom vanities plus freestanding furniture can be the most cost effective. For higher budget renovations, consider custom cabinetry.
2. More Storage Ideas
For small bathrooms, consider adding a shelf above the sink, toilet or even door for more storage. Make the most of the space beneath the sink with organizers. For a pedestal sink, there are some furniture options fit around the pedestal.
Hotel shelves built into the shower above the shower head are a storage alternative for smaller spaces.
3. Hardware
For a polished look, match bathroom hardware across the sink, tub, towel racks and furniture. However, that's not a rule.
I. Master Bath Renovation Ideas
If there is one luxury bathroom in the house, it is usually the master. Connected to the master bedroom, the master bath also has to work equally well for two people with ample space. Ideally the room also serves as a retreat from the rest of the house.
A few master bath features to consider are:
1. Dual Sinks
His and hers sinks means getting ready for the day or bed can happen simultaneously without competing for use of the faucet. And there is no more staring into someone else's toothpaste splatters or shaving stubble. For even more separation, a shelf placed between two sinks provides privacy.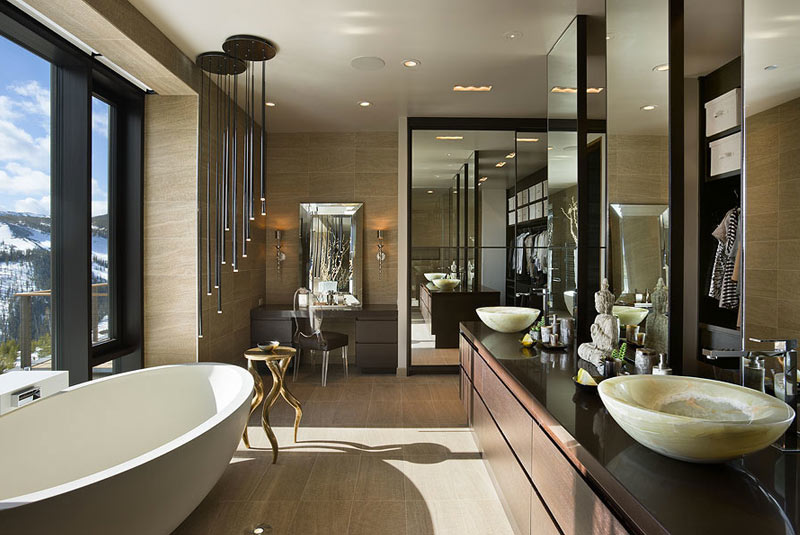 Design by Reid Smith Architects via HomeDSGN
If there is not room for two sinks, consider one large sink with two faucets instead.
2. Step-in Shower
Also called a Roman style shower, a step-in shower has low edge that safe for all ages, young and old. For those who prefer a shower, an additional tub is not required.
3. Deep Soaker Tub
If you love a bath, make the most of a soak with a deep tub with plenty of options. Some features that are replacing Jacuzzi tubs are effervescent and heated air jets that produce warm bubbles.
A separate tub does not have to take up a lot of precious space. It does not need to sit in a corner and tubs today are made smaller but have plenty of room for two.
4. Separate Toilet Room
Keep the romance alive with a separate toilet room. The simple addition of a wall and door ensures the master can be used by multiple people at once and minimizes unwanted odors. The key to making the room work is ventilation and lighting.
5. Heated Floors
One trend that will not be making a comeback is carpeted bathrooms. With heated flooring, you can feel warmth underfoot without growing mushrooms.
If it's not in your budget, a heated towel rack will also make you feel pampered when it's cold out.
6. Dressing Room
There is no better place for a walk-in closet that next to the master bathroom. The dressing room serves as an entryway to the bathroom so they are usually designed and installed at the same time.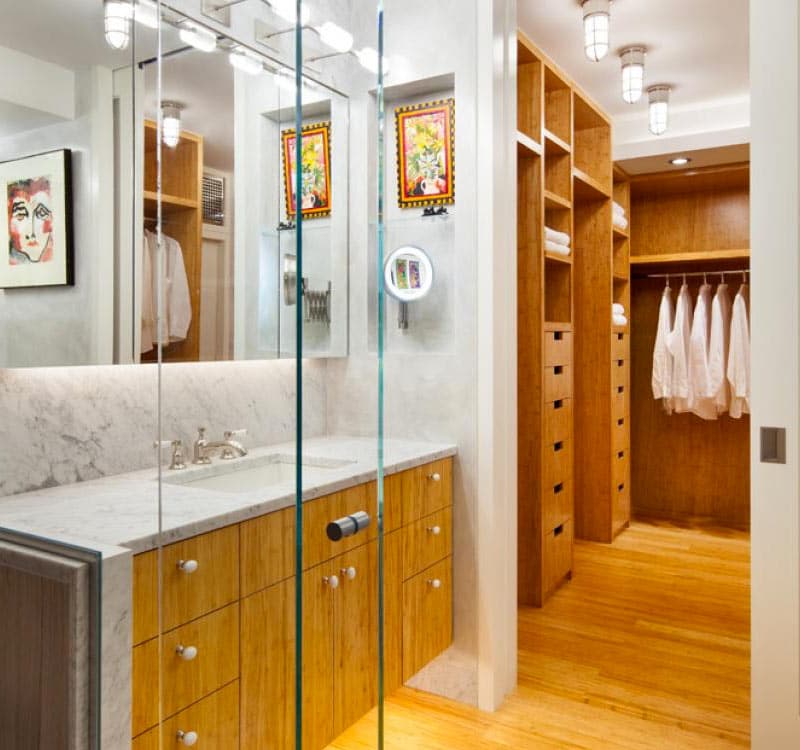 Steve Freihon via HGTV
J. Full Bathroom
For houses with more than two bathrooms, there is at least one full bathroom in addition to the master. Typically, children and guests will use this bathroom. For more tips on designing bathrooms for kids, read here.
Otherwise, the key components of a full bathroom are:
1. Low-maintenance Materials
A full bathroom typically gets more use than a master or powder room so choose durable flooring, counters and walls.
2. Tub-shower Combination
The traditional bathtub-shower unit saves space and money whether it's the only tub in the house or keeping the master clean.
3. Ample Storage
For kids and guests, access to toys, toiletries, toilet paper and towels are essential. If a linen closet is already adjacent to the bathroom, consider opening up the wall to provide access. This provides more storage and ensures no one has to walk out of the bathroom to get a towel.
K. Jack and Jill bathroom
A Jack and Jill bathroom is a bathroom shared between two bedrooms, with doors entering from each room. Popularized by the Brady Bunch and Beverly Hills 90210, forgetting to lock both doors can ensure a good story.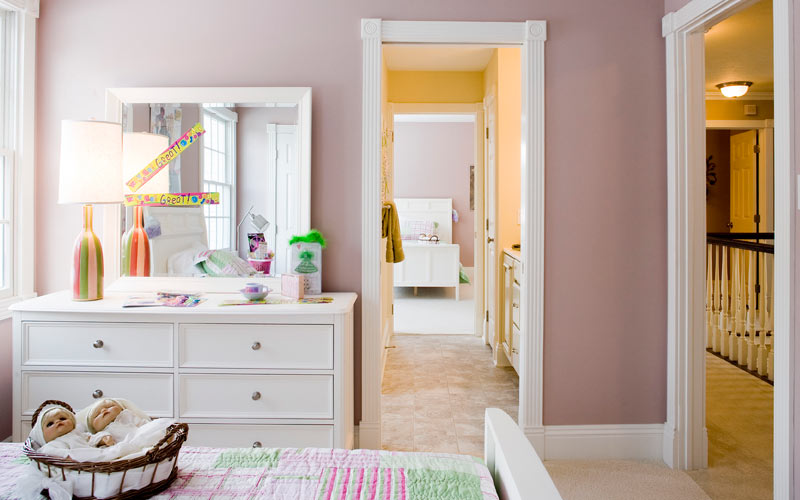 This arrangement saves valuable space but should be designed for multiple users, similar to a master bathroom.
A Jack and Jill bathroom should have:
1. Dual Sinks
The main issue with a Jack and Jill bathroom is sharing. With dual sinks, grooming can take place simultaneously and in their own space.
2. Doubles
In addition to separate sinks, each bathroom user should have a towel rack and vanity space. While this requires creativity for the 6 members of the Brady Bunch sharing one bathroom, up to 4 users can easily have individual accessories to use.
3. Locks
Similar to adjoining rooms in a hotel, privacy is ensured by multiple locks. Jack and Jill bathrooms need locks on both doors that lock from both sides.
In addition to getting used to locking both doors when using the bathroom, users also need to remember to unlock both doors when leaving.
4. Separate Shower or Toilet
A Jack and Jill bathroom can be used simultaneously for private grooming with an enclosed shower and or toilet. Additional ventilation and lighting are required for each.
This may seem unnecessary but it can make a world of difference for two teenagers preening for the day.
L. Powder Room
Also known as a half bath, this is a 2-piece bathroom with a sink and toilet. As the smallest room in the, this is a chance to use higher end materials that would break the budget in a larger room.
In addition, a powder room design should consider:
1. Ventilatation
Even without shower steam, a half bath needs a fan to get rid of bathroom odors. Also consider adding a scented candle or something else to add a pleasing aroma to the space.
2. Sink Statements
One of just two fixtures in the room, the sink is functional and attractive.
A pedestal sink has a striking presence while saving space. Since it won't be under the sink, be sure to have an extra roll of toilet paper readily available though.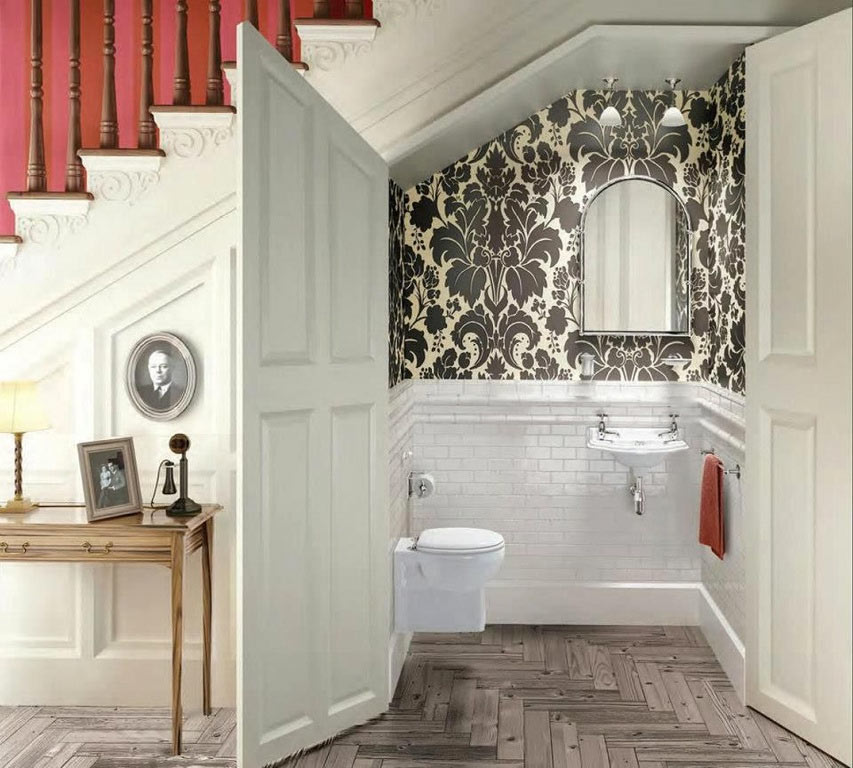 Another gorgeous sink choice is a vessel sink. It can be a focal point as well as something to design the room around. Choose from a range of shapes and materials including stone, glass and porcelain.
3. Decoration
Most guests will visit this room so make the room special with a unique feature. The small space can take a bold focal point like patterned wallpaper, bright paint or a statement fixture.
M. Accessible Bathrooms
An accessible bathroom is necessary for those in a wheelchair as well as a good idea for those planning on staying in their home well into their senior years. There is no reason to re-invent the wheel when designing an accessible bathroom or home.
Here are a few of the resources for disabled bathrooms:
1. ADA Dimensions
Thanks to the Americans with Disabilities Act, there are design guidelines for accessibility. Check out the document and websites to find what you need. The requirements for tilted mirrors, grab bars, tub seats and shower seats are all available.
2. Accessible Products
There are already plenty of products out there to create a bathroom for the handicapped, seniors or those with limited mobility. Some of the best sources are medical supply stores.
3. Designs and Designers
If you're unsure about where to start, look to existing disabled bathroom plans or find a designer with expertise in this area. We're fans of DIY projects but when it comes to safety, seeking out expert help can ensure that nothing gets overlooked.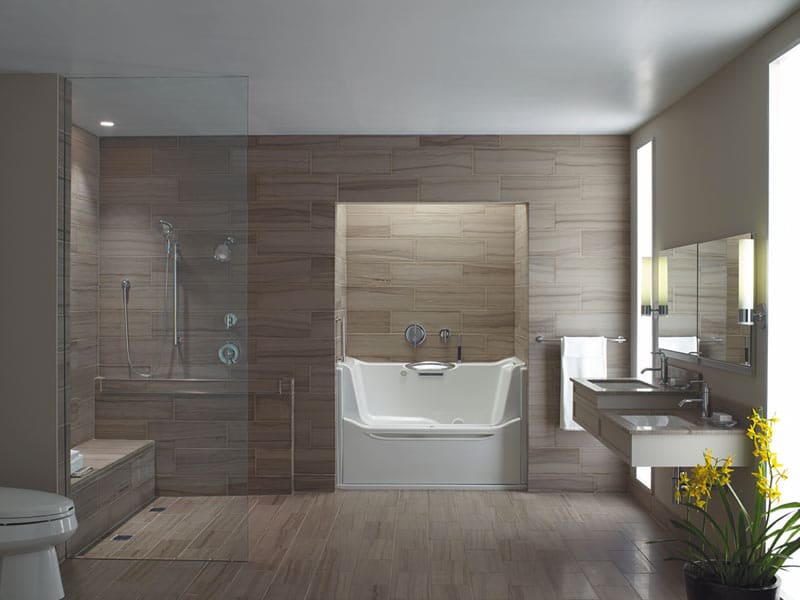 Universal design bathroom with curbless shower, non-slip surface, elongated toilet and walk-in tub by Kohler
4. Planning Ahead
A universal design that accommodates physical challenges is useful for a wider range of the population. Some features that can make a bathroom safer for anyone, young and old include a walk-in shower, a shower seat and grab bars.
Whether planning ahead for children or the senior years, a safe and easy to use bathroom is an excellent idea that can also add value to your home.
N. Kids Bathroom Ideas
Between splashy baby baths and long teenage showers, the kid's bathroom gets a lot of use and abuse. Here are a few ways to make a bathroom attractive and functional for the younger members of the household.
1. Durable Materials
Children of all ages are hard on the objects they use. Therefore, durable materials are essential for the bathroom that kids will use the most. That includes the flooring, walls, counters and furniture.
2. Easy to Use Hardware
From a young age, children want to do things themselves. Help their autonomy by choosing easy to use hardware in the bathroom. That means faucets that are easy to turn on and off for kids, as well as easy to clean.
Drawer pulls are another way to make the bathroom easier to use for little hands. Vanity pulls should be easy to manipulate with drawers that slide smoothly.
Soft close drawers can prevent drawer slamming and protect fingers.
3. Safety
Slipping is a preventable bathroom hazard. Non-slip mats for the tub and floor add traction to slippery surfaces. For the even more safety conscious, grab bars for the tub or shower provide stability for young and old.
For younger kids that need a step stool to access the sink, choose a sturdy one with add non-slip grip if it doesn't already have it.
4. Design
Decorations can make a bathroom fun for kids. Here are ways to do so that can easily be updated as they get older.
Choose brightly colored rugs, towels and shower curtains or ones with their favorite characters. Remember to hang artwork at children's eye level, not yours.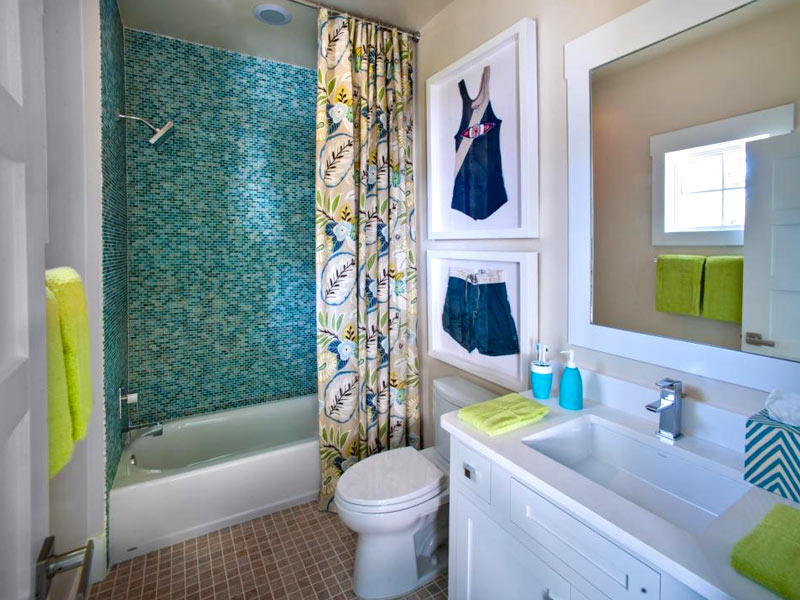 5. Organization and Storage
Baskets, hooks and shelves can keep a bathroom organized at every age. For multiple children, personalizing towels and accessories or assigning a color makes it easy to keep everyone's items separate.